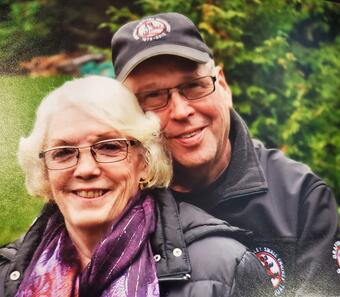 Ann & Dick Raymond
Dick and Ann Raymond have devoted a considerable amount of their lives to fulfilling a single desire, to make their beloved Grafton a better place and as a result of their tireless work and organizational skill they have forever changed, and enhanced, their community.
Dick Raymond's lifetime of volunteerism can be traced back to 1962, when as a 19-year-old, and still not old enough to drive, he started coaching a team in the Cobourg Church Hockey League (CCHL). As a coach, Dick would lead three teams to provincial hockey championships, in addition to a Provincial Women's Softball Association (PWSA) Bronze Medal with the Cobourg Bantam Angels in 1989. But it is as an organizer and administrator that Dick has had the largest impact.
In addition, to a five-decade long tenure with Grafton Minor Hockey, which saw him at various times serve as the organization's President, Vice-President, past President, coach, equipment manager, bingo organizer, fundraiser, etc. Dick also served on the Grafton Arena recreation committee for forty years, thirty-five of which saw him operate the Grafton canteen.
Dick and Ann along with Jack and Pat Kernaghan were the founders and lead organizers for the Grafton Fastball Tournament. Grafton officials did not jump to the idea of hosting the Tournament when the opportunity presented itself so Ann and Dick Raymond took on the financial responsibility for the first tournament. It was the first of a four-decade long existence.
And then there was all the hours put in to construct the Grafton facility itself, 5 ball diamonds, all the backstops, the scoreboard, fencing the diamonds, the playground, score keepers' benches, etc. all bear the handprint of Dick Raymond.
Dick was never alone in his efforts, in fact he represented one-half of a formidable team.
Every step of the way, at every event, every fundraiser, was Dick's wife Ann. A true team, Dick and Ann would not only work together, but complement each other, so while Dick was organizing, it was Ann placing the calls, answering the phone, arranging for volunteers and volunteering herself, running the errands, arranging advertising, awards and tournament merchandise.
Despite both holding full-time jobs, and raising a family, and despite being tired most nights, both Dick and Ann Raymond always found the energy and the time to give of themselves for the greater good of their community and the people of Grafton.
Sport Team or Name This Story is about