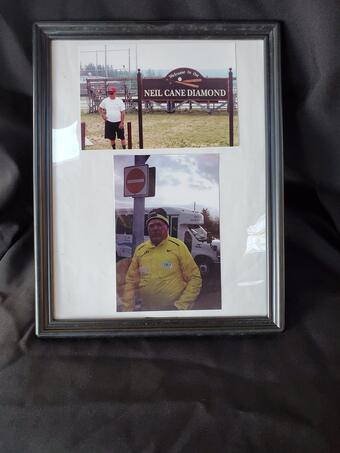 NEIL CANE
Neil Cane was born in Cobourg on January 12, 1934. He lived most of his life in Baltimore, with his wife Shirley and five children, John, Laurie (Dynes), Peter, Cathy, and David.
As an athlete, Neil excelled at baseball, track and field, and hockey.
The earliest recollection of Cane's athletic ability started in 1948-49 when his Junior softball teams were crowned the Cobourg Rotary League Champs and also the Cobourg Labour Day Tournament Juvenile champs. In 1950, he was a member of the OASA Juvenile B Softball Champs.
He also won the Field Day Cup as the Junior Champion in Track and Field at CCI in 1948. Neil's track and field prowess was again evident at the Ontario Police Games One Mile relay. He was part of the winning relay team along with Art Round, Harry Sirrett, and J. Campbell.
Starting in 1959 Neil racked up hockey championships and personal awards. He was the Mercantile Hockey League MVP, and the teams he played with were league champs in the Hamilton Township Men's League. Twice he played on championship teams while playing in the Mercantile Hockey League.
Neil's actual job was manager of the Baltimore Recreation Centre for 22 years. When he started, there was only one baseball diamond. When he finished there were three additional fenced in diamonds, plus Neil got the old lights from Victoria Park for night games at Diamond #1.
He also added a playground, canteen and washroom facilities, a basketball court, and two volleyball courts. It became a first-class facility.
As many people have mentioned over the years, that although Neil worked for the Baltimore Recreation Centre, he practically lived there and did an incredible amount of work as a volunteer at the facility.
Not only did he do that, he was involved in many other aspects of the community. I always said jokingly, "If you added up the number of hours Neil actually worked at the park, he probably made a dollar an hour".
I remember telling him that as part of a Millennium Celebration I wanted to build a conservation/educational area on the unused portion of land behind Baltimore Public School. It was a dream of mine that Neil turned into reality!
My first order of business was getting solid benches for the students that would last the test of time. Neil ordered six sturdy benches and I assisted (I watched) in cementing them into the ground. I made a cedar pathway around the entire area and we were pretty well done… or so I thought.
I asked Neil if he could build a semi-circular bench that could comfortably seat thirty children. That's all I needed to say. He drew up a plan and built the bench single-handedly. Later on he asked me if the area was being used. I mentioned that some teachers weren't able to manage the pathway and it was difficult for them to take their class to the top of the steep hill. Neil and I chatted and he said "You know what, we need to build steps with a rail."
A week later I was looking out of the back window of my class and I saw two by fours and planks being tossed over the fence. I went back to investigate. There was Neil, alone, throwing the wood over the fence. He then proceeded to climb over the fence and commence working on the stairs.
In no time at all, the beautiful staircase was constructed and there were no excuses for the garden area not being utilized. I dedicated an area as Cane's Corner of the Millennium Garden to Neil and Shirley Cane and had a plaque attached to one of the benches recognizing Neil for his volunteer efforts.
No job was too big or small for Neil. His philosophy was, "Let's just get it done!" He didn't want the fanfare, he just wanted to see jobs completed. Another huge project he undertook was the construction of Jacob's Ladder.
Let's move along, there's so much more to tell.
According to Denine Page, Head Instructor at The Baltimore Figure Skating Club, "Neil was much more than the arena manager at Baltimore. He willingly involved himself with the coaches, skaters, and parents. I often consulted him with new ideas about programming for the skaters and appreciated his input as to how we could make things happen successfully."
At the end of each season, the club would have their annual skating show. Once again, there was Neil volunteering to help with scaffolding, lights, decorations, and the sound system. He didn't stop there! He also volunteered to be the MC for the show and do all the announcing for the dress rehearsals and both the afternoon and evening shows!
Anne Quigley, President of Baltimore Minor Hockey, mentioned Neil's role in taking charge of lining up 1000 kids at the Cross Border Annual tournament opening ceremonies and offering assistance throughout the tournament.
Even after his retirement, he stayed involved by sitting on the Board with Anne. She noted that "Neil selflessly spent countless hours helping at fund raising events, often behind the scenes in the setup or tear down stage, never seeking the "limelight". "The saying he was best known for was, "You kids just go home and get some rest before the big event, and I will take care of everything here." And he never failed us!!"
His volunteering efforts were evident in Grafton, too! He was everywhere! Neil was a player in the inaugural Grafton Fastball Tournament run by Dick and Ann Raymond. "Over the years he would be a coach, an umpire, a groundskeeper, scorekeeper, announcer, and any other person we needed him to be," according to Raymond.
No matter who you talked to in the Baltimore community and surrounding area, people admired him and respected him for what he did and what he meant to Baltimore. He was a tremendous role model to many individuals, including myself. The legendary Neil Cane was an iconic figure that we'll never forget.
Layton Dodge, Cobourg's sports writer summed it up best, "Neil Cane – Mr. Baltimore."
Although Neil did not seek recognition, over the years he gathered a lot of hardware for his efforts as a player, as a coach, as an umpire, and as a volunteer.
A LIST OF NEIL CANE'S VOLUNTEER AWARDS AND TITLES:
1973 Certificate of Outstanding Service from the Cobourg Church Hockey League
Legion Baseball Awards: 1976 Certificate Of Merit
1980 Peewee Coach Of The Year
1982 Baltimore Minor Hockey Vice President
1989 Baltimore Arena Committee for "Devotion Of Duty"
1995 OASA Outstanding Service Award
1998 OASA Outstanding Service Award
2004 Cobourg Men's Softball League "Thanks For The Memories"
2007 Hamilton Township Senior of the Year
Paul Harris Fellow Award from The Cobourg Rotary Club
Baltimore Sports Complex Diamond #1 renamed signage "Neil Cane Diamond #1"
SPORTS AWARDS AS A PLAYER
1948 Cobourg Rotary League Champs Jr. Softball
1948-9 CCI Junior Champion (Track and Field Trophy)
1949 Cobourg Labour Day Tournament Juvenile Champs
1950 OASA Juvenile B Champs
1952 Ontario Police Games 1 Mile Relay Winners
1959 Mercantile Hockey MVP Trophy
1965-6 Mercantile Hockey Champs
1966-7 Mercantile Hockey Champs
1972 Hamilton Township Men's League Champs
By Bryan Marjoram
Sport Team or Name This Story is about
Sport Played That Connects To Collection List