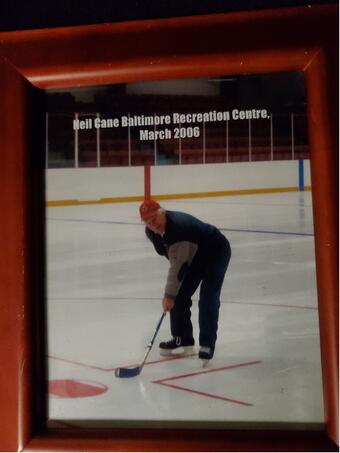 Cane Remembered as Tireless Volunteer
Published May 24, 2012 Northumberland Today by Jeff Gard
A big void has been left in the community of Baltimore.
Former arena manager and longtime volunteer Neil Cane died suddenly on Monday. He was 78.
There is no denying the legacy Cane has left in the Township of Hamilton and surrounding areas.
"My sympathies definitely go to the family and friends of Neil", Hamilton Township Mayor Mark Lovshin said when contacted on Tuesday. "Quite an asset for Hamilton Township to lose. He had his heart within the municipality. He was always there when we needed him. He will be sadly missed."
Visitations will be held today from 2 to 4pm and 7 to 9pm at the MacCoubrey Funeral Home in Cobourg. A funeral service will take place tomorrow at MacCoubrey's at 11am with internment to follow at Cobourg Union Cemetery.
What George Quigley-who along with his wife Anne runs Baltimore Minor Hockey-will remember most about Cane is "his giving" and he expects he's not alone.
"That's what you'll hear from everybody," Quigley said. "(Cane was) always there for you. He would do anything."
Former Hamilton Township Mayor Forrest Rowden-who is a current Cobourg Councillor-was involved in municipal politics there for 18 years. He was mayor until 2006 several years after Cane had retired but still remained a loyal volunteer. In fact, a lot of the time Cane spent working while as an employee of the municipality for two decades could be considered "volunteer."
"Every 40 hours pay you gave Neil you had 80 hours work and that was a fact." Rowden said. "Neil felt that park was his backyard and he kept it just that way. He was so devoted to the community."
Rowden said Cane-who retired in 2000-hardly ever used his vacation time.
"He couldn't go on holidays because he figured he would be needed" Rowden said. "When he retired he was going to travel but Neil didn't want to leave the community. He wanted to be there."
"He was kind of like a legend" remarked Brian Marjoram "and I use that in a serious manner."
"Everybody knew him and everybody knew the work he did" added Marjoram, a retired teacher from Baltimore Public School. "He often did the work anonymously. He wasn't there for the accolades. He just did it because it needed to be done. He was one of those guys who grabbed the bull by the horns and got down to work. He was non-stop. No job was to big, no job was too small."
Marjoram worked closely with Cane on the Baltimore School Millennium Garden project. Some people Marjoram recalled, complained there was too much of an incline and they couldn't get up the hill.
"So Neil built stairs" Marjoram said, noting there was also a semi-circular student bench that could accommodate 30 children. "These projects, he would do many of them by himself."
Both Marjoram and Rowden credited Cane for helping to build Jacob's Ladder which leaves from County Road 45 up to Baltimore United Church.
Close friend Keith Curtis worked on many projects with Cane especially around the Baltimore Recreation Center. Curtis said Cane was always quick to lend a hand.
"He was just that kind of guy" Curtis said "When he was working (for the Township) he didn't just work for 40 hours; he worked the times he was needed. It could be midnight but if something needed to be done he would be there. He was just a great guy to be with."
Layton Dodge, the former longtime sportswriter for the Cobourg Daily Star said he always considered Cane to be "Mr. Baltimore" even though his contributions reached other communities such as Cobourg, Grafton and Cold Springs as well.
Dodge believes Cane was active in the Baltimore community for six decades. He also remembers Cane coming into Cobourg in the 1950s to referee all the minor hockey games with Lionel (Pat) Briand. They did it for free.
In addition "he coached just about anything there is to coach" Dodge said "and he was an excellent umpire; one of the better ones around."
Cane was involved with hockey, ball and figure skating in Baltimore.
In 2002 ball diamond No 1 in Baltimore was renamed the Neil Cane Diamond, a tribute to his contributions through the years.
Anytime there was rain Cane was quick to get outside and get the diamonds in shape as soon as possible. Often times portions of tournaments from other communities would be moved to Baltimore following rain delays just because the diamonds were ready to go due to Cane's work.
"The sports community is poorer because of his passing" Dodge said. "Everyone appreciated what he did. He was a hard worker. Anything that needed to be done he would do it. He was a great humanitarian and a real good Samaritan Extraordinaire."
Anne Quigley had just met with Cane this past week at the recreation center's outdoor summer canteen which is run by Baltimore Minor Hockey. She was going to get it ready for the season and phoned Cane.
"I knew better than to just go there and not tell him" she said. "Next thing you know he's there doing the grills and oiling them up and all the other things he's always done. He did them as a manager and he did them as a volunteer."
Next week he was going to help change the bulletin boards inside the arena.
"He was always still giving to minor hockey and any of the clubs here" Quigley said.
Quigley said Cane was known as 'The Boss'.
"He always took charge with whatever he did." she said. "It didn't matter if he was moving tables or chairs he directed everybody where they should put them and what the easiest way was."
Quigley said Cane earned all the respect that was shown to him. She recalled a time when the arena management board fundraised to purchase new fencing for ballparks which Cane wanted and was going to install. The rolls of chain-link fencing were delivered on a Friday night.
By the Monday, Cane returned to find all the fencing had been stolen. In a newspaper article Quigley said Cane voiced his disgust that someone had stolen from the community.
"The next night the phone rang and Neil said he had the fencing" said Quigley, noting she asked him "how?"
Ken Goodwin from Fisher's Foodland in Cobourg had read the story and offered to pick up the tab to replace the fencing.
In later conversations, Quigley talked to Goodwin about the gesture.
"(Goodwin) said "how do you not help someone when they have given so much to everybody?" she said "that's the kind of respect Neil had."
"Neil was the kind of person who was your friend, but he was your mentor too" Quigley added.
George Quigley said Cane offered his time very generously for minor hockey.
"We have to thank his family because we used him a lot and he didn't mind" he said. "He was with us a lot of times when he could've been around the house."
"Cane will be missed by the entire community" Quigley said.
"That's what it is; a community loss" he said.
Cane was the beloved husband of Shirley, father of John (Lena), Laurie (Craig Dynes) Peter, Cathy and David and grandfather to Cody, Courtney, Aaron, Joshua, Jason (Deb) and Robyn. He is survived by his sister Ruth Bolderstone and predeceased by his brothers Lorne (Bus), Gordon, Bob, Doug, Harry (Mike), Ken, Allen, Percy (Bud) and several half brothers and sisters. He is fondly remembered by many nieces and nephews.
If desired, donations may be made to the Heart and Stroke Foundation or Canadian Cancer Society.
Sport Team or Name This Story is about
Sport Played That Connects To Collection List