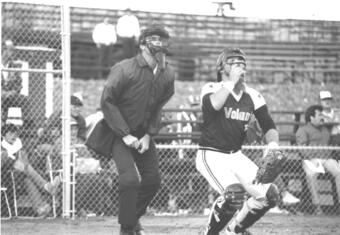 JIM BRADFORD'S STORY
Robert James "Jim" Bradford was born on April 5, 1948. He was the oldest son of Bob and Dorise Bradford. He and his wife, Keren, raised two children, Jeanette and Scott.
During the day, he was an exemplary elementary school teacher at Dr. Powers in Port Hope. He taught in the junior division throughout his career.
Bradford's first taste of success on the field was as a player for the Cobourg Legion Bantam softball team. In 1962, they were All Ontario Champs. Seven years later he became an assistant coach with the same Legion Bantam team that he had played for. All Ontario Champs was an accomplishment Jim achieved on a number of occasions for a number of softball teams. He played for the Winchester Western Juniors and was an All Ontario Champ. Bradford later joined the ranks of the Cold Springs Cats (Intermediate C level) and once again became an all Ontario Champ in 1975 and 1976.
Jim played by the rules and lived by the rules. Officiating must have been in his blood since day one. A local sports writer once said, "Jim's love for officiating kept him busy the year round. He referees basketball, and hockey during the cold winter months". In the summer months, Bradford could be found behind the plate during a number of league and tournament baseball games. Bradford credits his wife "… for being patient in allowing me to pursue my umpiring whenever and wherever I wanted to go".
"Jerry Lawless, physical education at Cobourg West Collegiate, inspired Bradford's basketball officiating career by driving him to his first clinic 35 miles away". The rest, as they say, is history. He found another sport that became his calling. He was both the founder and a referee for the South Kawartha Basketball Association. On Saturday mornings during the 90's he volunteered as a referee for the Lakeshore Basketball Association.
In 1980, Bradford met Sharon Sinclair, who was the provincial umpire-in-chief, while officiating basketball at the Ontario Summer Games in Peterborough. He later mentioned that Sinclair was the person who had the most influence on his career in officiating!
In 1984, Jim was an arbiter for the Senior Men's National Fast Pitch Championship in Fredericton, New Brunswick. Glowing comments were evident on his National Championship Umpire Rating form where his superiors commented, "Jim is a highly competent official, who has progressed in the past number of years. He is a complete umpire who has the respect of his fellow umpires and players, when on the ball diamond".
Since he excelled throughout the tournament, he was chosen to work the final game, which is a top honour according to fellow umpires! Also noted was the fact that Bradford was one of only two Ontario umpires chosen to officiate in the championships!
He also umpired the National Midget Boys Fastball Championships in Napanee, the Women's Worlds in Newfoundland, as well as numerous provincial tournaments.
Bradford held a number of executive positions with Softball Ontario and the National Committee. He served as the Deputy Zone Umpire in Chief, Zone Umpire in Chief, Deputy Softball Provincial Umpire in Chief, and served nationally on the ODC as a Deputy with his focus divided between Slow Pitch and Fast Pitch. Bradford founded the South Central Umpires Association and locally, he was the vice president of the Cobourg Men's Softball League.
Over the years, Bradford " … worked on the committee preparing the exams, wrote articles for the local, provincial, national periodicals and had been published in "Referee", with Softball Canada". He was also a presenter at the Blue Convention in Toronto and in Fredericton.
During his time with Softball Canada, he assisted with the development of manuals and supervised at Canadian Championships in both Fast Pitch and Slow Pitch.
One of his greatest achievements was attaining elite level 5 status in fast pitch and slow pitch softball. Reaching elite level 5 status in fast ball meant he was eligible to officiate internationally. At the time, Bradford was the only umpire in the country to have achieved this dual accolade! Since 1984, when he reached the elite level 5 status, he longed to officiate at the Pan American Games.
Finally in 1987, he realized his dream by going to the Pan Am games in Indianapolis, Indiana. An experience he once described as, "… unbelievable". He received a Certificate of Merit in recognition of his selection to the umpiring staff. He was also inducted into the Hall of Fame of the Canadian Amateur Softball Association in Winnipeg, Manitoba, in 2003.
The induction solidified his status as a top level umpire in Canada. He had spent countless hours honing his skills and expertise as an umpire. Bradford passed away in 2001 and his wife, Keren, accepted the award and spoke on Jim's behalf.
Looking back over Bradford's illustrious career, he received many accolades. In memorial, The Legion Award of $500.00 was presented to an umpire going on to post secondary education. The Cobourg Angels Softball team recognized Bradford by creating an award bearing his name which was given to a young umpire who had umpired for the Angels organization. The Jim Bradford Memorial Tournament was named in Jim's honour and it was later renamed the Bradford/Cane Tournament to celebrate the contributions of both of these great men.
Jim Bradford was definitely a hometown hero! His expertise on the field and the hard court were exemplary. Bradford set the bar high for himself and those who followed in his footsteps. He was a gentleman in all aspects of life and will be remembered fondly.
In closing, I have included an article in its entirety which was written by Layton Dodge, Cobourg's sports writer extraordinaire and member of Cobourg and District Sports Hall of Fame.
By Bryan Marjoram
*****
Layton Dodge, Cobourg Sentinel Star, July 24, 1968
The young player of the Cobourg softball scene whom I personally admire more than any other is Jim Bradford, the 20-year-old catcher of Hillier's Juniors.
I respect him for his ability and his attitude, for his exemplary conduct and character.
During a game, Jim is the inspiration and the perspiration of his team. Call it hustle, drive or just plain desire, but Bradford's got it. The 165-pound bundle of energy gives 100 per cent in every game. He never quits.
As the club's salt and pepper player, Jim spews forth a steady stream of chatter and encouragement from his crouch behind the plate. I believe he keeps the Juniors alert and alive. As the quarterback of the team, he braves the rough body blocks of barreling-in base runners and the clouds of dust which go with it, pounces on bunts and pop ups, shakes off foul tips off his fingertips, often outraces the batter or runner to cover up at first or third on errant throws by teammates, and calls the shots for his battery mates to render tangible leadership.
At bat, he drops bunts, wheedles walks, and bangs out crisp line drives. Whatever he is called upon to do on a ball field he never fails to carry it out to the best of his ability. All these combined attributes have made him the top receiver in our Town League for the past three years.
The best compliment you can pay Jim Bradford is to say he came to play … he came to beat you … fair and square. As an acknowledged holler guy (not in the sour connotation of the team) Jim occasionally jabs with a verbal needle. Yet, he's never offensive or crude. He possesses the knack of being able to dispute the accuracy of the umpire's judgment without incurring his wrath.
Unlike some of his contemporaries, Jim is unspoiled by his athletic successes as a young-star. He is neither selfish, nor temperamental, foolhardy or obscene, stubborn or vain. Rather, he is honest and thoughtful, clear-cut and sensible, intense and eager to learn. In a world replete with individual glory and apathy, his approach to life in general, and to sport in particular, is a refreshing change of pace.
It has been said more than once that impressionable youngsters frequently pick up bad habits by copying what they see and hear from players in our Town League. Those boys who try to emulate Jim Bradford can't possibly go far wrong, however.
In my book, this soon-to-be school teacher is one heckuva fine ballplayer and a gentleman personified to boot. That's why he is a particular favourite of mine.
Sport Team or Name This Story is about
Sport Played That Connects To Collection List