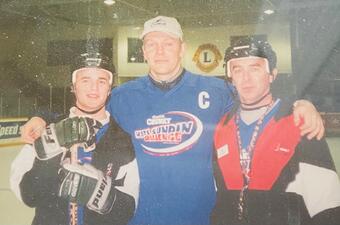 As an educator, Rick Seggie found a natural fit between his love of sports and instructing students. He strove to acquire the best information available and used that knowledge in a practical setting with both his students and athletes. He wanted to teach critical thinking in his classrooms and the skills that would allow athletes to excel in sport.
Many colleagues and fellow coaches would often describe his teachings and thought process as 'ahead of his time'. One reason for that was that he did not only rely on his personal experience learning the sport, but focused on how the best athletes in the world excelled at all sports. What were the skills that would give his players an edge as hockey evolved into the high speed, high skill game it is today.
He knew there were experts in the field that were pushing forward new ways of training and would study them. He was interested in what could be learned from the success of the Central Red Army training methods during their reign, or other elite athletes, such as a 100 meter sprinter. What were the ways a sports psychologist would prepare athletes mentally, as well as physically.
Born in Toronto, Ontario on January 8th, 1953 and growing up in Scarborough, Rick played minor hockey in Dorset Park and West Hill, which later became the Scarborough Ice Raiders of the GTHL. This is where he developed a true love for the game. From his years of minor hockey through to University, his passion always surrounded coaching and education.
After graduating from the University of Toronto with his Bachelor of Education, Rick accepted his first teaching position in Morrisburg, Ontario. He jumped right into coaching with the local Winchester minor league in 1978-79, which is now part of the Upper Canada Minor Hockey League. In the early 80's Rick took on a teaching position at Port Hope High School. He relocated to Peterborough, Ontario from where he would commute. Rick and his family finally moved to Cobourg, Ontario in 1983 after completing his Masters in Education.
Through his teaching years Rick was heavily involved in team sports. He first became involved in the track & field program at Port Hope High School and later took over the hockey program with many successful seasons. This led to coaching many of his students through Port Hope and Cobourg Minor hockey from the late 80's through until the early 2000's. His two sons, Paul and Jay, played on a few of those minor hockey teams, as well as the infamous backyard rinks that Rick would create every winter at their home in Cobourg.
His passion for teaching and learning the skills of the game was always present as he embarked on developing the sport through the Ontario Minor Hockey Association. Rick became an Advanced Level Certification N.C.C.P Instructor and spent the better part of 25 years coaching and training other coaches to become certified, along with writing many of the training manuals himself. Many local people who knew Rick, would often be surprised to see his name on the elite level coaching manuals, as he was not one to brag about his accomplishments. These programs gave Rick some unique opportunities.
Highlights during this time were working with Canada's National team as a guest coach (with Andy Murray and Roger Neilson), to leading the N.C.C.P. Advanced Seminars with Ken Dryden. Some of Rick's affiliations with the Toronto Maple Leaf's were in several of the MLSE development programs with Wendel Clark and Mats Sundin.
There were also many other interests in Rick's life with his summer charter business, taking fishing groups out on his boat 'ABACUS', but he was always drawn back to hockey. Along with his summers fishing he was also instrumental in working with a number of the summer hockey programs in Ontario. Coaching the Central Ontario Selects (which later became the Wolves) AAA teams in the 90's and helping get the Lakeshore Thunder AAA program off the ground in coaching and recruiting player development.
As his teaching years continued, he took a position in the Catholic school system as Head of Special Education at St. Mary's Cobourg in 1992. At this time, the school was undergoing a lot of growth in their athletic programs and Rick took on the Varsity hockey program. From the early 90's until present day this program has seen substantial growth, development and exposure, from a Europe Tour in 1997, to the annual Irish Rover tournaments on the campus of Notre Dame University. Rick was also involved in coaching several of the local girl's programs through St. Mary's High School hockey and the Northumberland Wild in Cobourg.
His focus was always on creating a learning moment and he often found that moment in sports. He loved seeing his players develop a new skill and watch it come to life in a game. There was never any panic behind the bench of his teams, as Rick had a thoughtful approach that followed a plan as though he had experienced it all before.
We lost Rick on December 5th, 2016 but his impact on the sport of hockey, his community, and the schools he taught at will never be forgotten.
****************
Excerpts from an email to Paul Seggie from Richard Ropchan, former Executive Director of Ontario Hockey Association
Your dad and I go back a long way during my 20 year involvement in the OMHA. As the Director of Development for my first 4 years I got to know your Dad very well and we became very close friends. We both came from a hockey coaching background and expressed the same passion for growing the game and making it more fun to play at all ages.
Your dad's personality and enthusiasm was contagious and I loved picking his brain for ideas on how to better teach the game. Being an educator most of his life he was a great communicator and had a good understanding of best teaching methods. He wasn't afraid to think outside the box and introduce new ideas to our OMHA Coach Instructors.
Rick was highly respected by his peers, someone everyone looked up to. I think Rick was a born leader. His talent, experience, passion and teaching skills were widely recognized through his involvement with HC, OHF and OMHA. He was a Master Course Conductor in the OMHA and was heavily involved in the creation and development of new coaching curriculum material for coaches. He was constantly asked to take part as a presenter at the Annual OMHA August Development Weekend.
He was always very generous with his time and willing to help out in any way whenever asked. I don't ever remember him saying no I'm too busy. Rick was also invited to attend numerous Coaching Development Seminars across the country where he was involved in committees with HC to create and write Instructional Manuals. He was also very actively involved in the OHF Coaches Development Committee which met regularly on an annual basis.
On another note, I was involved in Canada Inline and Coached the Men's National Inline Hockey Team and I asked your dad if he could help me create a National Coaching Manual for Inline Hockey. As busy as your dad was and the fact that he had very little or maybe no Inline Hockey coaching experience he still offered to give more of his precious time to help create this Coaching
Manual. We met once a week on a regular basis and before long we had created a draft copy of Coach Level I, II and III Coaching curriculum which is being used to some extent Internationally.
I think about your dad often and remember all the good times we had together. It was so sad to see him go at such a young age. He left quite a legacy behind in the Hockey Community. He always wanted to help make the game better and his enormous contributions will never be forgotten. He had a significant impact on my life and I can't express in words how much he meant to me.
****************
Excerpt from an email to Jay Seggie from Corey McNabb, Director, Hockey Development Programs, Hockey Canada
Here are some of the projects that he was involved with from a Hockey Canada perspective:
2004/05 – Hockey Canada Skills Manuals – National Writers Group
2006/07 – Hockey Canada Mentorship Program – Specialty Clinic Writers Group
2006 – 2009 – Hockey Canada Mentorship Program – Master Facilitator
Rick Seggie brought a wealth of experience and passion to the Hockey Canada Programs that he participated in. Through his nomination by the OMHA to assist on several National Writers Groups for Hockey Canada, Rick was a welcome participant who constantly stepped up to participate whether it was through writing, review or editing as Hockey Canada resources were created or updated. His expertise in the skill development area was a welcome addition to our National Writers Groups
Once the writing was complete, Rick became very active in the delivery of those materials and resources to minor hockey coaches and players and left a legacy in that part of the game focused on improving the knowledge and ability of coaches to teach the fundamental skills to their players. Rick attended every seminar he could and was always eager to learn and contribute as a Facilitator and Master Facilitator of the on ice clinics.
Rick was the first one to send through feedback from the coaches after he spent a weekend on the ice with them receiving accolades and positive comments. His willingness to contribute and participate has had a lasting effect on 100's of coaches over the years and he is known as one of the good guys within our Hockey Canada / OMHA families as someone who could always be counted on.