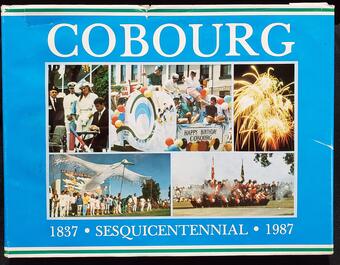 Cobourg Celebrates 1987 Sesquicentennial
In 1987, Cobourg celebrated its 150th birthday (Sesquicentennial). A committee was formed in July of 1985 charged with the mandate of delivering a high quality and interesting 150th birthday celebration. Chairman of the Committee, Ralph Zarboni, describes in the book, Cobourg 1837- Sesquicentennial -1987…. "Thirty very talented people came together to create a program designed to remind Cobourg citizens of their heritage and history, and to make them aware of excellent future prospects. The celebration has, for the most part, achieved its goals. The nucleus committee of 30 expanded into some 250 representing all segments of the community, including many of our neighbouring municipalities."
Members of the Committee were: Ralph Zarboni, Chair, William Gadd Publicity, Bruce Margles Treasurer, Ruth Woods, Secretary, George Borthwick, Bill Daly, Norm Duncan, Lew Griffith, Marion Hagen, Helen Hawke, Ed Haynes, George Jeanneret, Bob Jenkins, Dr James Johnston, L. Col. Robert Lucas, Bob MacCoubrey, Don Macklin, Wayne Milroy, Dean Pepper, Eleanor Pifher, Ross Quigley, Most Rev. R. Seaborn, David Sheffield, Bonnie Sheridan, Ron Templer, Ross Tressider, Peter Tulumello, Roger Williams, Bob Wilson, Col. Ced Haynes, Linda Jacobson, Mark Finnan and Mike Korol.
78 events comprised the Sesquicentennial program including:
* Cobourg Waterfront festival
* Old Fort Henry Guard visit
* Royal Canadian Horse Artillery Military Parade, show and exhibit
* Art in the Park
* Royal Visit: The Duke and Duchess of York
* Cobourg Boy Scout Reunion
* Hot Air Balloon Race (sponsored by General Foods).
* Fiddler on the Roof, (a performance by Northumberland Players)
* F18 Airshow
* Sesqui Parade
* Downtown window decorating and sidewalk painting
As part of the celebrations a Sesquicentennial book was published (Ed Haynes Chair, John Spilsbury Editor, Cecil Davies Art Director, and committee members, Dr. James Johnston, Barbara Cameron, Col. Cedric Haynes, Col. Gordon King, Percy Climo, Roger Williams, Jean Haynes). A sesquicentennial resource book to preserve the history of Cobourg for future generations was placed in all public and separate schools in the Northumberland and Newcastle Board of Education (Helen Hawke Sesquicentennial Education Committee Chair, Barbara Garrick Chair, Ron Cameron, Yvonne Green and Wayne McCurdy committee members).
The Cobourg Commemorative Dollar produced 25,000 mined silver dollar coins approved as legal tender within the town limits for the entire year as well as gold coins valued at $10, not legal tender (General Chair Georges Jeanneret, minted in Alberta, Royal Canadian Sea Cadets Skeena). The Sesqui Calendar, as a promotional fundraiser sold for $5 and produced by the Cobourg and District Historical Society provided 365 historical entries pertaining to Cobourg's past. Pictures were provided by the Cobourg Colour Camera Club (Charles A Hagen was Calendar Compiler while Thomas W. Hawke was Project Chair, Lois Ann Verney, Photography, Peter Delanty and Bill Gadd committee members).
The sports community played a part in the celebrations as well. Ross Quigley served as Chair of Cobourg's Sesquicentennial's Sporting Events Committee which included:
* January 6, 1987 - International Boat Show Sesqui Exhibit – Cobourg Chamber of Commerce, CYC
* June 21, 1987 - 44 cyclists (19 from Cobourg) participated in a 150 kilometre bicycle tour. Cyclists came from as far away as Penetanguishene, Oshawa and Belleville. It was sponsored by the Cobourg Cycling Club Tour – Dave Singfield, Chair, Pamela and Henry Joachim, sponsored by Complax Corporation.
* The sesquicentennial Fishing Derby under the chair of George Cortesis extended over a prolonged period commencing June 22 and ending July 5, 1987. John McIvor of Cobourg emerged triumphant, landing the 30.6 pound chinook salmon after a battle that lasted three quarters of an hour. He caught the fish near Shelter Valley Creek and won an electric trolling motor as the winner of the Derby. The official weigh-in took place at the Cobourg Marina.
* June 26-28,1987 – C.L. Dingy Regatta – Barbara Johns, John Turner, Nick Weyman, Chair, Committee: Ralph Curtis, Dan Goldring, Ed Billing, Jarl Northwood, Marilyn Macklin, Steve Swift, Ben Veenhoff, Alan Hallworth, Don Macklin, Peter Stirling, Donna Curtis.
* June 27, 1987 - Galloping Ghosts Football Reunion which consisted of over 230 participants coming to Cobourg to participate in the Sesqui Parade, dinner and dance. Former players came from as far away as Vancouver, the Caribbean, Montreal and the United States to join in the fun. Committee members were: Bus Edwards, Chair, Ken Cooper, Paul Currelly, Jack Newton, Ed Haynes, Bernie Flesch, Audrey Burdick, Ireland Quigley, Jim Redmond, Homer Seale, Chub Downey, Ken Medhurst. This was one of the most popular sesqui events. Many of Cobourg's older citizens will remember Cobourg's most famous sports team that won 3 Canadian or Dominion Championships, 8 Ontario Titles and operated in Cobourg from the 1930's to the 1950's and led by President/Manager Fred Dufton.
* July 3 -5. 1987 -Can-Am Keel Boat Regatta- Barbara Johns, Chair, John Turner, Jarl Northwood, Steve Swift, Alan Hallworh, Henry Meinster.
* July 4, 1987 – Highland Games held at Donegan Park and included 20 pipe bands and numerous heavy events and highland dancing. 21 athletes registered in the heavy events which included the caber toss (56 and 28 pound), stone throw and hammer throw in both the amateur and professional class. Another event was the road races. As part of the Timex-Toronto Star Road Race Series '87, 182 men and women participated in the 3K and 8K races. Runners travelled from Sudbury, Ottawa, New Jersey and Sault Ste. Marie to compete against local participants. Jim McIlwham from Cobourg won the 8K race in the 50-59 age category. The committee members included Harry Gardner – President, Mary Gardner, Secretary, Ron Cameron. Race Director, Gord Hunter, Heavy Event Coordinator, Dr. Paul Caldwell.
* July 26, 1987 - Cobourg Sesqui Lawn Bowling Tournament – Bob Fulton, Chair. Headed up by Gord King and Wally Reid. The event took place at the Cobourg Lawn Bowling Club in Victoria Park. The club ran two major tournaments in 1987 – The sesqui tournament and a tournament to celebrate the 80th anniversary of the club's beginning. 54 bowlers, some in colourful period dress were led in a parade around the Greens by Don Diminie with his bag pipes. A Spider then followed and was won by Art Jones. Teams of Trebles then played a 12 end game and stopped for refreshments of tea, punch and cake donated by Ladies' President Alma McKendrick and Mens' President Wally Reid and cut by Mayor Angus Read. A second 12 end game followed and at the finish most of the costumed participants agreed that long skirts, waist coats, collars and ties were not nearly as comfortable, especially in such hot weather, as our present day dress code. The ladies winner was Alma McKendrick, the gentlemen winner was Ron Wicks, the high score with 2 losses – 19 points went to Gordon King, Doris Stephens and Agnas Haas, the treble winners were Bob Fulton, Doug Coyle and Bruce Screaton. (info taken from a report written by Al Hoskin, Jetney Chair)
* August 7, 1987- Sesqui Celebrity Pro-Am Golf Tournament – Dick Garrison, Jim Bovaird, Chair. This event took place at Dalewood Golf and Country Club. 600 volunteers and committee members coordinated 28 celebrities, 26 pros and more than 100 local amateur golfers to celebrate Cobourg's Sesquicentennial and raise money for the Cobourg Youth Activity Fund and the Children's Wish Foundation. The event raised approximately $30,000 in money and prizes. Many NHL hockey players, referees and linesmen attended along with other significant personalities. Spectators were encouraged to attend both the tournament on the 7th and the silent auction on the 6th (which generated $4,000 for Children's Wish Foundation). Shuttle buses were available to transport guests to view Jacques Villeneuve's Formula 1 car, a Carling 1928 Mercedes Antique Truck on Display at an antique car show and to meet the Toronto Sun Sunshine Girls.
* August 8, 1987 – Muskoka Water Ski Show – Don Macklin, Chair, Linda Jacobson, Dean McCaughey, Carl Vaida, Steve Mancusco
* The 8th annual Quench Run sponsored by General Foods occurred on August 15, 1987. Racers ran distances of 4.7 and 10 kilometres in men, women and open categories. The 10K run attracted 200 runners and the 5K "fun run" had 90 that included five categories within each race. Cobourg's Jim McIlwham captured the Senior's category in the 10K run. Proceeds from the event went to the Multiple Sclerosis Society. Race Director Bill Hart.
* August 15, 1987 - Sesqui Regional Swim Meet – Bob Jenkins, Chair, Layton Dodge, Cobourg Family Y. The event took place at the Cobourg Family "Y" Centennial Pool and brought recognition to many of Cobourg's fine young swimmers. The Cobourg Y Waves swim team consisted of 48 swimmers and 3 coaches, Glen Bryan, Janet Bran and Sean Andrus. This was the Waves' first time to host a swim meet which consisted of 76 races for children 8 and under to 17 years of age. Teams who attended the meet were from Port Hope, Napanee, Ajax and Bowmanville. All participants received sesqui ribbons. Three Cobourg swimmers, Todd Simpson, Kyle Elder and Ann Marie McCormick received medals for high pointgetters in their respective age groups. Donations from the Sesqui Committee provided awards for the event. (excerpt taken from Deborah M. Elder Cobourg Y Waves Parents Committee.)
* August 15, 16, 1987 – Sesqui Soccer- Cobourg Soccer Club's 10th Annual Pepsi Tournament took place on the various pitches at Donegan Park, CDCI East field and the Industrial Park fields. 49 teams including 6 from New York state competed in 71 games over the two-day event in the squirt, atom, mosquito, peewee, bantam and junior divisions. Cobourg Junior Selects were undefeated in the tournament but due to a tie did not accumulate enough points to advance to the final in their division. Cobourg Spoolon Bantams were the most successful local team, losing in the finals to Newmarket. Kingston won the Peewee division, Peterborough the Mosquito and Oakville the Atom division. Roy and Pauline Cashin, Chair.

* August 22-23, 1987 – Legion Sesqui Softball Tournament – O.A.S.A. Provincial Peewee "B" Division – This event occurred as part of the sesquicentennial celebrations and consisted of 8 zone winning teams from Napanee, Kemptville, Aurora, Unionville, Nanticoke, Port Perry, Smithville and host Cobourg. Napanee won their 2nd straight Ontario title versus Unionville. Norm MacDonald, Chair, Lionel Gutteridge, Linda Bevan, Sports Officer Bob Robison, Gary Smith, Dick Turpin, Steve Sleeper. **Background info** The legion has been sponsoring minor softball in Cobourg since 1958 when people like Lionel Gutteridge, Tom Savage, Jack Bevan, Cedric Smith, Layton Dodge and many others got together and formed a softball league for children of ages from 6 to 15, it has been going ever since. (taken from excerpt in Sesqui binder)
* August 22-23, 1987 – Countess of Dufferin 100 mile Yacht Race – Gord Atkinson, Chair, Mike O'Grady, Dan Goldring, Don Macklin.
* The Arabian and Western Horse Shows held at Donegan Park on Saturday and Sunday September 26 and 27th was sponsored by the Arabian Horse Association of Eastern Canada and the Northumberland County Riders. A wide variety and exotic costumes attracted a large turnout of spectators who witnessed a high degree of horsemanship competing in 32 events. Bob Jenkins Chair, Esther Johnson, J. Barton, Doug Routh, Pam VanZelzen.
* November 7, 8, 1987 – The Cobourg Figure Skating Club presented their 5th annual skating competition and sesquicentennial ice show called "Skate Cobourg '87" – David Cook Chair. The skating event featured skating stars such as Gary Beacom for local audiences to enjoy. 144 registered skaters including 60 local skaters participated in the 28 category sesquicentennial themed show/competition. Local skaters exceeded in the competition and included Jennifer Harper placing first in the Novice Ladies Competition, Melissa Knight, first Juvenile B Competitive Ladies, Sara Haukioja first in Beginner girls and Geoffery Mercer first in Beginner Boys. **Background History **…. (The first Cobourg Figure Skating Club began in 1949 with Mr. Ed Bovay as its President. The first of many Skating Carnivals was held two years later, in 1951. In the early 1950's, summer skating schools were held in the Cobourg Memorial Arena. Two notable skaters attended at that time; they were Don Jackson and Toller Cranston. The Cobourg Figure Skating Club moved to Pad II after its completion in 1977. All club skating and test days are held in Pad II. (unknown author))***
* Cobourg Community Hockey League: On November 21-22 the CCHL staged a successful bantam rep team hockey tournament with 24 teams participating. Niagara-on-the Lake captured the A series title with a win over Bowmanville. Cobourg Wholesalers reached the playoffs of the tournament winning 3 straight games but were eliminated by the Championship team, Niagara-on-the Lake. Gord Stevenson, Chair, Layton Dodge, Peter Campbell, Ken Petrie, Wayne Wiggins, Brian Keighley, Bill Elliott. **Background History**( The first meeting for the Cobourg Church Hockey League was called on December 3, 1934 and the idea of minor hockey was conceived by Rev. Father Wolf, a priest at St. Michaels Parish. The 1st President was Bob Jackson. The first year saw 125 boys sign up for minor hockey. There were four churches involved: St. Peters, St. Michaels, St. Andrews and Trinity United. Cobourg Minor Hockey was played on natural ice up until the season of 1949-50 when a new artificial ice Arena was built, now the kids of Cobourg and surrounding area could even play hockey in the Summer. On August 17, 1953, the Cobourg Arena burned down four years to the day it was built. Colonel Gordon King and his Arena Board along with volunteering citizens cleaned up the damaged building. Because the ice plant was undamaged, a new building was put up in the same site, with a better more comfortable and safer building. In 1960/61, season 388 boys signed up to play minor hockey; as the numbers continued to grow, the CCHL began sending teams to play in Colborne and Grafton. In 1974/75, the youngest President of the CCHL, Jack Greer came up with the idea for a 2nd ice Pad. A building fund committee headed by Jeff Rolph was formed and on April 1, 1977, Pad II Arena was officially opened, this was due to many people donating many hours to help Minor Hockey. The Cobourg Church Hockey League became the Cobourg Community Hockey League that same year (author unknown).) **
* December 20, 1987 Olympic Torch Relay -sponsored by Town Council. 6,214 Canadians carried the torch from St. John's Newfoundland across the country to Calgary for the 1988 Winter Olympic Games, a total of 18,000 km. 88 local citizens carried the torch for 1 km each and were selected at random from 2.5 million Ontario applicants. Three separate events occurred in Cobourg to celebrate their sesquicentennial and the arrival of the torch. Five Cobourg residents and the Royal Canadian Legion Branch 133 received Celebration '88 medals at a ceremony outside of Victoria Hall for their contribution to sports prior to the torch arriving. Two athletes, a coach, a sports volunteer and an official were recognized. Runner Jim McIlwham and figure skater Jennifer Harper were honoured as Cobourg's athletes of the year. McIlwham, holder of 8 Canadian running records for his age group was the outstanding male athlete and 13 year old Harper who earned a bronze medal at the 1986 Canada Winter Games, the outstanding female athlete.
Others recognized were volunteer Marjorie Vandershaaf for her involvement in the Parents' Athletic Association program at CDCI West high school and the Special Olympics; Paul Currelly for his contribution to amateur sports and in particular his involvement in girl's softball for over 30 years; and Bruce (Red) Alexander who received his medal for officiating and his involvement in Church League sports including hockey, baseball and football for more than 30 years. A two hour production entitled "The Games of Winter" was staged at CDCI West and in the evening, the Concert Band of Cobourg presented a sesqui Christmas pops concert at Victoria Hall. These events celebrated the Olympic Torch arrival as well as rounding out the Sesquicentennial celebrations.
The Sesquicentennial celebrations were a huge success in bringing the community of Cobourg and surrounding areas together. The sporting community played a large part in this celebration. As quoted from the book, Cobourg 1837-Sesquicentennial-1987, Chairman of the Sesqui Committee, Ralph Zarboni states the following:
Mayor Read, Town Council, service clubs, business and others have been most supportive; giving unreservedly of their time and talents. This in itself, is a measure of the type of town Cobourg is!!! I take pleasure and pride in thanking all those contributing to the some 78 events that have comprised our Sesquicentennial program. I would like also to extend congratulations to the thousands of citizens and visitors who participated with enthusiasm.
We should all be most happy!!!
Ralph Zarboni
Sources: Cobourg 1837-Sesquicentennial-1987; The Cobourg Daily Star 1987 edition; Minutes, Sesquicentennial Committee
Sport Played That Connects To Collection List