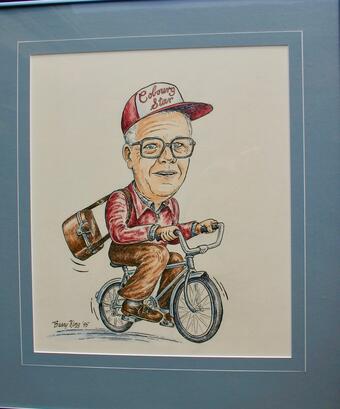 LAYTON DODGE'S ENDURING IMPACT ON HIS COMMUNITY
IT ALL BEGAN WITH A SCORESHEET
In general, most longstanding members of the Cobourg and area sports community are aware of Layton's prodigious production of sports news, his widespread volunteer contributions and his personal generosity to those he knew.
There is no need to recount all of Layton's accomplishments that led to his most deserved induction into The Cobourg and District Sports Hall of Fame. The record is clear and eloquently preserved in the articles, testimonials and accolades Layton Dodge has received since his passing.
When I was young and living in the centre of Cobourg, I came to know Layton quite well. He had an easy rapport with young people that became regularly evident in his sports news articles that grew from once a week publications to a 2 page spread that was produced 5 days a week.
His respect for the accomplishments of even ordinary athletes was clearly evident in the topics he chose to write about and the manner in which he elevated so many young people's sense of accomplishment.
I hope that Layton appreciated how his contributions had a ripple effect in his community. Each article provided an athlete, coach, manager, local business sponsor, umpire, referee or service club with an elevated and positive profile in the community. The bonds that Layton strengthened through his writing, embraced the wide spectrum of individuals that lived in the area.
Farmer, doctor, factory worker, nurse, business owner, high school teacher or student all knew about and respected the contributions and achievements of those who were part of the broader sports community. Whether we met at the rink, soccer pitch, lawn bowling club or ball diamond, we gathered in larger numbers because we saw the games as community events.
On a warm summer evening, Layton's voice, projected by a loudspeaker from Victoria Park, would echo through the old part of Cobourg summarizing a half inning scoring summary for the Angels or Town League. Perhaps, more than anything I can remember about Layton, the sound of his voice provided me with a comforting sense that we lived in the best of places, and during the best of times.
Something that always amazed me was how Layton was able to craft an enjoyable article from the simplest information garnered from a score sheet or summary. Despite the fact that it seemed like he was everywhere at the same time, he surely was not. His capacity to enlist his imagination, employ his expressive language and express his deep affection for sports and apply those skills so often and so well, were remarkable talents.
His skill was equal to or perhaps exceeded some of the best national and international sports writers in the print media of his time. It is not beyond the scope of possibility to imagine that Layton Dodge could have sought and obtained a national profile in the print media.
How lucky we were that Layton loved his community so much that he stayed and gave us such a precious and remarkable gift.
By: John Hayden
Sport Played That Connects To Collection List