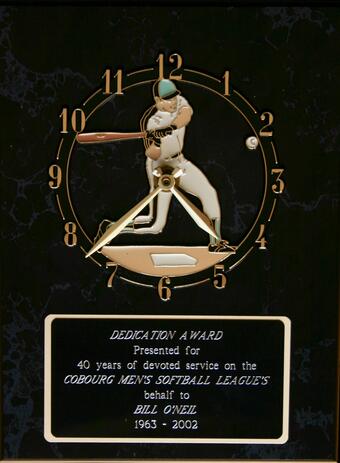 FOND MEMORIES OF BILL O'NEIL
Since Bill O'Neil's well deserved induction into the CDSHF, I have revisited his story featured on the website. As a youth who was very interested in fast pitch softball, I watched and listened to Bill from the vantage point of Layton Dodge's scorer's table, the stands or behind the screen. Even then, I was surprised by how Bill was so quiet and unassuming compared to most coaches I had seen or had up to that point in my life.
Many years later, I watched Bill apply his understated approach to coaching the quite successful OASA Juveniles and Juniors. He had not apparently changed one bit! If there was ever a unique meeting of opposites between a coach and his/her players, it came to pass with Bill coaching older adolescents.
I had started coaching quite a bit at that stage in my life and I had the same impression of Bill as I had earlier. Almost magically, he used his calm and respectful manner to enhance all aspects of the games that he was involved in, including his interaction with umpires.
The only formal sports contact that I can recall with Bill, other than a congenial hello or chat, was when he tried very hard to save me from ejection at Legion Fields in front of the home town fans during a Junior Angels tournament game. The dispute with the home plate umpire (Bill was on the bases) had started prior to the game and had escalated over a disputed call concerning a rule interpretation and application.
As the dispute was reaching its climax, I felt a gentle hand on my left shoulder and his quiet voice telling me, in effect, that right (Of course I was!) or wrong (Perhaps...), it didn't matter. The argument had deteriorated from a rules dispute to an ego contest between two participants that I could not win.
It would be great if I could complete this anecdote as a good news story about successful damage control. Unfortunately, Bill failed in his effort to rescue me. Afterwards, I thought about Bill's reputation. One thing for sure was I wish Bill O'Neil had tossed me because I would have gone quietly.
Bill O'Neil was a wonderful individual. Since his passing, my appreciation and affection for him has only grown.
by John Hayden
Sport Team or Name This Story is about
Sport Played That Connects To Collection List