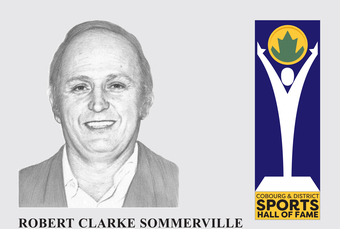 Robert Clarke Sommerville was born in Toronto, on December 5, 1930. Playing hockey in his early life, he worked his way up to the Junior A ranks, spending 4 years as a goaltender for the Galt Black Hawks. The following two years were spent in the American Hockey League, playing with Philadelphia and Washington.
In 1952, Clarke purchased a small retail business in Cobourg that evolved into Sommerville's Sporting Goods. Upon arrival, he got involved in the local sports community. He played for the Intermediate hockey team, joined the golf club, pitched in the Town Softball League and joined the executive of the Cobourg Church Hockey League. Quietly, and with a small group of other local sportminded men, a lacrosse league for kids was formed, which operated out of Cobourg's Memorial Arena. In the mid 1960's, Clarke, Dick Robinson, Jeff Rolph and Layton Dodge were instrumental in starting and funding a local Junior "B" hockey team, the Cobourg Cougars. Clarke was a Cobourg Cougars' lifetime executive member. He served in many roles with the team, including General Manager. Clarke was also involved with minor softball.
In 1972, Clarke and his son David coached their "Sinclair  Mustangs" to an Ontario Softball Championship. The sporting goods store was a gathering spot for people to discuss current issues. Many important decisions about local sports were made around the store's famous pop cooler. Clarke was proud and humbled to be involved in the successes of the Cobourg Cougars, the Cold Springs Cats and countless other local teams and organizations.
Throughout the decades, Sommerville's Sporting Goods has been a staunch supporter of many sports and athletes in various ways behind the scenes. His support of athletes was truly profound.Clarke Sommerville was a good athlete but his true legacy is as a builder of sport. His contributions will have an everlasting impact on our community.
Sport Played That Connects To Collection List