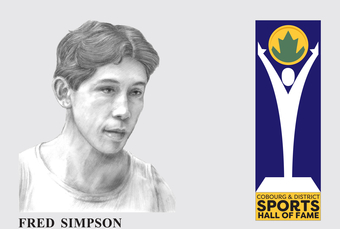 Fred Simpson, known as the Ojibway Thunderbolt, was born in Alderville, in 1878, to James and Mary Simpson. By 1891, he had lost both of his parents and was raised by his maternal grandmother. In adulthood, Fred stood at 5'11" and weighed 145 pounds, possessing great strength and stamina. That stature would lead him to become one of the best runners in Canada. Around 1899, Fred moved to the Hiawatha Reserve on the north shore of Rice Lake and married Susan Muskrat.
During 1906, Fred started long-distance running and participated in the 10-mile Peterborough Examiner road race. His third-place finish caught the eye of Dick Baker, Coach of the YMCA harrier track team, who began to work with the young runner. In the Autumn of 1907, Fred finished second in the premier Hamilton Herald road race. This put him in the limelight. Over the next 8 months he improved to the point where he was considered a legitimate hopeful to qualify for the Canadian Team which would compete at the 1908 Olympics in London, England. At the Canadian Olympic finals, he secured his place on the team. The Olympic marathon was run on July 24, 1908, from Windsor Castle to Shepherd's Bush in east London.
Only 14 of 32 runners were able to finish. Fred Simpson finished 6th in a time of 3:04:28. After London, Simpson would again finish second in the 1908 Hamilton Herald road race. In 1909, he turned professional to race on a circuit that would take him to Savannah, Chicago, New York City, Newark, Buffalo, Fort William, Montreal and Toronto.
After the 1911-12 racing season was complete, Fred Simpson retired to Hiawatha to continue raising his family with Susan. In 1923, he moved his family back to Alderville where he lived out his life. He passed away on May 19, 1945. In 2011, a stone was placed at  Simpson's unmarked grave in the Alderville First Nation cemetery commemorating his life and his feats as a long-distance runner.