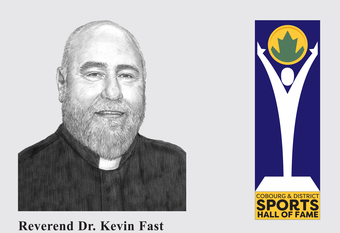 Reverend Dr. Kevin Fast was born in St. Catharines, Ontario, on April 13, 1963. Upon graduation, he served in several congregations before arriving at St.
Paul's Lutheran Church in Cobourg, in 1992. Growing up he was of average athletic ability.
It was in 1994 that he discovered the Cobourg Highland Games. Although Kevin had never seen the events before, he accepted an invitation to compete and surprising himself – He Won! This motivated Kevin to attempt other feats of strength, some that did not seem to be humanly possible. He has pulled everything from fire trucks to trains to houses to planes.
As of February 2020, Kevin has recorded 34 world records for feats of strength and appears in the Guinness World Book of Records for setting 31 records. One of Kevin's incredible feats of strength occurred on September 18, 2009 at the Trenton Air Force Base, where he pulled a 188,830.05 kg (416,299 pound) CC177 Globemaster III Aircraft a distance of 8.8 metres.
Along the way, he was dubbed "The Powerlifting Pastor" by his many fans and supporters. Kevin Fast has appeared on numerous TV shows that were covering his feats of strength. He has raised thousands of dollars for many charities. For example, by pulling a house and setting a new world record, he helped raise $70,000 for Habitat for Humanity. Kevin Fast is 5'9" tall and weighs 300 pounds.
His philosophy is simple – "God has given me the gift of strength and, in thanksgiving, I will use it for His Glory as long as I have it." With faith, prayer and the love of his family – Kevin Fast continues to compete.