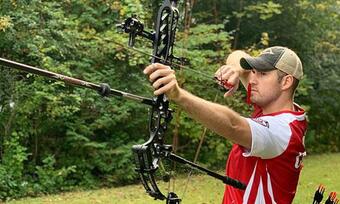 Archery - Andrew Fagan (Dr)
Northumberland chiropractor makes the best of shortened archery season
Dr. Andrew Fagan becomes No. 1 ranked archer in Canada, again
Northumberland News, Oct 22, 2020
Countless hours spent practising and training at home during the COVID-19 lockdown have paid off for local chiropractor Dr. Andrew Fagan, who has become the No. 1 ranked compound archer in Canada.
Fagan, a chiropractor at the Port Hope Health Centre, said he is lucky with his sport since participants are able to space out on a large field, stay in their lanes and have a safe event with limited amounts of people.
After competing at numerous events, he was able to cumulate scores that landed him on top of the national ranking list for the 2020 season.
"I am very happy with the success I had this year with the limited amounts of events available," Fagan said. "(It) would have been nice to stand shoulder to shoulder with all the guys at outdoor nationals, hopefully we get to do it next year on Prince Edward Island."
At the last event of the season Fagan was also able to achieve a new national record.
"(It) was good to finish the year on a high note. It has been a grind keeping up with my training plan, especially during the lockdown months, but in the end the results showed all the hard work put in behind the scenes," he said.
He said archery, like other competitive sports, was on pause from mid-March through to the end of July.
As of Aug. 1, archery clubs across Canada began running COVID-19 safe outdoor national ranking events.
Earlier this year during the winter, he also had a successful indoor tournament season winning gold in both the national and provincial regional championships.
Fagan, 34, a resident of Baltimore, has been competing in archery for 26 years, has been a No. 1 ranked archer in Canada previously, and has been a member of the compound national team since 2007.
He has competed at the world championships, world cup circuit, Commonwealth Games, Pan American Championships, Canada Winter Games and was also a torch bearer for the Toronto 2015 Pan American Games.
 
**********************************************************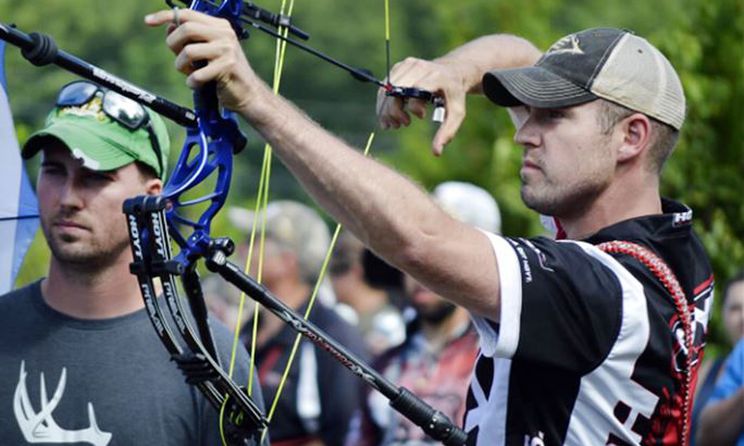 Northumberland archer Andrew Fagan returns from nationals with gold, silver
Sarah Hyatt, Northumberland News, Sep 24, 2019
When he's not working at the Port Hope Health Centre, there's a good chance you'll find Dr. Andrew Fagan with a bow.
"I first shot a bow when I was about six or seven," says Fagan.

About a year or so later, Fagan would go on to compete in his very first tournament, at just eight years old.
Fagan learned the sport from his dad and grandpa, and as soon as he could pull a bow back, he says, he got right in there with them.
Twenty-five years later, Fagan's still going strong. Not only does he still love it, he's continuing to shoot his way to some pretty serious wins.
The 33-year-old chiropractor from Baltimore just returned home with gold and silver, after competing at the 2019 Canadian National Archery Championships.

He's once again ranked as the No. 1 compound archer in Canada. Fagan's been a member of Canada's national team since 2007.
The 2019 national championships were hosted in Saskatchewan in August. Fagan took wins in field and target archery.

With the field event, archers shot three arrows at 24 target stations, with each of these stations set up at various distances and with targets varying in size depending on the distance. With a score of 396 in the event, Fagan took gold in the men's compound division.
And he didn't stop there.

Next, Fagan went on to compete in the target archery championship round.
Target archery involves shooting at a target 50 metres away. The total target face size is 80 centimetres in diameter, with the bull's-eye (or 10 ring) measuring just eight centimetres, explains Fagan.
First, Fagan says, archers had to shoot a qualification round to rank and be seeded into a bracket to shoot head to head in the finals at the Canadian Open on the last day.
 
Despite some windy conditions and a couple of technical issues with equipment, Fagan finished in the top three heading into the finals.
The finals featured the top 32 archers shooting head to head in what's described as a bracket-style format for a 15-arrow match.
Advancing to the semifinals, Fagan says, he had a tight matchup right to the end, with the No. 1 seed after qualification. He earned his shot at gold after finishing with a maximum score of three perfect 10s.
 
Fagan went on to earn silver in the gold-medal matchup after he was defeated by a two-point margin.
After committing to eight weeks of consistent training and preparation to compete at the nationals and stepping onto the podium twice, he says he feels pretty good.
 
Previously, Fagan has competed at world championships, the Commonwealth Games, the World Cup circuit, the Pan American Championships, and the Canada Winter Games. He was also a torch bearer for the Toronto 2015 Pan American Games.
*************************************************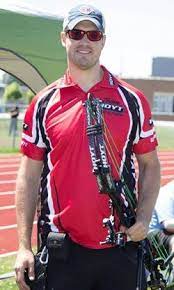 Baltimore's Andrew Fagan shoots his way to world archery championships in Mexico City
Northumberland News, Aug 29, 2017
Andrew Fagan, a 31-year-old chiropractor from Baltimore, Ont., has won a spot on the Canadian archery national team destined for the world championships in Mexico City this October.
Fagan, originally from Ajax, competed in Montreal at national team trials on Aug. 5 to 7 and emerged with the most points of the three men who will represent Canada.
The top 16 male and female qualified archers in the country were invited for two days of head-to-head shooting to determine the team.  
The first day consisted of a 720-round score, shot at a distance of 50 metres on a 80-centimetre target face. The 10-ring, or bull's-eye, measures eight centimetres in diameter. Archers shoots 12 ends of six arrows to complete the four-hour, 72-arrow round.  
In difficult cold and windy conditions, Fagan was able to hold his own and finish first place for the day, well ahead of the group to earn crucial trial points toward the team.
With the field cut to eight archers on the second day, when every archer faced each other in head-to-head, 15-arrow matches, Fagan won six out of seven matches to finish first place overall for the round-robin day. He also pushed further ahead of the group with a match arrow average of 9.8, earning further trial points.  
The final team consists of Fagan, who earned 36 trial points, Robbie Nott from London (24) and Luc Martin from New Brunswick (22).
"It's great to finish first at trials," he said. "The competition was stiff, but I was fortunate to edge these guys out over the two days. These guys pushed me pretty good. I think we have a strong team going to Mexico."  
The world championship is a special event for compound archers, occurring only every two years.
Directly following the trails, Montreal also hosted the Archery Canada national championships with a much larger pool of hundreds of archers from across the country.

Fagan continued to shoot well and finished with a silver medal in both the field and target championships.  
"It was a long 10-day trip of competing basically every day, all day," he explained. "I think a lot of us archers had some amount of competition burnout going on, but myself and fellow national team members did well and finished strong at nationals after trials."
Currently ranked as the No. 1 compound archer in Canada, Fagan has competed at world championships, Commonwealth Games, Pan American Championships and Canada Winter Games, and was a torch bearer for the Toronto 2015 Pan Am Games.
When not shooting, he is a practising chiropractor at the Port Hope Health Centre.
*************************************************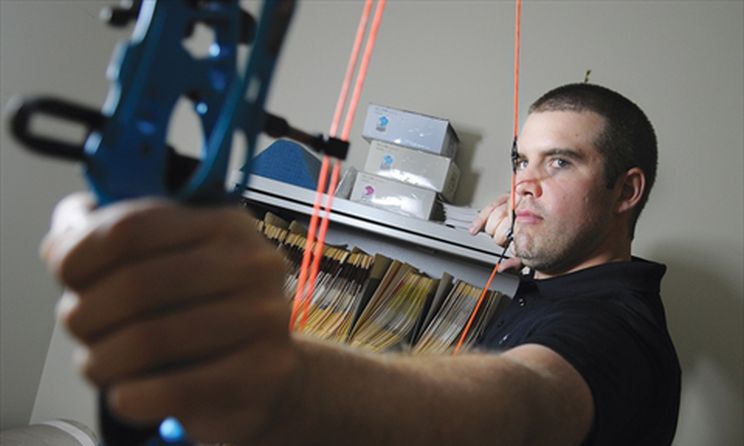 Port Hope's Andrew Fagan doesn't crack under national archery pressure

Chiropractor wins 10th national title
Todd McEwen, Northumberland News, Sep 16, 2015
As a full-time chiropractor, Dr. Andrew Fagan doesn't have a lot of free time.
He splits his six-day work week between his office in Pickering and Port Hope, travelling home to Bowmanville every night to relax for a few hours before he's back to the daily grind.
"I work a lot," he said.
Which is what makes his recent athletic achievement all that more impressive. When Dr. Fagan isn't treating back and neck pain, he's competing at a national level as an archer. It's been a sport he's invested time and money in for 22 years, and he's now at the point in his career where he doesn't need to practise at length to win championships.
He recently returned from Winnipeg where he claimed his 10th national compound archery championship. He was up against the best and most competitive archers in Canada. His competitors are familiar with him, just as he is with them. He knows most of them have nothing but time to hone their skills in their personal indoor arenas and acres of property. He's best known for being a modest doctor who squeezes in a competition when he can and continues to win, year after year.
"It's always been a hobby, it's still even a hobby, even though I'm one of the top archers in the country," he said, "I work. I work six days a week. The other guys just shoot. That's all they do."
Dr. Fagan's been involved in athletics his entire life. He started, like most young Canadians, learning to glide on a pair of skates before picking up archery as a hobby 22 years ago. He was even drafted to the Ontario Hockey League's Peterborough Petes club in 2001.
It wasn't until university that Dr. Fagan sidelined the nation's pastime in favour of studying for his degree. When he wasn't cramming for exams, he turned to his trusty bow to help relax.
"It was something to do to keep me sane," he laughed. "Instead of going to the library and studying all the time. I just went and shot my bow for something to do."
Since then, he and his bow have travelled the world. Two years ago, he finished 33rd in world championships in Turkey. Finishing top 40 was more than enough for the smalltown chiropractor.
"It was good for me -- a chiropractor that doesn't practice that much," he laughed.
During that competition, the worst-case scenario for archers unfolded: ferocious wind.

"That was the worst ones I've ever been in," he said. "We had 50- to 70-km winds, it was crazy ... (this year's) nationals was nothing compared to that."
This year's national competition faced its own case of severe wind.
"For some reason Winnipeg's always windy when we have nationals there," he said.
He believes if it wasn't for the wind, he wouldn't have been able to sneak ahead on the scoreboard during the first day and maintain a solid lead heading into the second round.
"On the competition days it was really windy and gusty," he said. "That affects things quite a bit. But I've been doing it for so long I have a pretty good idea on how to pick your time to shoot into the wind. A lot of the other guys got frustrated and made goofy mistakes, so I was able to sneak ahead and stay ahead in the second day."
Dr. Fagan said it usually takes about 20 to 30 seconds to load a bow, sight the target, pull back and release an arrow. Patience is key when wind is amuck, he said, because a typical shot won't co-operate with Mother Nature's invisible force.
"Some people take a little bit longer," he said. "If there's a break in the wind, I might load it up, get it in, pull back and shoot in 10 seconds where as other times I'm standing there waiting for a full minute, and I won't bother to draw because it's too windy."
By the end of the second day, Dr. Fagan knew he could maintain the lead, as long as he "didn't screw it up". In the final hour-and-a-half stretch, he had 36 arrows left to shoot.
"Thirty-six arrows doesn't sound like a lot, but it takes some time to get through it," he said, adding his bow weighs about 60 pounds, which he holds straight out with one arm. "My mentality went from trying to hit the middle every time and pushing forward to just taking it easy, put them in there and stay ahead."
His strategy unfolded in his favour and he took home another trophy to add to his mantle. How did his competition feel about it?
"No one knows how I do it," he said. "I feel bad, too, because some of them will ask me, 'Are you shooting more now?' and I say, 'Not really, no'.
"They say to become an expert, you need to put in 10,000 hours. I've passed that a long time ago."