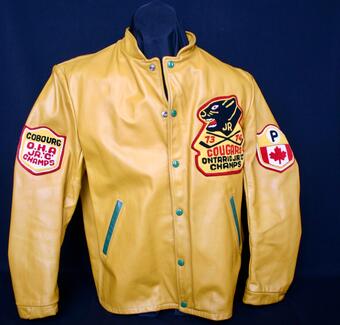 COBOURG COUGARS JUNIOR C HOCKEY 1971-1980
Making their debut in the Central Ontario Junior C League, the 1971-72 Cobourg Cougars would face Port Hope, Bowmanville, Lindsay, Whitby and Sutton in the 29-game schedule.
They finished the regular season with 13 wins, 13 losses and 3 ties. Under the stewardship of coach Vern MacGregor, manager Bob Olson and leadership of captain, Bruce Sherwin the Cougars stunned the group powerhouse Sutton South Shore Rangers in a seven-game, first round playoff upset.
They ultimately earned the right to represent the league in provincial play downs and advanced all the way to the OHA Junior C finals where they were eliminated in five games by the powerful Leamington Flyers.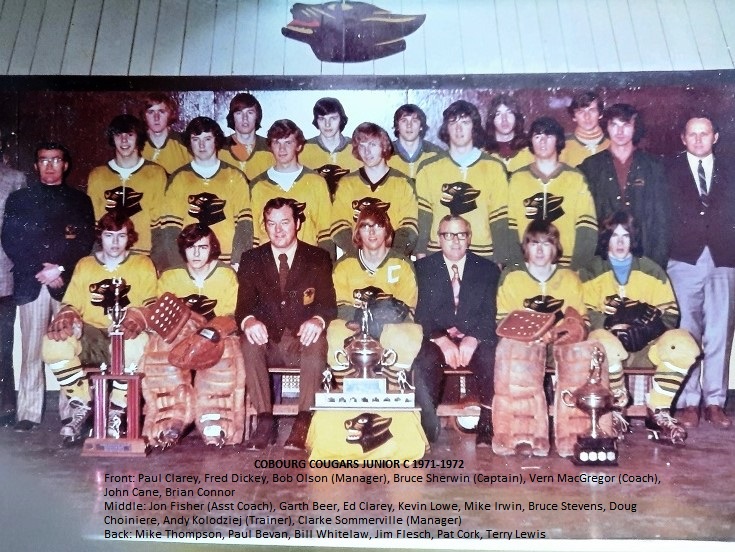 The top five scorers in that inaugural season were Jim Flesch (37 points), Ed Clarey (37 points), Terry Lewis (33 points), Pat Cork (32 points) and Brian Connor (26 points). The rest of that first Junior C cast also included Bill Whitelaw, Paul Bevan, Garth Beer, Mike Irwin, Paul Clarey, Kevin Lowe, Fred Dickey, Mike Thompson, John MacDonald, Tom Lewis and John Cane. Eddie Clarey would go on to play for the Quebec Major Junior A Hockey League's Cornwall Royals.
The 1972-73 Cougars would join Bowmanville, Lindsay, Markham, Oak Ridges, Penetang, Port Hope, Port Perry and Sutton in the Central Ontario Junior C League. They would finish the regular season with a record of 22 wins, 6 losses and 4 ties.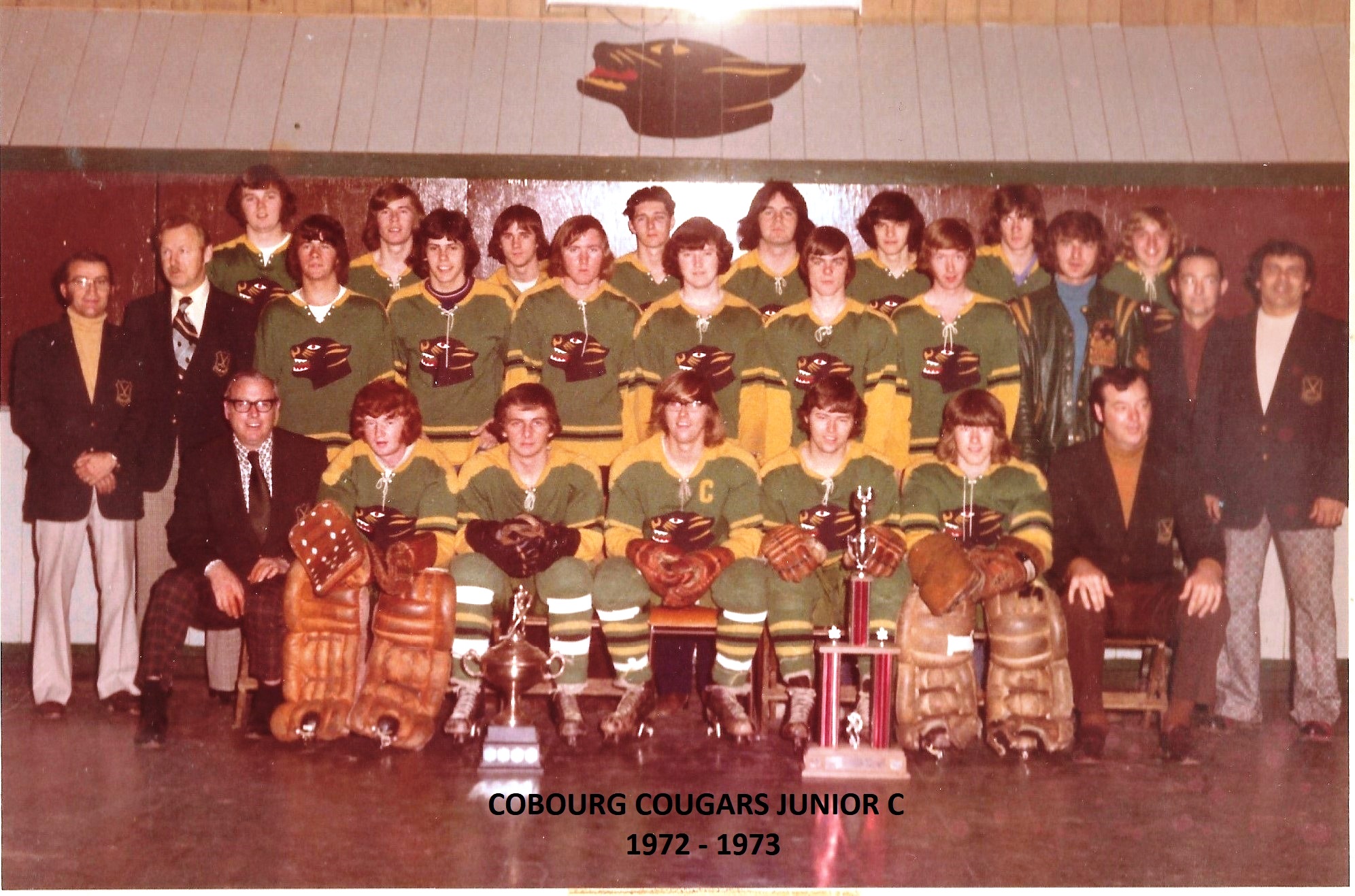 The top five scorers in the regular season were Ed Clarey (49 points), Terry Lewis (49 points), Garth Beer (38 points), Allan Bush (38 points) and Doug Choiniere (32 points). John Cane had a 3.46 GAA in net while Bob Stevenson posted a 3.26 GAA.
Members of the 72-73 Cougars included Trev Baxter, Garth Beer, Paul Bevan, Allan Bush, Ed Clarey, Paul Clarey, Doug Choiniere, Brian Connor, Jim Flesch, Charlie Fraser, Jon Greer, Bill Hazelwood, Terry Lewis, Gary Oliver, Ian Rundle, Bruce Sherwin, Mike Thompson, Stu Watson, Bill Whitelaw, John Cane and Bob Stevenson.

After the 1972-73 season Ed Clarey would go on to play 137 games, from 1973 to 1976, with the Cornwall Royals of the Quebec Major Junior Hockey League. During his 1975-76 season, Ed would rack up 75 points in 63 regular season games and pick up 6 points in 10 play off games. The Hockey News Draft preview issue listed Ed as the QMJHL's #10 prospect for the 1976 NHL draft. In the 1976 NHL draft, Ed was selected by the Montreal Canadiens in the 4th round, 72nd overall. He was also selected in the 9th round, 97th overall by New England of the World Hockey Association.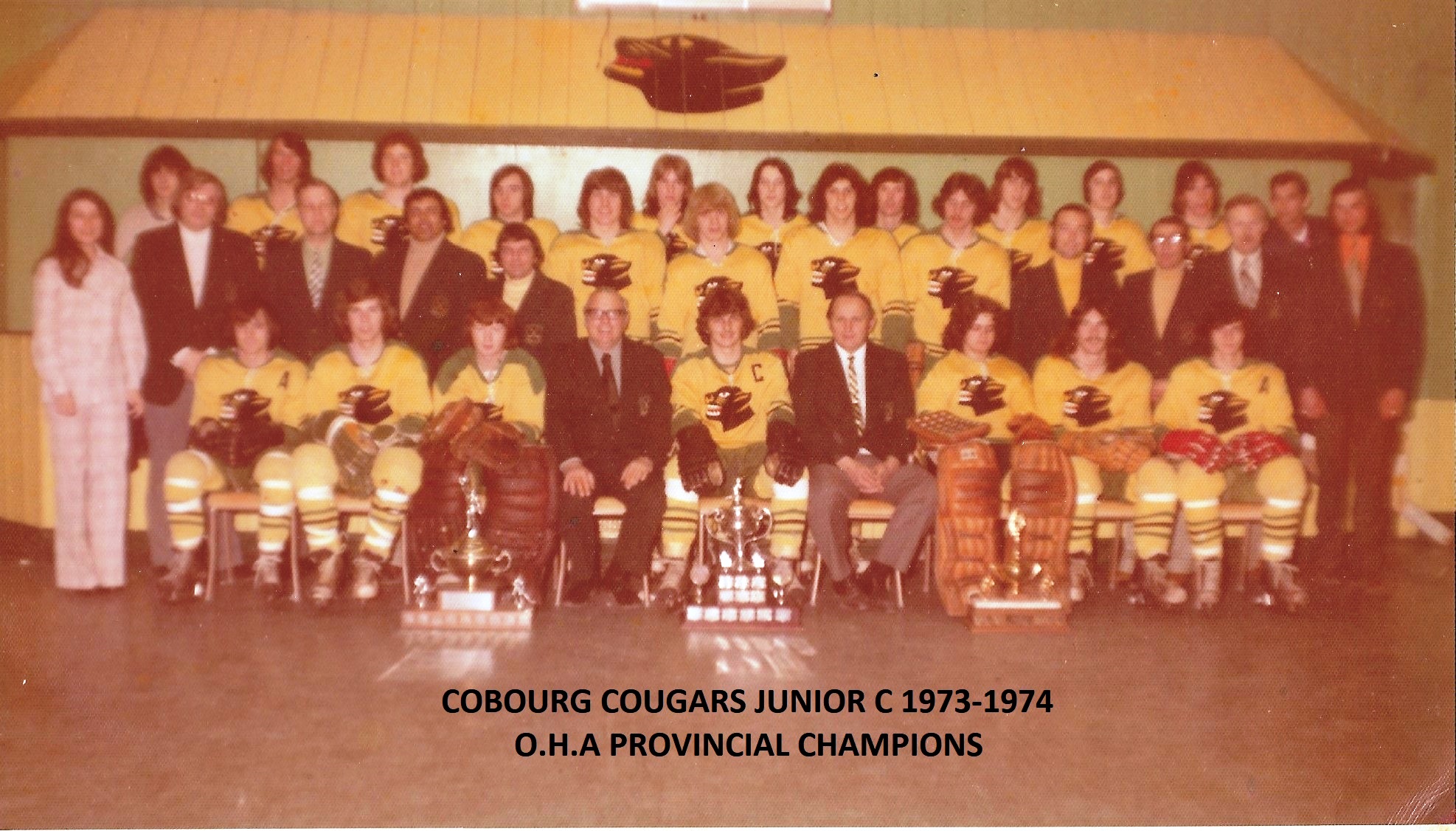 Schmalz Cup Winners
In 1974, the Cougars achieved what no other Cobourg OHA team had ever accomplished - winning the OHA provincial championship in their category. 
The Cougars would top the Central League regular season against Bowmanville, Frankford, Lindsay, Port Hope, Port Perry and Sutton with a record of 25 wins and 5 losses going on to become league playoff champions and winners of the Cougar Cup.

After disposing the Kingston Voyageurs in seven games on the strength of four home-ice victories in the opening round of the provincial playoff train as the Central Ontario league representative, the Cougars flirted with disaster in the semi-finals. Trailing Bradford Vasey's 3-1 in games and behind by a goal in the waning moments of a do-or-die struggle at the Bradford bandbox, they staged the mother of all comebacks inspired by the most famous goal in Junior C Cougar history. Terry Irwin triggered the life-saving goal with only three seconds left in regulation time to tie the score and send the game to OT, in which Cobourg prevailed. Thereafter, the Cougars also won games 6 and 7 to advance to the Ontario Junior C final against the Simcoe Jets.

Dropping the series opener to Simcoe, the Cougars recovered to reel off four straight wins, winning three in a row by a single goal before clinching the coveted crown on home ice by a 9-6 score. The celebration lasted for hours!
Terry Lewis, the Central League's scoring king with 88 points, would add 71 points in group and provincial playoffs to cap a sensational year. Other players leading the regular season scoring parade were Jim Flesch (64 points), Garth Beer (61 points), and Terry Irwin (59 points). Besides leading the team in scoring points, Terry Lewis would also garner 162 minutes in penalties during the regular season.
Goaltenders, Ron Fowler and Bob Stevenson would face a total of 1104 shots during the regular season averaging 36.8 shots per game for a combined Goals Against Average of 4.83.
Provincial champions included Garth Beer, Paul Bevan, Alex Calder, Doug Choiniere, Brian Connor, Randy Fife, Jim Flesch, Terry Irwin, Terry Lewis, John Pollock, Pat Rutherford, Stu Watson and Bill Whitelaw. Also contributing to the cause were Rob Dunn, Pat Kelly, Kim Linton, Dwight Beer, John Roffey and Garth Grosjean.
On December 30th, 1988, a 15-year reunion game was held at the Cobourg Memorial Arena. Over 1300 fans took in the match-up between the Schmalz Cup winners of 1973-74 and the 1988-89 Cobourg Cougars.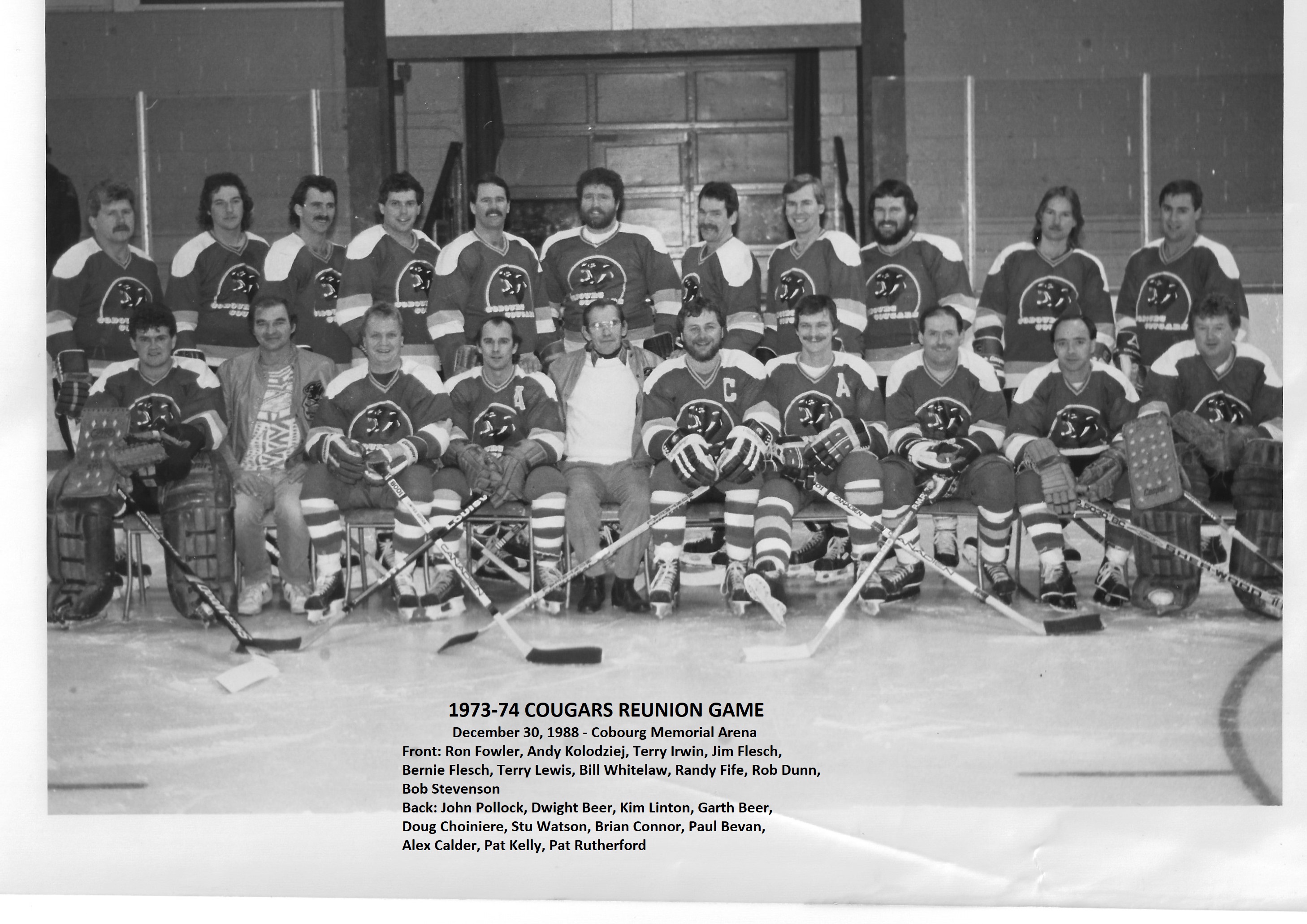 The 1974-75 season saw the Cougars regain the Central Ontario league title at the expense of arch rival Lindsay Muskies. Despite leading the round 2-1 and 3-1 against the Dunnville Terriers in the provincial quarter-finals, the Cougars eventually surrendered in game seven.
Personnel of that Cobourg squad included Marty Kernaghan, Ian Williams, Tom Sharpe, Mike Ryan, Brian Read, Gary Oliver, Rick and Randy Fife, John Buckley, Floyd Fennema, Don Davidson, Peter Briand, Paul Bevan, Alex Calder, Pat Rutherford, Bill Whitelaw and Rick Stevenson. Marty Kernaghan was inducted into the Cobourg and District Sports Hall of Fame in 2019 for his overall athletic achievements and his illustrious softball career.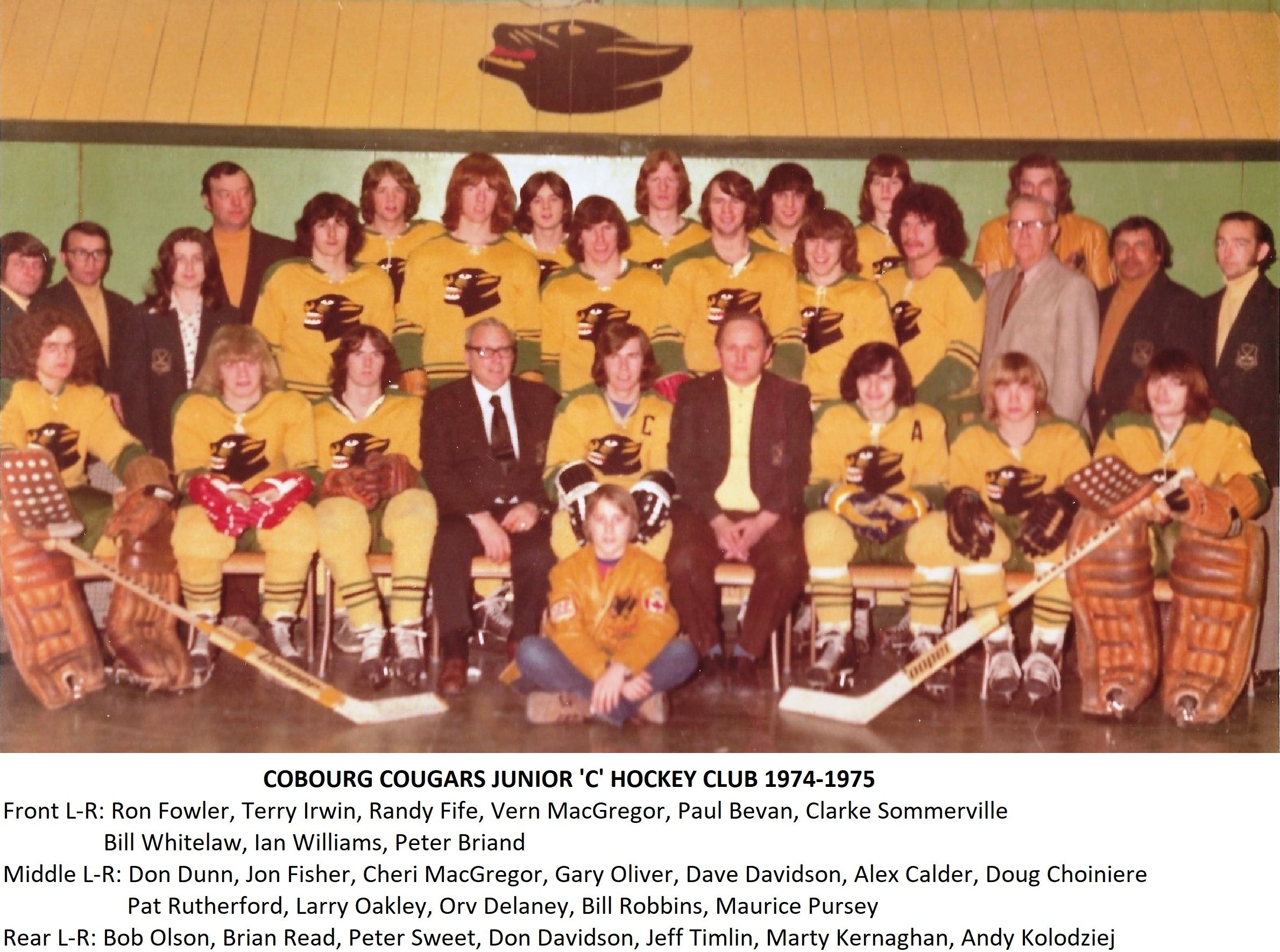 The 1975-76 Central Ontario Junior C League included Bowmanville, Cobourg, Frankford, Lindsay, Port Hope, Port Perry and Stouffville. Cobourg would finish the regular season with a record of 25 wins, 7 losses and 4 ties. Randy Fife was the Central Ontario Junior C League scoring champion.
The Cougars beat Port Perry in the first round of league playoffs 4 games to 2 and would go on to sweep Lindsay in 4 games to claim the right to go forward in the provincial playdowns.

Pictured below, Captain Bill Whitelaw accepts the Cougar Cup from Lloyd Gilliam, Lindsay.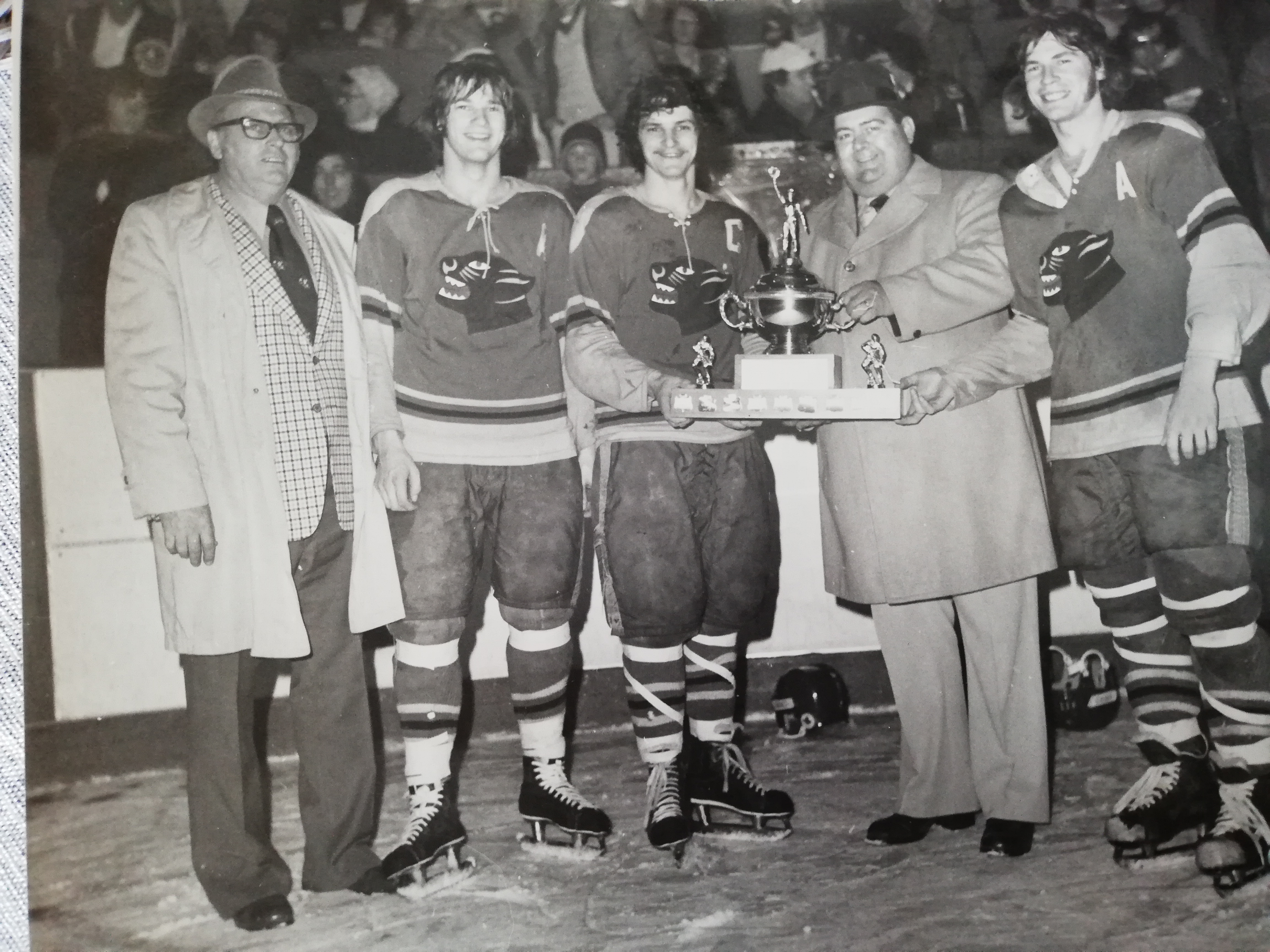 The Cougars would see the dream die when they lost their quarter final series to Huntsville.
For the 1975-76 season Peter Briand and Rick Fife would share the net minding with Fife appearing in 69% of the league games.
Other members of the Cougar cast included Terry Lewis, Rick Stevenson, Rod MacDonald, Randy Fife, Bill Whitelaw, Don Davidson, Tom Sharpe, Mike Ryan, Ian Williams, Gary Oliver, Alex Calder, Pat Rutherford, Marty Kernaghan, Paul Bevan, Floyd Fennema, Steve Witteveen, Jeff Timlin, Brian Read, Morris Petherick, Doug Choiniere and John Buckley.
Regular season scoring leaders were Randy Fife (95 points), Marty Kernaghan (74 points), Gary Oliver (61 points), Terry Lewis (52 points) and Tom Sharpe (49 points).
Pictured below are defensemen Paul Bevan, John Buckley and Doug Choiniere who Cobourg Star sports editor, Layton Dodge dubbed "The BBC Line".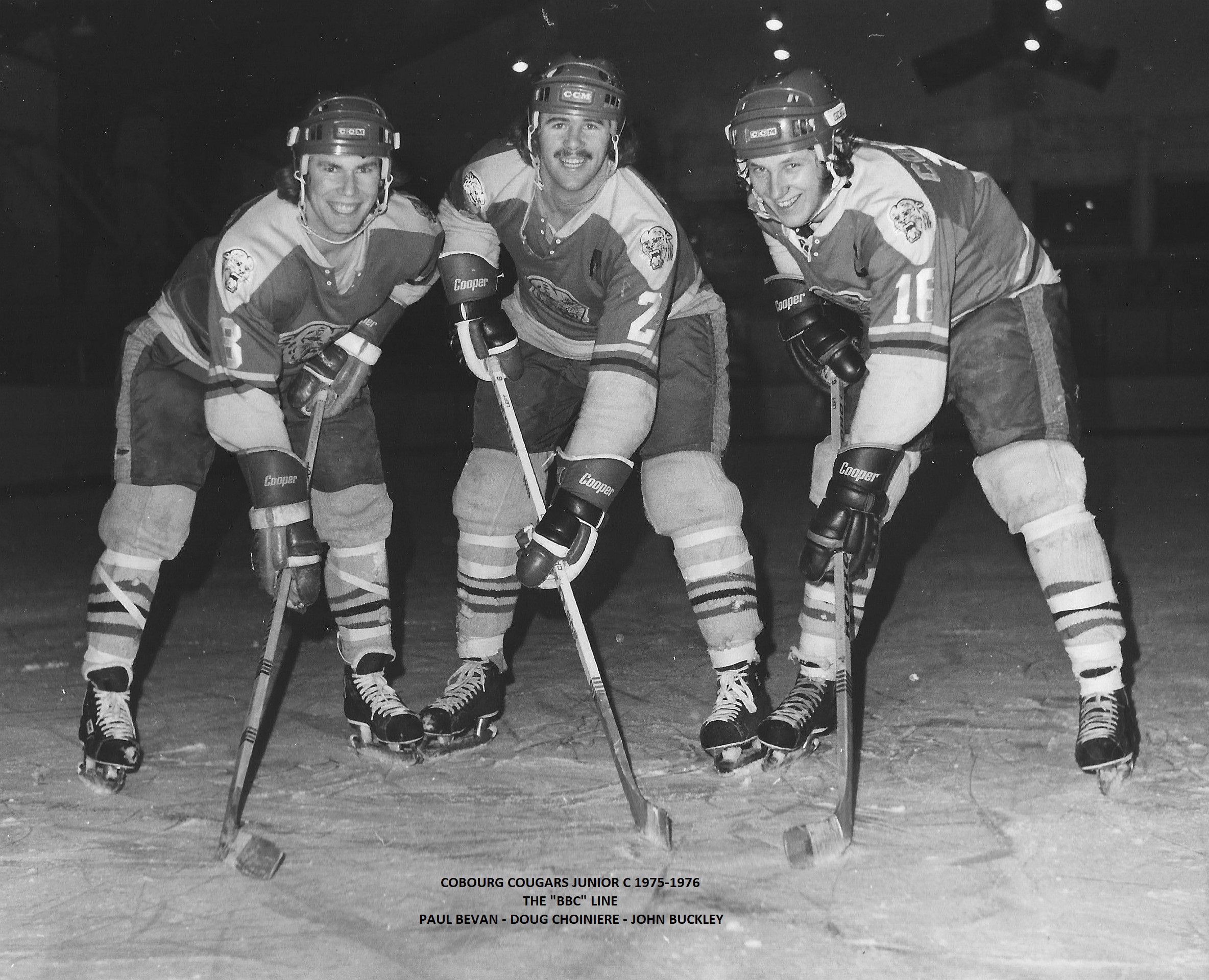 This would mark the end of the so-called glory years as the Cougars struggled in the upcoming three seasons.
The 1976-1977 Cougars would welcome back veterans Pete Briand, Doug Choiniere, Rick Stevenson, Alex Calder, Jeff Timlin, John Buckley, Paul Bevan, Tom Sharpe and Ron Fowler. They would be joined by graduating Midget and Juvenile players Gary Hope, Morris Petherick, Chris Brandt, Randy Sughrue, Steve Witteveen, Phil Choiniere, Jack Norris and Ken Stevenson.
The last regular season home game was played in Cobourg on Monday February 14th, 1977 against Stouffville and would serve as a warm-up for the first round of playoffs which were scheduled to start in Stouffville Friday, February 18th. The Port Hope Panthers would be the regular season champions while the Bowmanville Eagles would triumph in league playoffs and become the Ontario Junior C finalist.
The 1977-1978 season would see the Cougars sitting in fourth spot in early February 1977 in the seven-team league behind Bowmanville, Stouffville and Port Perry. Trailing the Cougars in the standings were Lindsay, by 1 point, Port Hope and Uxbridge. 

Captain Morris Petherick and Assistant Captains, Ken Stevenson and Ross McCullum would be joined by Rick Buchanan, Jim Saddler, Kim LaFontaine, Randy Sughrue, Bill Shannon, Jack Norris, Rob Harnden, Mike Ryan, Bill Hutchings, Larry Landry, Steve Witteveen, Tom Gerolamy, Dave Eakins and Glen Davis. As they had from the inception of Junior C play, Vern MacGregor, Clarke Sommerville and Andy Kolodziej were stalwart behind the bench.
Halfway through the 1978-79 season, the Cougars were in second spot in the standings with 24 points. Although tied with Port Hope in points, Cobourg had played 1 less game. The Central Ontario Junior C league was now home to 9 entries including Bowmanville, Port Hope, Port Perry, Beaverton, Lindsay, Stouffville, Uxbridge and Little Britain.

Cougar alumnus, Terry Lewis, joined long standing coach Vern MacGregor behind the bench and the club was captained by John Crowley and assistants Jim Saddler and Wayne Rorabeck. The rest of the team included goaltenders, Mark Flesch and Glen Davis as well as Rick Palmateer, Gord Sharpe, Ian Williams, Glenn Roberts, Randy Sughrue, Richard Tryon, Mike Gibson, Shawn Turland, Bill Shannon, Kyle Campbell, Larry Landry, Rob Harnden, Mark Hutchinson and Andy Cyr.
In 1979, Terry Lewis would be in sole control of the bench as long-time coach, Vern MacGregor stepped away to join the Board of Directors. At December 13, 1979, the Cougars trailed first place Bowmanville in the standings by one point. The Cougars would respond with a first place in league play with a record of 20-6-6. They won the right to advance to the OHA provincial quarter finals in a seven-game series with Bowmanville. Their provincial run would come to an end at the hands of the Gananoque G-Men. It was later learned that the G-Men had used illegal over-age players during the Cobourg series.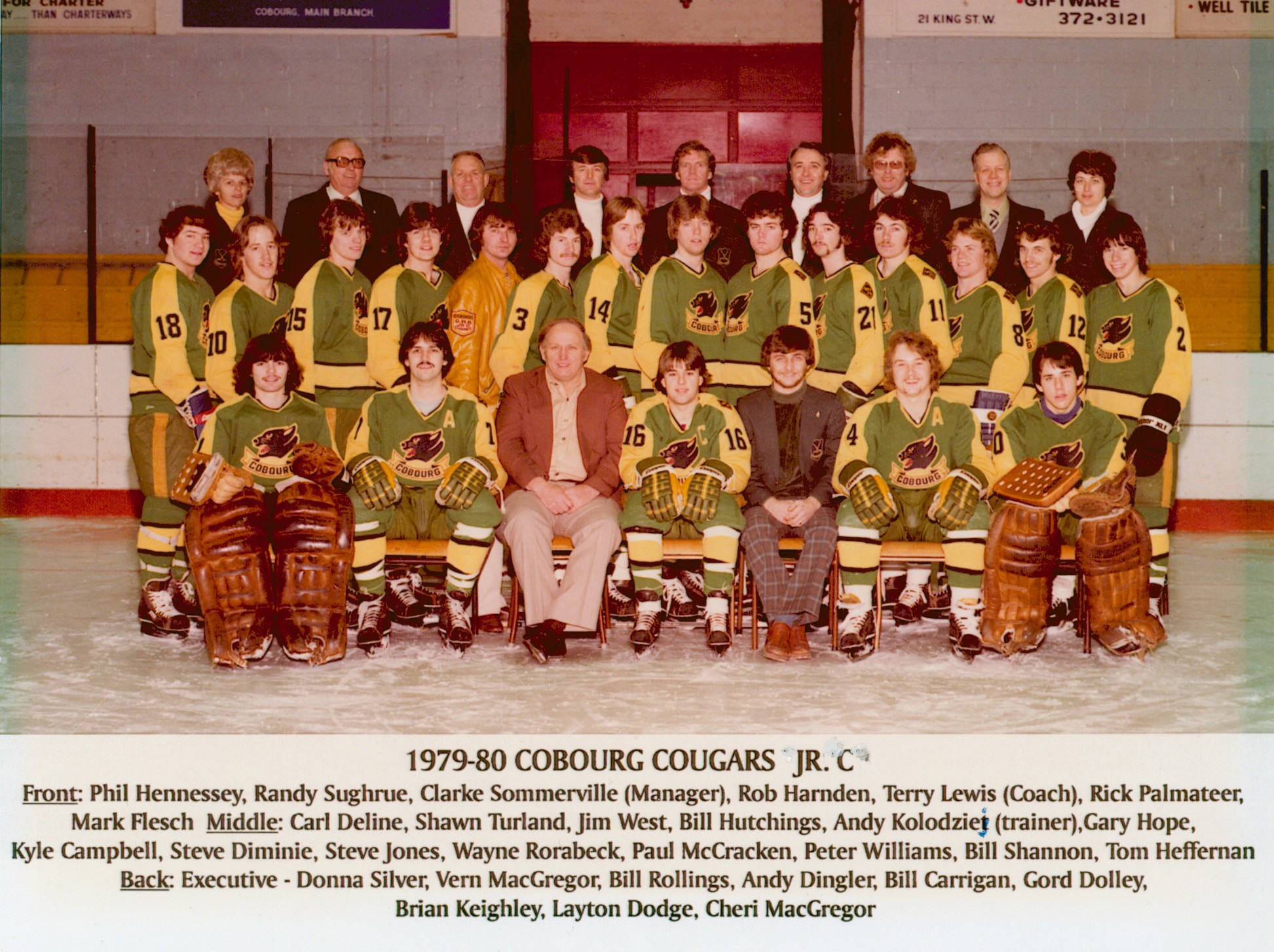 The 1979-1980 squad included Captain Rob Harnden, Assistant Captains Rick Palmateer and Randy Sughrue along with Phil Hennessey, Mark Flesch, Gary Hope, Steve Jones, Steve Diminie, Mike Gibson, Shawn Turland, Paul McCracken, Bill Shannon, Kyle Campbell, Peter Williams, Jim West, Bill Hutchings, Carl Deline, Ray Mosher and Wayne Rorabeck. 
Sport Team or Name This Story is about
Sport Played That Connects To Collection List