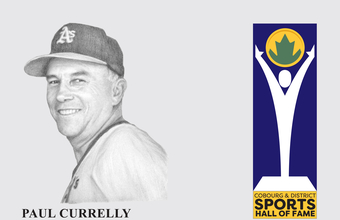 Paul Currelly was born in Port Hope, Ontario on September 3, 1926. He moved to Cobourg in 1952 and resided there until his death in 2004. Paul was an all-around athlete and played basketball, baseball, softball, hockey, football and was a crosscountry runner.
He enjoyed bowling and golf and was well known as a competitive curler. Paul Currelly was a respected backfielder for Cobourg's renown footballteam, The Cobourg Galloping Ghosts from 1947-1952. The 1950 Galloping Ghosts Program described him as a "Good-steady football player that can always be counted on for an all-out effort-a good team player all the way", a philosophy and attitude he was to instill in many players and teams that he went on to coach. In 1958, Paul coached Cobourg's Kiwanis Juvenile "A" Baseball team bringing an Ontario Championship to Cobourg. Paul was instrumental in founding of the "Cobourg Girls Softball League" in 1963. That same year, he coached the Coverdale Aces. This team was the prelude to the Cobourg Angels Girls Softball Organization.
These teams went to win 5 Ontario Championships along with numerous tournament and league championships against teams from much larger centres, all under Paul's tutelage. In the late 80's Paul spearheaded the formation of the Cobourg Junior Angels Organization providing young girls with place to play rep and house league softball. He was both an organizer and a coach.
Paul finished his coaching career by returning to boys baseball and coached the Cobourg Bantam Blacksox to an Ontario Championship in 1998. Hard work, dedication, perseverance and a commitment to team and community were essential attributes taught by Paul. He received numerous awards and honours, both local and provincial over the years, but perhaps his proudest moment occurred in 2004 when the Town of Cobourg dedicated a cairn in his honour on the site of the former Victoria Park Ball Diamond and named the roadway around it, "Paul Currelly Way".
Sport Played That Connects To Collection List