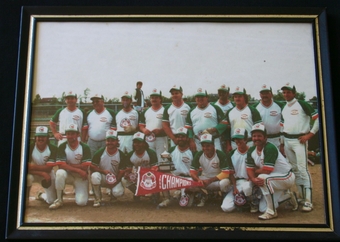 By Ewart Timlin, Manager Edited by Donna Cole
Pre-Cats (1973)
Where the h--- is Cold Springs? That was a common question people asked about our ball team in the 80's and 90's, especially when we traveled out of province. However, in the 60's and early 70's everyone usually played for their own team in Cobourg or Port Hope, or their village such as Bewdley, Harwood, Baltimore, Plainville, or Cold Springs. Therefore, everyone knew everyone else who played softball.
And there were several local leagues in which to participate, such as the Port Hope Town League, Cobourg Town League, Haldimand League, Cobourg Industrial League, and of course the Hamilton Township League. All the leagues were well organized and highly entertaining, as witnessed by the huge crowds at playoff time, when I've seen the parks in places such as Cold Springs and Plainville packed with exuberant fans.
The executive of each league controlled the player eligibility of each locale as well. For example, in the Hamilton Township League for several years, we were only allowed two imports. An import, at that time, might come all the way from Cobourg, Port Hope, or a different township.
After participating in the Hamilton Township League for a number of years, the team decided to go one step further and try OASA Championship play. We chose a few pickups from the Hamilton Township League in order to participate in the OASA Men's C playdowns, and we were fairly successful.
Even though the township league was great locally, we realized that in order to meet good playmanship every night, we should proceed to another league, perhaps the Peterborough City League. Nevertheless, there were several key questions about the change.
Another key query that has been asked is "How did the name Cats originate?" In the mid-seventies, Keith Ferguson, who followed our team as his brother Ivan played with us, was continually cheering us on by shouting, "Let's go Cats!" This title permeated throughout the years for Cold Springs.
Cats History (1975-2004)
Is this team competitive enough to enter our league? This was the question that the executive officers of the Peterborough City League asked Ross and I when we attended their inaugural meeting in the winter of '74-'75. We certainly proved that we were competitive enough because we finished in first place in the league that summer, and also won the OASA Intermediate C title on a bitter October weekend in Capreol. Thus, the Cats came into existence in 1975, but little did we know that we would continue in the great game of fastball for approximately the next 30 years.
The nucleus of the Cats in 1975 hailed from Cold Springs and other areas of Hamilton Township. It included John Maughan, Harold Lang, Ivan Ferguson, Jeff Timlin, Lorne Jamieson, Ewart Timlin, Lynn Thackeray, John Cane, Bill Cane, Don McDonald, Paul Hasson, Jim Bradford, Roger Cole, Ray Bickle and Allan Burnham. Doug Alderson and Craig Gray acted as coaches while Ivan West served as manager.
1976
In 1976 the Cats participated in a new league called the Eastern Ontario Fastball League. Along with Cold Springs it included teams from Belleville, Trenton, Picton, Brighton, Campbellford, Cobourg, and Peterborough. The Springs played well and earned a first-place finish. However, in league play-offs the team was defeated by Belleville Devolins. Nevertheless, we successfully defended our Intermediate C crown by defeating teams from Brighton, Campbellford, Elgin, Port Elgin, and finally Capreol.
1977
The Cats had a poor year participation-wise. We finished in fourth position in the E.O.F.L. and were knocked out of provincial play-downs by Campbellford.
1978
There was new hope and several new faces in our line-up in 1978. Additions to our roster included Mike Mclvor, Ed Ristan, Phil Krauter, Neil Francis, Marty Kernaghan, Bill Ryan, Roger Mcintosh and Terry Irwin. Jim Chase was our new coach replacing Bill Rollings, who acted in this capacity in 1976 and 1977. Ewart Timlin served as manager again. In the E.O.F.L. not only were we pennant winners but also play-off champions. In Intermediate B play-offs we conquered Braeside (near Pembroke) and Bradford. Nevertheless, in a close series, the Cats were eliminated by Port Elgin.
1979
This was our final year in the E.O.F. L. as the league folded that fall. New players included the following: Bill Elliott, Don Elliott, Roger Alexander, Rick Palmateer, Jim Flesch, Terry Lewis, and Barry Dawe. Jim Chase again acted as coach and Ewart Timlin as manager. Our fortunes seemed to rise this season and we finished in first place. Unfortunately, the Cats were defeated in league play-offs and Ontario play-downs by Picton who went on to become Ontario Champions.
1980
In 1980, we participated, for the first time, in the Oshawa City and District League. In order to strengthen our team for senior play-offs we added several new players. They included Don and Jim Burkitt, Stephen Mitts and Paul Goodfellow. The Oshawa City and District League included teams from Oshawa, Whitby, Stouffville, and of course, Cold Springs. We were successful in finishing in first place during the regular season but were eliminated in play-offs by the Oshawa Merchants.
In the Senior A Ontario Eliminations in London, twenty six teams competed for the Gold Medal. The Cats defeated Toronto Fred's Sports 2-0, Sault Ste. Marie 1-0, Sarnia Gils 3-2, Oshawa Motor Carriers 3-0, and in the final game, Sarnia Gils 3-0. Mike Mclvor was declared the Most Valuable Player when he hit three home runs during the tournament.
Roger Cole and Jim Burkitt shared the pitching duties. They had only two runs scored on them during the tournament and they were both unearned. In being declared the Sr. A Champions, the Cats earned the right to represent Ontario.in the Canadian National Softball Championship in Saskatoon, Saskatchewan. To reinforce our roster, we added a powerful hitting pitcher - Steve Virag from London and brutal batter Phil Solomon from Oshawa.
In Saskatoon the Cats did themselves, their fans and Ontario proud. We finished with a 4-2 record in the national event. No team won more games in the preliminary round than Cold Springs. Six clubs had 3-1 credentials and the tie had to be broken by comparing the runs for and against differential. Winnipeg earned first place with a plus 9 and Cold Springs had a plus 5 for a fifth-place finish.
Cats were the only team in the entire tournament to beat the eventual Canadian Champions from Nova Scotia. They nipped the Elks, 2-1, in an extra inning on Friday in their final game of the preliminary round. The irony of the situation was it cost Cats to be the home team in this case. Two men were on base when Al Burnham cracked a double in the bottom of the eighth inning and both would have scored had the game not been over as soon as the first runner (Terry Lewis) crossed the plate with the winning run. If the Cats had been the visitors, both runs would have counted, elevating them into the top four in the standings. That would have qualified Cold Springs for the double knockout elimination round rather than the single knockout section.
It should also be noted that Cold Springs also beat the silver medal team in the preliminary round. The Cats faced the legendary Gene McWillie from Saskatoon All-0-Matics, representing Saskatchewan, and tagged him with the defeat.
In all the games played in the Nationals, the Springs finished No. I in defensive play. However, our hitting was suspect and we finished 8th in this category.
Cold Springs felt the loss of Paul Goodfellow early in the tournament when a base runner collided with him and cracked his ribs. Bill Elliott got a standing ovation from the crowd on his last trip to bat. What an amazing year!
1981
During 1981, we played for our last time in the Oshawa City and District League. Additions to our line-up included Dave Ruthowsky, Bryan Madge and Doug Christie. We attained the league pennant and play-off championship this year. In the Ontario Sr. B Play downs we were eliminated by the host club Sault Ste. Marie.
1982
In 1982 Cats took a major step and joined the Ontario Fastball League (OFL). In the league itself we did very well for a rookie team and finished in 3rd place. During playoff competition, the Cats eliminated Owen Sound (led by pitcher Brad Underwood) but in turn were defeated by Agincourt (pitcher Jim Cowdrey), who were the Ontario Sr. A Champions for 1982.
1983
Cats moved up to second spot in the OFL in a problem-plagued 1983 and pushed Agincourt to the very limit in playoffs to lose by a single run in the final game.
1984
In 1984, the Cold Springs Cats team folded and consequently several members - namely John Maughan, Ivan Ferguson, Gary Vowles, Harold Lang and I joined the Cobourg's Bruce and Rick's OASA Intermediate B squad (Other members such as Pete Harrison, Dave Ruthowsky, Paul Marineau, and Roger Cole joined Tex's Rangers as a Senior B squad). In the OASA Championship game Trenton defeated Bruce and Rick's with Jim Burkitt, another ex-Cat, the victorious pitcher.
1985
After a one-year hiatus in 1984, life was rekindled in 1985, when the Cold Springs Cats elected to return to the Oshawa City Softball League rather than return to the shaky Ontario Fastball League. Cats, who once upon a time belonged to the Oshawa group, participated in a league comprised of Oshawa Copperfields, Port Perry, Whitby, Durham Merchants, and Oshawa Juniors.
Playing for the Senior B Cats that year were Bill Elliott, Perry Bowles, Brian Condon, Roger Cole, Wayne Wells, Stephen Mitts, Gary Hope, Terry Bowles, Jeff Timlin, John Maughan, Mike Mclvor, Paul Marineau, Marvin Moore, Ray Bickle, John MacDonald and Peter Harrison.
In 1985 the Cats signed their second "King" when they acquired National Hockey League star Bernie Nicholls. Nicholls, who played for the Los Angeles Kings, added a great deal of flair and depth to the shortstop position. At Kemptville, during the Senior A Eliminations, I offered to pay Bernie for his hotel reservations, along with the other players. Bernie replied nonchalantly, "That's okay E.T.; I sleep in a pup tent."
1986, 1987
In 1986 and 1987 the Cats were mainly a tournament team. They were quite successful in winning the annual tournaments in Hastings and Port Perry. However, in 1986, in the Intermediate B Championship tournament in Mitchell and in the Intermediate A tournament in Norwich the following year, the club achieved limited success.
1988
The executive of our team decided to host the OASA Intermediate A Championship tournament in Baltimore in the summer of 1988. After a great deal of planning, the weekend tourney was blessed with super weather and fine fastball involving eight teams from North Bay to Caledonia. Nevertheless, the Cats finished with a 2 and 2 record, but acquired loads of great memories in off-the-field activities.
1989
The Cold Springs Cats, who started the eighties by dropping a bombshell in winning the Ontario Senior Elimination Tournament, finished the decade with another startling explosion in North Fredricksburgh in September, by claiming the 1989 OASA Men's B Championship title. Cats surprised everyone, including themselves, by scratching and clawing for all their worth to reel off four straight wins in the eight-team, double knockout tournament and become all-Ontario title holders.
En route to earning the area's first ever Men's B title, Cats blanked Wahnapotae 5-0 and nipped Petrolia Squire Tavern 4-3 in 10 innings on Saturday, shaded Kirkland Lake Federal Tavern 1-0 in two extra innings Sunday morning, and then climaxed the weekend with a 2-0 verdict over the same Kirkland Lake team in the afternoon final.
The Cats now claim to having won provincial crowns in three different categories in our history: Men's C in 1975 and '76, Senior A in 1980, and Men's B in 1989. Roger Cole, John Maughan, GM Ewart Timlin, and director Ross Timlin are the only four men to have been part of all four of these Ontario championships by Cold Springs.
Veteran pitcher Roger Cole, named the Most Valuable Player in the tournament, said that he'd never before played on a team where there were no dominant figures and where all of the players had pitched in to contribute something significant to the cause. ln his estimation, the Cats performed as well as they possibly could as a team to make the fantasy come true.
Updated August 2020
Sport Team or Name This Story is about
Sport Played That Connects To Collection List