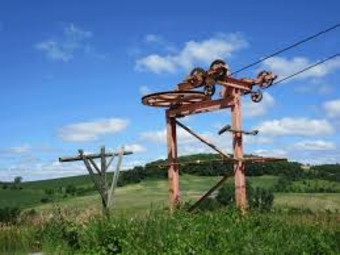 The Camborne Village Ski Club, owned by Pat and Carol Doyle, was originally located on Smylie Road, east of the village of Camborne in Hamilton Township and operated at this location for the 1962-63 and 1963-64 skiing season.
Pat Doyle, a bricklayer by trade, found an article in a magazine on how to build a rope tow using a Pontiac car motor. Putting his mechanical skills to use, Pat soon had a rope tow ready to operate. He and Carol prepared the hill for skiers by putting on their skis and side stepping on the hill to pack the snow down.
With minimal advertising in the local newspaper and word of mouth, the Camborne Village Ski Club was born.
As numbers increased, Pat and Carol decided to purchase 14 acres of property west of Camborne on what was then known as Lean Road, now Doyle Road. The Doyles built a home at this location and the upstairs became the chalet. Six new ski runs were designed and two rope tows installed. The runs were named Grist Mill, Witches Wind, Spillsville, Camel Back, Gambler's Flight and the Junior Hill.
As the ski club's popularity grew and the line-ups for the rope tows got longer, the Doyles purchased a T-Bar lift system in the summer of 1973. With the help of friends, the lift was installed and operational for the 1974 skiing season.
In 1975, a popular after-school ski program was established and within 3 years most schools in Cobourg and Port Hope were participating. By this time lighting had been installed which made night skiing possible. The Ski Club provided employment for 20-25 people.
According to The Cobourg Star, the Club's ski school had nearly 100 children enrolled with 5 instructors. To ski for the whole day cost $3 for adults, $2.50 for students and $2 for children, making it one of the most inexpensive ski clubs in the area.
The ski club sponsored race days, theme days such as costume day and pot luck suppers in the chalet after a day of skiing.
In an effort to extend the ski season, a snow maker was purchased in 1977.
It was in 1988 that the difficult decision was made to close the Camborne Village Ski Club. Climate change was having an effect on the east facing ski runs as well as the increased number of winters with less natural snow. These factors along with sky rocketing insurance costs contributed to the closure.
It is interesting to note that remnants of the T-Bar lift system are still visible today.
Pat and Carol Doyle's granddaughter made the following remark as part of her prize-winning grade school speech, "My Grandma and Grandpa never imagined how many people would learn to ski at their club and how many people would make family memories on their slopes."
Reviewed August 2020
Sport Team or Name This Story is about
Sport Played That Connects To Collection List