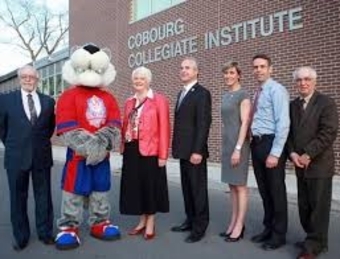 Emerging in 2014 as the newly amalgamated public high school in Cobourg, Cobourg Collegiate Institute (CCI) has brought together the rich athletic histories of the former Cobourg District Collegiate Institute East and Cobourg District Collegiate Institute West schools. Moving from medium sized "AA" schools (between 500-900 students) to a larger AAA school (1150 students in 2020), C.C.I. offers its students an extensive selection of sports teams, with the continued pride and success that was enjoyed by the former East and West schools.
Since its inaugural year in September of 2014, C.C.I. sports teams have won many Kawartha (local) and COSSA (regional) championships. This has led to many trips to the Ontario Federation of Schools Athletic Association (OFSAA) provincial championships with its sports teams, including Girls Hockey, Boys Hockey, Boys Volleyball, Girls Volleyball, Boys Soccer, Girls Soccer, Wrestling, Cross Country, Badminton, Tennis, Track and Field, and Swimming.

A trip to CCI's Dillon-Lawless Gym (named after renowned local high school physical education teachers Del Dillon and Jerry Lawless) will also allow you to see the growing number of team and individual OFSAA honours, including medal performances for finishing in the top 4 in the province.
As of the winter of 2020, OFSAA Honours include the Girls Hockey team with a 4th place finish, and the following individuals: Wrestlers-Amara Hill (4th place), and Jayden Sparks (3rd place), Track Athletes- Cameron Bruce (4th place, 300m Hurdles) and Kate Current (2nd place, 800m), and Swimmers- Lauren Burleigh (2x 1st place 50m Para Backstroke, and 1st place 100m Para backstroke), and Carlie Bilodeau (1st place, JR 50m Backstroke). Some of these athletes, and many others have enjoyed success at the college and university sports level following their years of competing for Cobourg Collegiate Institute.

In addition to an impressive C.C.I. OFSAA presence to date, they also consistently have demonstrated exceptional character through sport. Two teams were awarded with the OFSAA Sportsmanship Award during their OFSAA debuts – the varsity girls' hockey team in 2016, in Stratford, and the senior boys' soccer team in 2018, in Thunder Bay.

Beyond the successes of sports teams to date, dedicated coaches have planned a variety of trips to enrich the students' experiences, and to provide lasting memories. One of the highlighted trips include rugby teams taking part in tournaments in New York City and New Brunswick (Rothesay Netherwood Private School in Rothesay, NB). As well, basketball teams have annually made trips to prestigious American Colleges and Universities to play games, tour the facilities and watch high-level teams train and compete. Recent trips have been to Pennsylvania, Indiana, Michigan, Washington D.C., Virginia, West Virginia and New Hampshire.

Building on the excellent athletic facilities on the C.D.C.I. East school site, one major facility upgrade enjoyed by C.C.I. students was the installation of a 6-lane rubberized track. This has attracted athletes and visitors, including the likes of Canadian Olympic medalist Andre De Grasse, for a training session before his trip to the 2016 Rio de Janeiro Olympics. Highlights on our track to date include running our school's annual Relay for Life event, and a Board-Wide "Inclusive Track and Field Day".

The Inclusive track and field day is open to all Learning and Life Skills high school students around the Kawartha Pine Ridge District School Board, and includes running, wheel-chair and field events, along with a barbeque lunch. We are also happy to be able to accommodate local and regional elementary schools, housing our future C.C.I. athletes, who need a venue to run their annual track and field meets.

C.C.I has also been a support to many community members and visiting schools looking to access our gym facilities. This has included a close relationship with the Lakeshore Minor Basketball Association, who has been a partner in helping us to invest in new glass backboards, adjustable nets and a padded score table. The local Badminton Club, along with the Northumberland Sports Council, used our gym for the Ontario 55+ Winter Games in 2017, which was a unique opportunity to open our school to athletes from all age groups. Our gyms are rented most nights, and weekends, throughout the year to service local sports clubs for training and competition, including volleyball, badminton, basketball, soccer, rugby, softball, baseball, lacrosse, rowing and more.

As Cobourg Collegiate Institute continues to grow its history, they are proud to be an important and vital part of the Cobourg community.
Updated August 2020
Sport Team or Name This Story is about