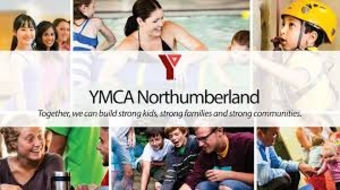 The YMCA was begun, in London England, in 1844, by a young draper's assistant, George Williams, as a means to give young men an alternative to life on the streets. It has since spread around the world, inspiring people of all ethnicities, genders and religions to grow in spirit, mind and body.
On March 3, 1870, the Cobourg YMCA held its first meeting and enrolled 40 members at $1.00 each. By 1879, it acquired its first hall and the opening attracted a crowd of 200 individuals. The Cobourg YMCA hosted the annual Provincial convention for Ontario and Quebec in October, 1881. Fifty-three delegates attended representing 16 Associations. That annual report showed the Cobourg hall valued at $3,500 with a $2,300 mortgage. The President was J.W. Bickle and the Secretary George McCullagh. The population of Cobourg was 5,000 with the YMCA having 100 members. The Business, Devotional and Missionary meetings were held at Victoria University. In 1883 the Secretary was W.C. Jex. In 1887 John Butler was the Secretary.
Sidenote: James Naismith was born near Almonte, Ont. In late 1891 he was teaching physical education at the YMCA Training School at Springfield, Mass. He hung two peach baskets for boys exercising in the gym and basketball was created. Influenced by Naismith, another YMCA physical educator in 1895 invented volleyball.
Between 1881 and 1948 there are no reports so the YMCA status is unknown. An article by Mrs. Alex Bruce in the Cobourg Sentinel-Star on January 27, 1955 states an organizational meeting was held February 3, 1948. In 1948 the Cobourg YMCA was incorporated. 'Y' rooms in the Town Hall were established and programs arranged. In the spring of 1950 "Port Hope members were contacted regarding the YWCA there, the result being that Miss Muriel Whitely was the first executive secretary appointed on a full-time basis between the two associations."
A nursery school was started and recreation programs developed for children and adults, including teen dances and other social gatherings. By 1952, the first Summer Day Camp in Victoria Park was established, attended by 75 children.
The amalgamation of the YWCA and the YMCA took place in 1953. Bert Messacar was appointed full-time secretary. That September the association procured its first headquarters at 181 King Street East near D'Arcy Street, the former home of Dr F.P. Lloyd.
In 1955 Mrs. Bruce further reported that during the early days, classes for women and girls included instruction in art and oil painting, leather craft, felt craft, figurine painting, metal-tooling, artificial flower making, smocking, plain sewing, photography, weaving and cooking. "Keep Fit" classes were established as well as basketball teams and bridge instruction. Summer activities of tennis and shore picnics were regular features.
That year, programs consisted of a sewing club, "Y" Brownies, Junior and Senior Y Teens, social and activity clubs. Subjects included good grooming, puppetry, folk dancing demonstrations, sewing and crafts as well as devotional periods, for girls. Stamp collecting, photography, gymnastics, tumbling and work shop was available for boys. There were also adult classes for men, women and co-ed.
In the 1960s a new Executive Director, Ken Thrush, was hired. In 1967 the King St East building was sold to raise funds to build Centennial Pool and a wading pool in Victoria Park. This became the new home of the YM-YWCA. Each year The YMCA held a fund-raising campaign to support their programs. In 1969, The Cobourg YMCA became a founding member of The United Way.
In 1976 a new director, Peter Beatteay, arrived. New programs were started. The YM-YWCA grew. They obtained space in the Victoria College building and moved their offices there.
With membership growing a capital fundraising campaign was launched under the banner of the Cobourg Family Y. Jeff Rolph led the successful campaign. General Foods donated a 6.9 acre parcel of land. The new Cobourg Fitness Center was built on Elgin Street West and officially opened in 1979. The Cobourg YMCA was named as one of the three top Canadian YMCAs in Canada for three consecutive years, 1995-1997. A large expansion began in 1997, with the YMCA continuing, annually, to upgrade and improve its programs and building. The expanded Family YMCA was formally opened April 10, 1999 and by the year 2000, its membership had grown to 4500 members.
Programs expanded to initiate, in 2002, a youth exchange between Cobourg, Montreal and Nicaragua; and, in 2003 to launch YMCA Ontario Early Years Centres across Northumberland County. The corporation itself changed its name in 2004 to YMCA Northumberland as they had opened the Brighton facility in 2003. In 2015, the YMCA Strong Kids Campaign started Operation Red Nose. This new fundraising initiative raised $22,000, providing over 220 safe rides to residents during the holiday season. In 2019, the Y's Child Care Centres numbered 19.
Today, the YMCA, locally and internationally, is an all-inclusive institution embracing every ethnicity, creed and gender in an effort to foster community and social responsibility in its members for a better global community.
Thanks to Jane McCaig for her contribution to this story.
Updated August 2020
Sport Team or Name This Story is about