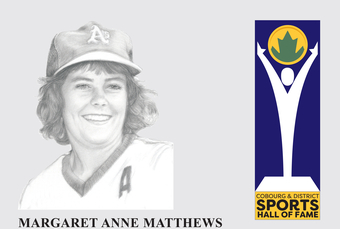 Margaret Anne Matthews was born on May 15, 1960, in Cobourg. From a very young age, Margie was an abundantly talented, multi-sport athlete who consistently demonstrated exceptional leadership. Her enthusiasm was contagious.
She was very skilled, was the ultimate team leader, and always gave 100%. Margie burst onto the provincial softball stage at the age of 12 when she played for David and Clarke Sommerville's "Sinclair Mustangs". They captured the Ontario Novice Championship in 1972. At 14, Margie Matthews joined Paul Currelly's Cobourg Angels softball Juvenile team and competed against players that were 18 and 19 years of age.
While playing with the Angels, she won 2 more Ontario titles at the Junior 'B' level in 1975 and 1976. Paul Currelly remarked that, "When you are talking about Margie, you are talking about one of the best juvenile ball players, anywhere. Her desire and hustle keep the entire team moving." Margie Matthews won 7 Ontario Softball Championships in her career. While attending high school at CDCI West, from 1974-79, Margie was a multisport outstanding athlete. In 1978, she was voted Most Valuable Player of both the basketball and volleyball teams, received a coaching award and was selected as Cobourg District Collegiate Institute West's Athlete of the Year.
Margie was also named Cobourg's Athlete of the Year. In 1979, the West dedicated an award in recognition of her contributions - the "Matthews Award" for performance and leadership. Margie continues to display exceptional athletic skills as a golfer. In 2004 and 2011, she was a member of Team Ontario. Both teams went on to win the Canadian Inter-provincial Golf titles at their respective national golf championships. She has won 18 club championships, 16 championships at the Stratford Country Club and 2 titles at Woodstock's Craigowan Golf Club.
As a member of the Ontario Women's Amateur golf team in 2004, Margie won the Canadian Championship. In 2009, she won the Golf Ontario Women's Mid-Am title with scores of 73-75-69. Margaret Anne Matthews, one of Cobourg's best-ever all-round athletes.
Sport Played That Connects To Collection List