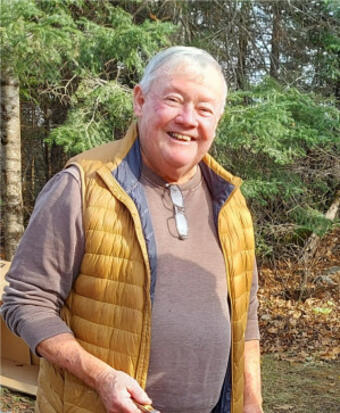 Jackie Robinson, the man who broke Baseball's "colour barrier" in 1947 once declared that "a life is not important except in the impact it has on other lives."
By that standard Ross Quigley lived an important life, not only to those people that he cherished most in his life, his family and friends, but especially when one begins to consider the impact that he has personally had on the Town of Cobourg and in particular, on the lives of its residents.
A lifelong Cobourg resident, born in 1944, and raised on McGill Street, it is impossible for many of us to think of a time when Ross Quigley wasn't an integral part of our little town.
As a youngster Ross was already a prominent person on the local sporting scene, playing countless softball/baseball games on long gone diamonds near the waterfront, such as the site of the modern-day parking lot at the Centennial Pool, or on the historic fastball diamond at Victoria Park.
And in the winter months Ross could frequently be found in and around the ice at the Memorial Arena, first as a goalie, before at age 14 transforming into a forward, one with the unique ability to shoot both left and right-handed.
Ross was a tremendous athlete … good enough to leave town and tryout for Junior hockey … good enough with the bat and ball to be named the Most Valuable Player in the Cobourg Town League numerous years … good enough to have people around town still speak about his athletic exploits … but his own athletic accomplishments merely scratch the surface of what made Ross such an integral part of our community for so long.
Simply put, it was in Ross' nature to give back to our town, his beloved Cobourg, dating back to his teenage days while working at Sommerville's Sporting Goods when on Christmas Eve he would dress up as Santa Claus and visit houses throughout town and give out gifts to children … to his later tenure as the President of Legion Softball, as well as his organizing the annual All-Star Sports Parade, a summertime affair which at one time spotlighted each of the local softball/baseball/soccer teams.
Also, Ross has long been involved with our local Rotary Club, including a stint as President, and it is through that association that he has personally help push through countless enhancements to our town's sports community.
These are just a small sampling of the events/occasions that Ross would organize, and contribute to, and not for any other reason than to shine a spotlight on our community, and most importantly, to make it better.
In the simplest terms Ross was the "ultimate volunteer" … a "hometown boy" who never forgot his roots and was dedicated to maintaining them, and who more often than not, spent his time not on projects that were for his benefit, but instead devoted himself to projects that were designed and implemented to enhance the town and by extension, it's people.
Which brings us to the establishment of the Cobourg and District Sports Hall of Fame in 2016.
It is impossible to think of the Cobourg and District Sports Hall of Fame without thinking of Ross. And while by no means was he the sole person involved, he was the visionary behind the original idea, and the driving force behind the creation, and finally, the establishment of the Hall, both behind the scenes and also as the public face of the Hall, giving countless interviews to the media extolling the virtues of the Hall.
And it is through the Hall that Ross has made an invaluable historical contribution to our town, not only in establishing the Hall of Fame, but perhaps more importantly by bringing the sporting history of our town out of the past and preserving it for future generations, through his discovery of long lost sporting events, or in gathering artifacts, to most notably shining a renewed spotlight on the builders and the athletes who through the passage of time slowly receded from active memory only to have Ross, through his tireless work and commitment, bring them back to the prominence and the local understanding that they so richly deserve.
I for one can't think of a more important legacy to bestow on our town.
What is less known is how much of the "grunt" work that Ross himself personally put in to the Hall. Before his illness Ross had become a permanent fixture at the Cobourg Public Library spending his mornings often attached to the microfiche machines unearthing old newspaper articles, often dating back more than a century, to taking those "found" articles and sorting them by sport into individual binders.
This repository of "found" articles tell the story of sport in Cobourg, and it was Ross who not only took the time to excavate this history, but also to organize it, and then freely shared it with all of us.
For those of us fortunate enough to spend time around the executive table with Ross with the Cobourg and District Sports Hall of Fame, memories abound, a laugh here, a joke there, and especially of the enjoyment of a common cause. One of Ross' greatest gifts was his ability to make you feel as if you were a part of something special, and on an equal level with him.
Ross, never once, used his stature as the Hall's founder, to elevate himself. Quite the opposite, in fact, Ross was the ultimate team-player, eliciting opinions and ideas from others for one simple reason, the betterment of the Hall.
And in a nutshell, that was Ross, who spent his entire life and directed his efforts towards the betterment and elevation of others, giving them their deserved time in the spotlight while he stood – proudly – in the background.
When a visitor enters our town, they are greeted with the sign "Welcome to Cobourg – Ontario's Feel Good Town". And no single person in our community represented that sentiment more than Ross Quigley, a man who dedicated his life to his family, his friends, and his hometown and devoted himself to making all of those us "feel good".
Godspeed our friend.
The Cobourg & District Sports Hall of Fame