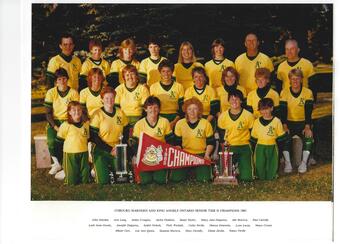 By Patsy Currelly Hand
Cobourg Angels, Junior Angels, & Surrounding Teams
It was the dream of an avid sportsman, a man named Paul Currelly – to one day see "top notch" women's softball in Cobourg. The dream started small with his first team, the Coverdale Aces, in 1963. They had great success and a bantam team was formed in 1964, the Coverdale Angels. As the girls got older and the town league began to form, Paul saw an opportunity to put Cobourg on the softball map.
He combined the two teams, taking the colours (green and gold) from the Aces and the name of Angels from the bantam team. He recruited top players from the existing Cobourg District Town League, landed two co-sponsors, Harnden and King Construction and Burley Bus Lines and formed the first Cobourg Angels team.
They were entered as Juveniles (under 16) in the Durham County Ladies Softball League. The first coaches were Gord Burdick, Ev Walters and Currelly. They fared well in their first year, playing Intermediate teams from Port Hope, Newcastle, Courtice, Bowmanville and Whitby and they advanced to the finals but lost to Port Hope. In their Provincial Juvenile C playoffs they made it to the semifinals. Members of the first team were: Nancy Currelly, Carol Currelly, Jackie Keeler, Anne DesMarteau, Brenda Lemmon, Dianne Stacey, Maxine Smith, Maureen Smith, Connie Byrne, Peggy Kernaghan, Janice Bevan, Nancy Brooks, Janice Rowe, Candace Cane.
In 1969, Cobourg's Martin Sunoco Intermediate team coached by Huck Matthews joined the league. The Angels won the league during regular play but it was the Intermediates who won the play-offs that year. The Martin Sunoco team would go on to win several Durham County Crowns and went to the Intermediate B semifinals – key players on that team were: Judy Bevan, Judy Bowen, Helen McAlpine, Sylvia Hall, Doris Matthews, Cheryl Batley, Carol Currelly, Brenda Cochrane, Mary Hoy, and Sue Reynolds. In 1970, the Angels were finalists in both the league and the Juvenile A provincial finals.
1970 marked another important girl's softball event in Cobourg. Ken Petrie and Audrey Warner's Martin Sunoco team won the first Ontario Minor C championship held by the Provincial Women's Softball Union of Ontario (PWSU). Members of this team were: Eve Fenton, Donna Dolley, Barb and Darlene Warner, Kim and Sue Gallagher, Lee Cane, Faye Oliver, Carol Jones, Mary Checkley, Joanne Drury, Debbie Cochrane, Joanne Ferguson, Theresa Callaghan, Cindy Newman, Sandy Vorvis, Lori Dowle, Nancy Wielonda.
The Angels continued to play in the Durham County league in 1971 adding Jeff Brooks to the coaching staff. In 1972, the Harnden and King Angels entered the Lakeshore Juvenile League with teams from Oshawa, Ajax, Claremont, Whitby and Port Perry. The Angels won this league in both 1973 and 1974.
1972 also saw Cobourg Sinclair Mustangs under Clarke Sommerville, David Sommerville and Don Dunn defeat Oshawa to win the 1st PWSU Ontario Squirt Championship. Members of this excellent club were Marg Matthews, Chris Gallagher, Tracey Bourne, Nancy Sommerville, Julie Gallagher, Julie Nairn, Elaine Warner, Janice Thompson, Wendy Stewart, Regan Lewis, Lori Dolley, Theresa Karpinski, Sharon Oakman and Roberta Fisher.
Girls' softball was flourishing with the YMCA/YWCA operating a town league that at one time had up to 22 teams, including PWSA teams. Others prominent in this league were Don Dunn, Keitha Rollings, and Ken Petrie who also operated the Cobourg Saints, very successful Midget and Juvenile teams.
1975 & 1976 saw the Angels move successfully into the Junior B category. Coached by Bill "Buzz" Foote and Paul Currelly, they were able to capture the Provincial Junior B championship in consecutive years. This was one of Currelly's top teams and they were: Judy West, Joanne Jackson, Nancy Currelly, Judy Davey, Joan VanderZyden, Donna Todd, Peggy Jamieson, Faye Oliver, Marg Matthews, Sue Foote, Pat Richardson and Joanne Drury (1975), Tracey Bourne (1976). This team won the Lakeshore League in 1975 and were finalists in 1976.
Ending on a "high note", Currelly decided it was time to recreate the Cobourg Harnden and King Angels. His younger daughter Patsy was bantam age and because two of his players on the Ontario championship team, Marg Matthews and Tracey Bourne were still eligible to play Midget, he decided to enter a team in that category in the Lakeshore League. The year was 1977 and Bill Foote continued as coach, along with Currelly. Jim Morrow joined the team that year and brought with him his larger than life personality.
The Angels successfully won the league, the Claremont tournament and were provincial semi-finalists in Midget Tier II. Members of this first team were: Marg Matthews, Tracey Bourne, Patsy Currelly, Leah Ann Goody, Suzanne Morrow, Nancy Sommerville, Andrea Todd, Julie Godawa, Vikki Etchells, Carol Gutteridge, Rosemary Spry, Kathy O'Neill, Buttons Hogan, Bobbie Ann Hutchings, and Nancy Jane Dalgarno. Moving up to Juvenile in 1978 they accomplished a record of 38 wins and 10 losses including tournament championships in Claremont and North York as well as going to the Juvenile A finals against Dundas. They also won the Grafton tournament against a respected Cobourg Tony's Bantam team.
The Cobourg Tony's later to be known as Cobourg Oilers established themselves in 1976. This club under the direction of Faye and George Oliver played 3 years as Bantams and 2 seasons in the midget category. Their accomplishments were very extensive winning Lakeshore crowns, this league was under the direction of Ken Petrie and later Art Dalgarno. In 1977, they won the PWSA Bantam B championship and in 1978 went to the finals, losing to Stratford.
Moving up to midget in 1979 and 1980 they each won regional honours only to lose out in the finals. The Ontario championship team included: Jackie Dusenbury, Jane Choiniere, Jackie Oulahen, Sandra Tuttle, Cathy Williams, Judith Curtis, Dianne Beatty, Ann Clarey, Jennifer Dalgarno, Cathy Dunn, Cathy Rowden, Susan Cane, Carolyn Darling, Connie Oliver, Elaine Warner and Donna Hutchings.
1979 would bring this Angel team their first All-Ontario Juvenile A Championship under the new PWSA system, winning the 14-team regional playdowns held in Cobourg and then the 9 team Ontario finals held in Rockwood. With a season record of 50 wins, 7 losses, they were Lakeshore League champs as well as Trenton and Grafton tournament champs. Members of the all-Ontario team were: Marg Matthews, Suzanne Morrow, Sue Taylor, Bobbie Ann Hutchings, Patsy Currelly, Buttons Hogan, Nancy Jane Dalgarno, Tracey Bourne, Angie Quinn, Donna Hutchings, Nancy Sommerville, Leah Anne Goody, Vikki Etchells, Paul Currelly (coach), Jim Morrow (coach), Rod Baker (business manager) and Janet Hynes (scorer 1979-1983). Some of the Tony's players would also play on this team during the regular season namely Jackie Dusenbury, Jennifer Dalgarno and Jane Choiniere.
1979 saw girl's softball flourishing in Cobourg: The YMCA league had co-ed T ball, girl's ball in the squirt, novice and juvenile divisions; rep ball teams were represented by the Sommerville's bantams, the Tony's midgets and the Harnden and King juveniles. Traditionally, Legion ball was for boys but as the years progressed many talented girls played alongside the boys. The Legion had teams in atom, squirt, peewee and bantam.
In 1980, the Angels moved up to the Junior division winning the Lakeshore title over rival Lakefield and were Carp tournament champions. In 1981, the Angels and Tony's personnel combined, strengthening the team. During this season the infield went 100 plays without a single error! They were finalists in the Junior Tier I Ontario championships and Lakeshore League. 1982 added pitching coach John Hayden to the roster. The Angels won the Lakeshore League and Oshawa and Belleville tournaments and repeated as Belleville tournament and Lakeshore league winners in 1983.
1984 brought the first Senior Tier II Ontario championship to Cobourg (vs Waterloo). The team ended the season with an impressive 44 wins, 6 loss record, including a 34-game winning streak. Highlights of this year included a third consecutive Belleville tournament championship as well as two pitchers throwing no hitters during regular season play, Suzanne Morrow and Elaine Devlin.
By winning the Tier II championship, the team qualified to enter into the Senior Tier I Ontario Championships. Although they finished 6th overall, their presence was known including an exhaustive 17 inning win (pitched by Devlin) against Agincourt. Harnden and King continued their 17th consecutive year as team sponsor. Members of the winning Ontario title team were: Susan Taylor, Nancy Cronin, Margie Matthews, Suzanne Morrow, Leah Anne Goody, Nancy Jane Dalgarno, Elaine Devlin (37-5 pitching record), Jackie Oulahen, Lee Anne Quinn, Jennifer Dalgarno, Isobel Nichols, Vicki Wodzak and Patsy Currelly. Paul Currelly, Jim Morrow and John Hayden were the coaches.
As there was no residency rule and the closest team east was Pickering, Currelly had the opportunity to further strengthen his team. 1985 saw a repeat of the 1984 roster with a few additions. Cathy Fertile, from Oshawa, who had played on many Senior Tier I teams, joined the squad. Janice Crosgrey, from Claremont, strengthened the team's pitching and Lynn Lucas, from Belleville, added depth to the infield.
Currelly would refer to this team as one of his best and they were successful in securing another Ontario Senior Tier II title. Highlights of the final game versus Norwich included 2 out of the park home runs by Isobel Nichols. Sue Taylor won the batting crown for the tournament with a .600 average and Devlin received an honourable mention. (Devlin allowed only 2 runs in 20 innings, walking 2 and striking out 18 for an era of 0.77). The team continued their success by winning the Metro League Championship. Jackie Oulahen and Elaine Devlin were selected for the 1985 Junior Ontario team and played in the Summer Games in New Brunswick, winning a gold medal. Elaine also received a softball scholarship to Sam Houston University in Texas.
1986 saw a change at the helm of the Angels. Veteran coach Paul Currelly stepped off the field due to health reasons but continued to work in the background. Joining Morrow and Hayden was coach Ray Bickle. The team found themselves as finalists in both the Senior Tier II championship as well as at the Mildor Classic. The highlight of the year was a no-hitter thrown by pitcher Janice Crosgrey.
Cobourg Angels 1968-1990
1968 PWSA Juvenile Semi-finalists to Richmond Hill – Durham league finalists to Port Hope Knights.
1969 Durham County League winners
1970 Juvenile A finalists lost to Eringate. Durham County finalists lost to Cobourg Intermediates
1971 Juvenile A semi-finalists to Eringate. Durham County semi-finalists to Bowmanville
1972 Juvenile A semi-finalists to East Guildwood and Lakeshore Juvenile semi-finalists to Oshawa
1973 Juvenile A finalists to Burlington. Lakeshore Juvenile Champs over Port Perry
1974 Lakeshore Juvenile champs over Port Perry
1975 Ontario Junior B champs over Brookville – Lakeshore League champs over Lakefield
1976 Ontario Junior B Champs over Hillsbury – Lakeshore finalists to Lakefield
1977 PWSA semi-finalists to Burlington, Lakeshore Midget champs. Claremont tournament champs
1978 North York Super series juvenile champs, PWSA Juvenile A finalists to Dundas, Lakeshore champs over Napanee, Claremont tournament champs
1979 Ontario Juvenile A champs over North Bendal, PWSA regional champs over Glenfield and Lakeshore Juvenile champs over Oshawa Shamrocks, Trenton Tournament champs
1980 London tournament finalists to St. Catharines, Lakeshore Ladies fastball champs over Lakefield, Carp tournament champs.
1981 Belleville tournament finalists to Ottawa, Metro tournament finalists to Don Victoria, Junior Regional Bronze medal winners to Milverton, Junior finalist and silver medal winners to Oakville – Lakeshore Ladies fastball league finalists to Lakefield.
1982 Belleville tournament champs over Lakefield, Oshawa tournament champs over Toronto Stardex, Pembroke tournament consolation winners over Carleton Place. Lakeshore ladies fastball league winners over Lakefield.
1983 Belleville tournament champs over Oshawa MCL, Bronze medal regional winners at Belleville and bronze medal winners in Tier II finals in Barrie to Norwich. Fifth place at Senior Tier I to Mildor. Lakeshore Ladies Fastball League Champs over Belleville.
1984 Ontario Senior II gold medal Champions over Waterloo, gold medal regionals over Elmvale, Belleville Tournament Champs over Oshawa M.C.L. Seventh at Senior Tier I championships to Kitchener. Metro League finalists to Toronto Spartans
Record 34 wins in a row to start season.
1985 Ontario Senior Tier II gold medal Champions over Norwich, Metro League Champions
1986 Silver medalists Ontario Senior Tier II championships loss to Sarnia, finalists Mildor Classic
Updated August 2020
Sport Team or Name This Story is about
Sport Played That Connects To Collection List