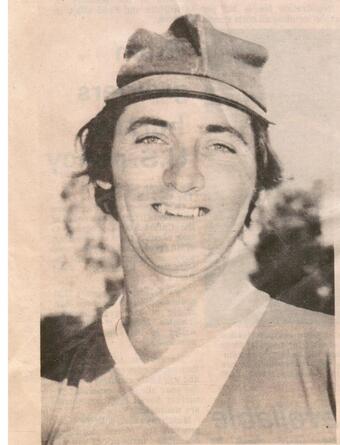 Roger Cole
Roger Cole was born on July 27, 1954, at the hospital in Cobourg, Ontario. He was the youngest of five boys born to Mildred and Glen Cole. He grew up and still resides on his family farm near Plainville, with his wife Donna, in Hamilton Township.
For Ed, Ross, Paul, Allan and Roger, travelling to Cobourg to play Legion softball or CCHL hockey was not an option. Summers were spent playing ball at home or at public school pickup games. Winter months involved playing local pond hockey with his brothers and neighbours. Roger and Donna raised two wonderful daughters who went on to get married and bless them with 4 beautiful grandchildren.
Once old enough, the Plainville Men's Softball team was the game of choice. Roger and Harry Jeschke played on the team as 13-year-olds and were used occasionally as outfielders or pinch hitters. Roger was 4'10" at the time and was quite successful at drawing walks. Ewart Timlin was one pitcher that struck Roger out. No one could have predicted that Ewart would eventually be the one to have the greatest influence on Roger's pitching career.
Although dabbling in pitching, Roger never really started until 1972 when, in grade 13 at the age of 18, he and his high school buddies decided to put a team in the formidable Cobourg Men's Softball League. This was the start of his illustrious pitching career. His men's league team, Wilburn Construction, struggled to win many games in the early years.
Roger went off to Guelph and obtained his Honours BSc (Agriculture) degree and graduated in 1976. While at Guelph he met Donna and they were married in July of 1976. Daughters Angela and Shannon followed several years later. Donna played varsity hockey at Guelph so the girls followed in their parents' footsteps — hockey in the winter and softball in the summer. Donna got heavily involved in coaching and managing girls' hockey teams in the area. Roger and Donna co-coached the first Senior Ladies hockey team out of Cobourg.
In 1973, Roger played on Bill O'Neill's Juvenile B Ontario Championship team. In 1975, Ewart Timlin signed Roger to the Cold Springs Cats and he pitched on that team for over thirty years, winning back-to-back Intermediate C Ontario Championships in 1975 and 1976. At the age of 50, while pitching in the 2004 Ontario Masters Championship tournament in Port Perry, Roger sustained an arm injury which ended his playing career. He wasn't prepared to hang up his cleats so he transitioned into a coaching role and went on to co-coach the Cats.
As well as playing for the Cats, Roger played in the Peterborough City League (for 2 years), the Hamilton Township Men's Softball League (from the age of 13 until the league stopped running), and the Cobourg Men's Softball League (from 1972 until it stopped running). He played for Fraserville, Plainville, Crossroads, Murray Thompson Auto-body, Wilburn Construction, Meadowvale Aces, Bruce & Ricks, Everett's Astros, and eagle.ca. He coached and managed the Hamilton Township league teams and the Cobourg league teams from the late 80's until the leagues folded.
Roger was known for his pitching longevity and stamina and would often pitch 3-4 games in a week. In 1978, Roger won tournament MVP at the Deck Transport Invitational tournament in Lakefield, Ontario. He pitched fifty-four innings on that weekend for the Cats, then the next day pitched a Cobourg Men's league game. He was named top pitcher in 1979 in the Eastern Ontario Fastball League with a 0.5 ERA. He also received the top pitcher award in the Oshawa City League in 1980.
That same year, the Cats moved up to the Senior A level of competition and surprised everyone by winning the Ontario Championship in London. They became the first and only local team (to date) to win the Senior A title and went on to represent Ontario at the Canadian Senior A Championships in Saskatoon. While in Saskatoon the Cats defeated both the gold and silver medalists in the round robin. Roger pitched both games, allowing only one run in two games. That was the only loss the gold medal Nova Scotia team took. In 1989, Cold Springs won an Intermediate B Ontario title and Roger was named top pitcher. In 1995, he helped Baltimore to an Intermediate B Ontario crown.
The Cold Springs Cats moved to the Masters division and won Ontario titles in 1996, 1997 and 1998. Roger was named top pitcher in 1996 and 1997. The team also won back-to-back Canadian Masters Championships in 1997 and 1998. At the 2000 Ontario Masters Championships (at the age of 47) he was named tournament MVP after pitching 5 1/2 games in one weekend. In all, Roger played on nine Ontario Championship teams and two Canadian Masters Championship teams, while several Hamilton Township League and Cobourg Men's League Championships were also claimed.
Roger played and managed teams in the Hamilton Township Men's Softball League and the Cobourg Men's Softball League (CMSL). In 2003, he received a milestone award from the CMSL with 2059 strikeouts and counting. He also received a dedication award in 2006, and served many years on the CMSL executive. He received multiple MVP and top pitcher awards in both leagues, pitched two perfect games and 10-12 no-hitters during his 30+ years of pitching.
During his playing and managing years, Roger concentrated on giving younger players a place and a chance to play. Many turned out to be good ball players and even better people, and he was most proud of that.
In the winter, he followed his daughter's hockey but also played himself, in a recreational league in Bewdley. He joined the Rice Lake Oilers team in 1989 and played for 28 years, retiring at the age of 63. A highlight of the year was always the annual Oilers tournament that has been going on for close to 40 years.
Softball is a team game and none of Roger's personal achievements would have been possible without the great cast of ball players amassed by Ewart Timlin. He is quick to point out that his journey would not have been possible without his Mom, Dad and brothers who would manage the workload on their dairy farm while he was at the ballpark.
His wife, Donna, was also a huge supporter and made many sacrifices so he could pursue his dreams. Roger continues to work on his family farm, enjoys spending time with his family and grandchildren, and now satisfies his love of sports on the golf course.
Sport Team or Name This Story is about