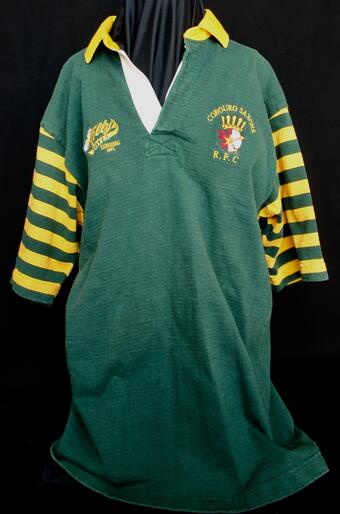 Rugby football in Ontario goes back to the 1870s. In those early days it was really a university sport. Until 1903 teams in the Ontario Rugby Football Union (ORFU) played rugby union football rules. In 1903 the ORFU adopted the "Burnside Rules" (Google it). These rules created a football game much like the game played today in the CFL and NFL. By 1929 the British Rugby Union of Ontario had 8 clubs around Toronto and Hamilton. In November 1929 Quebec beat Ontario in an inter-provincial game.
During the 1930s the number of Ontario rugby clubs more than doubled. That growth was dulled during the war years. Following a very successful recruitment drive a meeting in September 1950 saw the start of a new Ontario rugby league. Through the 1950s clubs formed across Ontario including Peterborough, Kingston & Oshawa. By the early 1960s there were Western, Northern & Central divisions. In 1979 the Eastern Ontario Rugby Union joined the Ontario Rugby Union. By the early 2000s there were 4 Unions: Eastern Ontario Rugby Union, Niagara Rugby Union, Toronto Rugby Union and Southwest Rugby Union.
Rugby is a fairly recent addition to Cobourg sports. Rugby first made its appearance in the Cobourg area in 1985. Rodger Harp, then the head of Physical Education at CDCI East convinced a rugby playing teacher by the name of Bob Richards to organize a rugby team at the school. The following year Tom Jackson followed suit starting a boy's rugby team across town at CDCI West.
Typical of many other high school sports in the area, a great cross-town rivalry developed between the two rugby programs. Many years later it would be this cross-town high school rugby rivalry that would be the spark needed to create the Cobourg Saxons Rugby Football Club. In 1992 St. Mary's Secondary School would add a boy's rugby program under the direction of Rob Majdell and Ray Heffernan.
Rugby was viewed traditionally as a sport for boys and men. Although the sport traces its roots back to 1845, it wasn't until the late 1970s that Canada would begin to see its first women's rugby teams. During the late 80s and early 90s there was slow but steady growth in women's rugby in Ontario.
During the mid 1990s, girl's rugby surfaced in Cobourg high schools thanks the courage of a couple of female students at CDCI West and St. Mary's Secondary school. During this time Don Thompson was coaching both the senior and junior boys' teams at the West. Don was fortunate to have an enthusiastic student, Laura Stevenson, volunteer as team manager for the boy's program. In 1993 Laura persuaded Coach Thompson to start a girl's rugby team and thus began girl's rugby in Cobourg.
Across town a feisty young student named Kirsten Gallagher, worked her way onto the St. Mary's varsity boy's rugby team! St. Mary's teacher Mike Killoran, also a rugby player, was so impressed with Kirsten's guts and determination that he was inspired to start a St. Mary's girl's rugby team for the 1994 season. Two years later Bob Richards would help develop a girl's rugby program at CDCI East.
Up until this point rugby was only played locally at high schools. A few Cobourg natives had gone on to play rugby at university and college. Many of these players were looking to play rugby in the summer to remain competitive when they returned to their respective post-secondary schools. However, without a local rugby club they were forced to travel to Oshawa, Ajax or Peterborough; or give up summer rugby altogether.
Two of those young players, Mike McMahon and Scott Jenkins would return to their old high school eager to help out Coaches Don Thompson and Bob Cairns with the rugby program at CDCI West. With the help of McMahon and Jenkins, Coach Thompson started what would turn out to be an annual event, the West Vikings Alumni Game. The Alumni game saw the Senior Vikings players take on Vikings Alumni in a friendly match. In years to come this annual event would prove to be an important catalyst for the Saxons…but more about that later.
1993 had two significant events as far as Cobourg rugby history is concerned. St. Mary's Secondary School would start their rugby program under the direction of Rob Majdell and Ray Heffernan. Meanwhile Chris Hawley and Bob Richards would form a boy's junior rugby team and enter it in the Toronto Rugby Union (TRU). The team was aptly named the Cobourg Ghosts after the famously successful local gridiron team of the 1940s and 50s.
Jenkins and McMahon both now playing rugby with Oshawa Vikings would offer help when they could and Don Thompson would come out to the occasional practice too. The team competed in the TRU for two seasons and then, for whatever reasons, was abandoned.
It was 1996 when Dina Davis, Steve Barlow and Bob Richards established a women's rugby team--the Cobourg Crash. Dina had been playing rugby on a very competitive Ajax Wanderers women's rugby team while Bob was also playing men's rugby with the Wanderers. Steve Barlow had cut his rugby teeth at CDCI West and would go on to play rugby in college.
Girl's rugby at all three high schools had become quite competitive and there was a good base of players on which to draw from. The Cobourg Crash continued until, in 1999, it amalgamated with the recently formed Cobourg Saxons Rugby Football Club.
Meanwhile, the aforementioned Alumni games that Thompson, Jenkins and McMahon would organize yearly were becoming a much looked forward to event-- as much for the friendly competition as for the social afterwards. At these socials McMahon and Jenkins would encourage others to follow them to Oshawa to play summer rugby with the Vikings. As these numbers grew over the years, talk on the car rides home naturally led to the idea of starting a club in Cobourg.
By this time McMahon and Jenkins had found themselves on the executive of the Oshawa Vikings and were getting a good appreciation of how a rugby club operates. And of course Bob Richards was always eager to discuss the future of club rugby in Cobourg.
McMahon began discussions with the Toronto Rugby Union to explore the option of forming a men's rugby club in Cobourg. The idea was gaining momentum but if they were to start a rugby club they would first need to determine if there was enough interested players. In late spring of 1997 McMahon and Richards organized a rugby match between the alumni of CDCI East and CDCI West.
The event was well attended by players and spectators alike. From the numbers of players involved, and the spectator turnout it was obvious that Cobourg could sustain a rugby club. A large social at Kelly's Homelike Inn followed the match and it was there that McMahon made the announcement that he had started the process of establishing a Men's Rugby Club in Cobourg.
On December 22, 1997, the first General Meeting of the Cobourg Saxons Rugby Football Club was held in the dining room of Kelly's Homelike Inn. The executive included Mike McMahon (president), Bob Richards (coach), Aaron Allen (fixtures secretary), Scott Jenkins (treasurer), and Betty-Lynn Bird (secretary).
Not wanting to turn any players away from the club, it was decided that the Saxons would enter two men's teams in their inaugural season. The executive of the Toronto Rugby Union was sceptical that the small town and new rugby club could sustain two men's teams, but they eventually relented to the rare request.
To say the Saxons' first season was a success is an understatement. The Saxons 1st XV would play their first 5 games and not relinquish a single point! The Saxons 2nd XV were also very competitive and would be undefeated in their first 5 games as well.
Damien Keenan, then president of the Toronto Rugby Union would contact McMahon part way through that first season to discuss moving the Saxons 1st XV up a division. Both Saxons men's teams would finish the 1998 season atop their respective divisions with the Saxons 1st team going on to win the Toronto Rugby Union Division 4 championship for 1998.
The following year, as mentioned previously, the Cobourg Crash would join the Cobourg Saxons to form a rugby club with both men's and women's teams. Junior boy's rugby was added a few years later followed by junior girl's rugby. Several seasons later Simon Maranda and Bob Richards, after playing with the Ajax Wanderer's old-boy's, went about organizing a team of over-35 Cobourg ruggers. This team would be known as the Cobourg Saxon's Old Boys (the SOBs).
Cobourg Saxon's Rugby Football Club continues today. In 2014 the Saxons began offering Under 10 flag rugby. They expanded the minor rugby program the following year to offer flag rugby for Under 6 through to Under 10 as well as Under 12 introduction to contact rugby.
In 2017 the Saxons organized the Cobourg Saxons Beach Rugby Festival, which at the time was the only event of its kind in Ontario. Based on the rapid growth and success of the Saxons Minor Rugby program, the Saxons were named the Ontario Rugby Union's Minor Rugby Program of the year for 2017.
The Saxons can boast several team honours but they also take pride in the numerous players who have been named to regional, provincial and most recently national teams.
As the Saxons minor rugby developed, it exposed the sport to more and more people. As a result, the Saxons have recently added a women's touch rugby team named the Cobourg Saxons Dirty Dames. This was one of the first women's touch teams in Ontario. The Oshawa Vikings have since added a women's touch team as well.
After decades of using local school pitches, the Saxons found a home with the development of a rugby-specific playing field at Westwood Park in Cobourg. This was a joint effort between the Town of Cobourg and the Cobourg Saxons Rugby Club.
Significant Events in Cobourg Rugby History
1985 Boys' Rugby is introduced at CDCI East

1986 Boys' Rugby is introduced at CDCI West

1992 Cobourg Ghosts Junior Boys Rugby Team is established (The Ghosts would fold after 2 seasons)

1993 Boys' Rugby is introduced at St. Mary's Secondary School (SMSS)

1993 Girls' Rugby is introduced at CDCI West

1994 Girls Rugby is introduced at SMSS

1996 Girls Rugby is introduced at CDCI East

1996 Cobourg Crash Women's Rugby established

1997 CDCI West vs CDCI East Alumni Game

1997 Dec. 22, Cobourg Saxons established with its first General Meeting at Kelly's Homelike Inn, Cobourg

1998 Cobourg Saxons field two Men's teams, both teams are undefeated in the first 5 matches of the season. Men's 1

st

team does not relinquish a single point in the first 5 games. Saxons 1

st

XV win Division 4 Toronto Rugby Union Championship.

1999 Saxons Men enter the Millennial Cup as the lowest seed and defeat the Toronto Welsh and the Toronto Buccaneers. The Saxons eventually are defeated in the semi-finals by Lindsay R.F.C.

2000 The Cobourg Crash and The Cobourg Saxons merge as the Cobourg Saxons Rugby Football Club

2000 The Junior Boys Saxons host the club's first visiting Tour – St. David's College from Wales.

2003 The Saxons Old Boys (SOBs) over 35 men's team is added

2004 The Senior Men host their first visiting Tour – Royal Holloway, University of London from England.

2009 The Senior Men embark on the club's first overseas Tour to London, England.

2013 Saxons add Under 10 boys minor rugby

2014 Saxons add Under 6, Under 8 and Under 12 to complete their Minor Rugby compliment

2015 Saxons add Saxons Dirty Dames Women's Touch Rugby Team

2016 Owain Ruttan selected to Canada U19 Team, scoring 2 tries.

2016 Brandon McLeod selected to Canada Maple Leafs Sevens Team

2017 Keagan Read and Josh Barss selected to Canada U18 Team. Read would score 2 tries for Canada

2018 Owain Ruttan selected to Canada U20 team

2018 Josh Barss selected to Canada U18 Sevens team, scoring one try

2018 SMSS Senior Boys win OFSAA Provincial Rugby Gold

2018 Adam McNee selected to Canada U18 Sevens team

2019 Mason Flesch selected to Canada U20 team, scoring one try

2019 SMSS Senior Boys repeat as OFSAA Champions

2020 Mason Flesch selected to the Rugby Canada National Development Academy

2020 Noah Flesch selected to Toronto Arrows Academy Program

2021

Mason Flesch on April 17 makes his professional rugby debut with the Toronto Arrows of Major League Rugby
Sport Team or Name This Story is about
Sport Played That Connects To Collection List