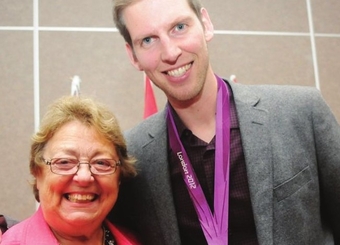 Jeremiah Brown was born November 25, 1985 in Cobourg. He was the middle child, Julia younger and Jenny older. He and his family spent part of his youth living in Port Hope across the road from the Ganaraska River. In his late teens, in Cobourg, he tried to pull off a prank that landed him in jail for several days. He was sentenced to 80 hours of community service and 1 year of probation.
Jeremiah attended high school in Cobourg where his sport of choice was hockey. Because of the prank he had to change schools and drop hockey. He graduated and attended McMaster University in Hamilton. They didn't have a varsity hockey team so he decided to learn how to play football. In his sophomore year he put on 40 pounds but only made the service team. In his third year he got to 255 pounds, could bench press 225 eleven times and earned a position on the Marauders Varsity Team as an offensive tackle. A shoulder injury half way through the season shut him down and though he played his final year, the shoulder injury became aggravated and he began looking for other sports opportunities.
In 2004 Jeremiah and his girlfriend Amy had an unexpected pregnancy and Ethan was born in May, 2005. It was a busy time with classes and child care for both Amy and Jeremiah and football for Jeremiah. When Jeremiah started looking for another sport, he recalled seeing an article in his youth about a Canadian world champion in single sculls working hard to win gold at the 1996 Atlanta Olympics. By chance he entered a rowing fundraiser and then followed up with a look-see. He thought he could teach himself how to row! How wrong he was!
He borrowed a single scull for his first rowing venture and headed for Rice Lake. His first mistake was putting on the oar locks backwards causing him to fall into the lake after a mere 10 strokes. Undaunted and determined, he got himself back into the boat and tried again. He would experience many such dunkings into the water but he craved the challenge to excel. He would have to lose that weight but rowing would be easier on his shoulder. The day he saw on TV the Canadian Men's Eight Rowing Team win Gold at the 2008 Olympics in Beijing, Jeremiah set himself the "impossible" goal of winning Gold at the 2012 Olympics in London England, just 4 short years away.
Jeremiah and Amy and 3-year-old Ethan moved to British Columbia where he started working for a TD bank in Victoria. Victoria was where the national men's eight rowing team trained. He met Doug White who agreed to be his rowing coach. He started a learn-to-row program in the Canadian national program and spent some 1700 hours in training. By the fall of 2009 he was able to row 200 metres and was able to represent British Columbia in the Nationals.
In 2010 he earned a silver medal at the national championships in the single sculls. In January 2011 he was named to the national rowing team. He began working with renowned coach Mike Spracklen. Spracklen was a polarizing figure as Jeremiah expressed in his feelings "I felt a lot of rage towards him (yes, RAGE) at various times in the two years leading up to the Olympics...Mike was the only person around who had coached athletes to Olympic medals...he was my ticket to the podium".
In further describing those months of grueling training Jeremiah provides insight into what drives an elite athlete despite injury and other obstacles: "There is not a clear answer to why we willingly suffer on a daily basis. Before I began training at this level, I thought it had to be the ego and even vanity that pushed athletes on in the pursuit of an Olympic gold medal. But the ego gets broken down in those first 2 months of training and vanity is overshadowed by fatigue and, at times, despair.
At some primitive level we all have a disposition towards fighting or fleeing. The elite athlete is a fighter. When tested, he or she will feel the same symptoms as their fleeing counterpart; fear, nervousness, tension, anxiety, etc, the difference being that something irrational will compel the elite athlete to fight and overcome these symptoms just because it's in their nature. That's why I suffer. I don't have a choice. I'm a fighter and I can't turn it off. (Jeremiahspeaks.com).
Jeremiah won bronze at the World Championships as part of the men's eight. 3 weeks before the 2012 Olympics he was named to the men's eight team. All that hard work paid off for Jeremiah and the dream of standing on the podium at London was realized. After a potentially disastrous preparatory heat, the Canadians fought off the British and Australians in an exciting final, almost catching the Germans, but thrilled to be second and silver!
Following the Olympics Jeremiah had three herniated discs and had ruptured tendons in his fingers. And mentally he had had enough of rowing. Jeremiah counts himself lucky that he was spared the post-Olympic depression that afflicts many other athletes. Part of the way forward was to throw himself into one of his other passions, music. He plays the drums He was named an Honourary Fellow of the Royal Conservatory of Music in 2013 for his advocacy for the arts.
In the summer of 2014 Jeremiah and family moved to Peterborough to be closer to his parents in Cobourg and Amy's business, West Pines Park Resort, north of Bancroft. Several months later Jeremiah was selected by the Canadian Olympic Committee as the national manager of Game Plan, the COC's program to help elite athletes make the transition to the next chapter of their lives. "A lot of athletes find it difficult, I found it difficult coming from the Olympics.
There is a transition that needs to happen and an identity shift that needs to happen, there is an ego check that needs to happen ... it's a really tough time for Olympic athletes and athletes who identify (with the Olympics). That's their life. Here I was, I was someone who played different sports, I had my degree, I even had marketable skills in finance that I could still presumably find a job fairly easily compared to my peers and I still found it challenging and to this day it is challenging".
Jeremiah's accomplishments include developing the Game Plan Education Network, which saw Canada's leading universities sign on to provide more flexibility and support for Canada's national team athletes; the Game Plan Employer Network, a brand new recruiting resource connecting Canada's top companies with Canada's top athletes; developing a partnership with Smith School of Business at Queen's University, which will provide over $11 million in direct scholarship to retired Olympians and Paralympians.
The work of Jeremiah and his team has been featured by major news outlets including the Globe and Mail, Toronto Star, CTV, CBC, Radio Canada, and Al Jazeera. Jeremiah has been consulted by the International Olympic Committee for his expertise while continuing to support the development of athlete welfare programs around the world.
After the Olympics Jeremiah also began writing. His plan was to self-publish an e-book for college rowers – part memoir, part how-to. Feedback from rowers he sent a draft to was they wanted to hear more about his story and the motivations that drove him. In total it took Jeremiah 5 years to write the book. In early 2018 The 4 Year Olympian, was published by Dundurn Press. It spent five weeks as the #1 bestselling sport memoir in Canada, and has achieved a cult-like following in Canada and the USA. The book has transcended the sport memoir genre with its raw honesty and appeal to anyone chasing a big dream.
Following the release of his bestselling book Jeremiah recreated his amazing journey into an emotionally captivating experience. Consistently ranked as one of the top speakers on transformation, resilience, teamwork, and leadership, Jeremiah brings an engaging warmth and humour while delivering powerful, inspiring keynotes. Through his talks, Jeremiah has inspired thousands of people around the world.
Jeremiah Brown spent his life harnessing the power of resilience to adapt to new environments and overcome setbacks.
Updated August 2020
Sport Team or Name This Story is about