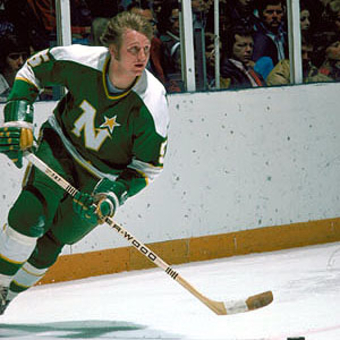 Dennis Francis O'Brien was born June 10, 1949 in Port Hope. He learned his hockey in the Beaver Athletic Association and earned a spot on the 1967-68 Cobourg Cougar team that won the Eastern Junior B Hockey League championship. 1968-69 saw Dennis with the St Catharine's Black Hawks of the OHA as a 19 year old. He played defense in 52 games with 235 penalty minutes.
Dennis, a 6 ft, 195 lb, left-handed defenseman, was chosen 14th overall in the 2nd round of the NHL draft by the Minnesota North Stars. He played 72 games in 1969-70 with the Iowa Stars of the Central Hockey League. He set a league record with 331 penalty minutes. Dennis started the next season with the Cleveland Barons of the American Hockey League.
He was called up and made his NHL debut for Minnesota on November 11, 1970 vs Los Angeles. Six days later he scored his first NHL goal against Glenn Hall at St. Louis. He played a further 27 regular season games and 9 playoff games.
Out of training camp at age 22 in 1971 Dennis was the youngest player to make the Minnesota roster. Over the next 5 seasons Dennis was a stalwart on defense He missed part of the 1974-75 season with torn ligaments in his knee and a broken thumb.
In 1973-74 he led the team with 166 penalty minutes. In 1975-76 he set a team record with 187 penalty minutes. In 1976-77 he led the team with 114 penalty minutes. That year he led team defensemen with 6 goals and 24 points.
On December 2, 1977 after 13 games Dennis was claimed off waivers by the Colorado Avalanche. He played 16 games until January 12, 1978 when he was traded to the Cleveland Barons. He played 23 games and on March 10, 1978 he was claimed off waivers by the Boston Bruins.
He played 16 regular season games and 14 playoff games for the Bruins. Dennis thus became the 1st player in NHL history to play for 4 different teams in the same season.
In the 1978-79 season Dennis played 64 games for the Bruins. On June 13, 1979 he was left unprotected in the NHL Expansion Draft. He was re-claimed after Bill Bennett was selected off the Bruins roster. The next season he played only 3 games for the Bruins and 6 with AHL Binghamton. His last NHL game was October 20, 1979 with Boston vs Los Angeles. He did not win a Stanley Cup but did get to the finals with Boston in 1978
Dennis O'Brien, Obie to his teammates, retired in 1980. He played in a total of 592 NHL regular season games and 34 playoff games. He scored 32 goals, 93 assists for 125 total points. He had 1,118 total penalty minutes.
Dennis joined the workforce at the Brookside Youth Centre in Cobourg. In 2002-03 he served as Assistant Coach of the Port Hope Predators of the Ontario Provincial Junior Hockey League. He is uncle to NHL player Shane O'Brien.
Reviewed August 2020
Sport Team or Name This Story is about