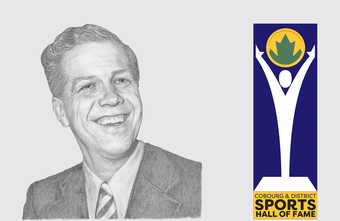 Layton Dodge was born in Cobourg on March 4, 1937, to parents, William and Kathleen. After high school, Layton joined the staff of the Cobourg Sentinel Star as sportswriter and publisher until his final column on October 8, 1996. In between, Layton covered most sports in Cobourg and the surrounding communities with love, diligence, integrity and honesty.
To say that the local sporting community was lucky to have him would be a gross understatement. Layton was the league and individual statistician for many local sporting groups including the Cobourg Community Hockey League, Legion Minor Softball, the Cobourg Mercantile Hockey League, the Cobourg Men's Softball League and the Cobourg Bowling League, to name just a few. Perhaps Layton's greatest quality was his understanding that sports meant as much to the house league player as it did to the all-star athlete.
To that end, Layton gave as much space on his sports pages to the house league games and players as he did to the rep teams and stars. He was the very best small-town sportswriter that you could ask for. Layton was recognized by many local organizations over the years for his outstanding contributions to their particular sport.
One of his proudest recognitions came from the Ontario Amateur Softball Association in 1987 when he was presented with the Frank Feaver Award as Ontario's "Mr. Softball". Layton had a nickname that many of his friends and acquaintances used when referring to him. That name was "Scoop". He never owned a car and rode his bicycle to almost all local sporting events.
He was never without his camera and notebook and always had a smile on his face and a positive remark to share. Simply put, "Layton was the BEST.
Sport Played That Connects To Collection List