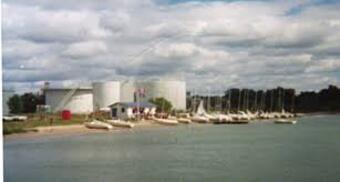 Cobourg Yacht Club – The beginning
In the early summer of 1964 the Mayor of Cobourg, the honourable Jack Heenan, was informed by A.E. (Ted) Walker, vice-president of the Toronto District Cruising Race Association, that 27 yachts would stop in Cobourg on July 26th. This would be the first stop in a race that would continue to Sodus Point and then back to Toronto. The winner of the race from Sodus Point to Toronto would be awarded the Freeman Cup. The Mayor asked the Cobourg Chamber of Commerce, who in turn approached ten men to host the visiting sailors.
Dr Edmond Gendron directed the group who were Ted Prosser, Theo Kraumanis, Philip Calnan, Dr William Richards, Dr Graham Stratford, Dr John Rose, Jack Koyle, Edwin Haynes, Don Macklin and Sol Margles. In order to appear properly nautical, the ten named themselves, "The Great Pine Ridge Marine Association" and decided to have a steak barbeque on the adjoining back lawns of the lakeside homes of Dr Richards and Theo Kraumanis.
In late afternoon of the 26th when all the boats had arrived, the visiting yachtsman were transported to Lakeshore Rd, where they were most royally wined and dined. Of the approximately 150 visitors many of the names of the sailors appeared in later years as principals of C & C Yachts. These were George Cassian while Ed Lawless pf Toronto sailed "Italia" formerly owned by J.W. Morch of Belleville. Perry Connally skippered "Carousel" and Peter Robinson "Mir" a 80 foot ketch with a mainly female crew.
The sailors sailed away to Sodus and Dr Gendron decided to keep his want-to-be-sailors busy. After asking Senator Roebuck's assistance, he took a carload to Ottawa, where they met the Minister of Transport, Jack Pickerskil. For a $2.00 bill from his own pocket (still outstanding) a deal was made to rent the harbour.
The hosts had done a good job of welcoming the visitors but the real work was cutting off the steel pilings along the centre pier and trying to get rid of the residue of the coal piles along the north side of the harbour. The group however, enjoyed working together and the next year (1965) they incorporated the "Cobourg Yacht Club". Soon Dr Stobie, Geoff Rolph, John Spragge, Jim Moses, Alex Pratt and many other sailors came on board and the club started to grow.
By Philip Calnan
Sport Team or Name This Story is about