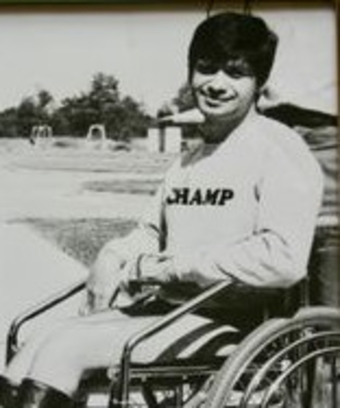 Frank was born April 7th 1958 at St. Joseph's Hospital in Peterborough Ontario. His parents, Frank and Maria, were ecstatic about the arrival of a beautiful baby boy. He would be the third child in his loving family. His sisters Anna Maria and Pia were extremely happy to have a new addition to the family.
Frank was a very quiet, adorable baby, who needed more care and attention while at home. Everyone assisted his mother at the time. Frank was very "Special" to the family. He was included and encouraged to participate in many activities with the neighborhood children. He also played with his sisters. He would laugh with anticipation and excitement whenever company was around.
Frank's participation in the Special Olympics has brought his family pride and joy. His facial expressions displayed his indomitable spirit throughout competitions. His many gold medals attest to his strong and determined character.
Dino, the youngest has been his "Best Buddy". The rapport the two brothers share is indescribable. Their bond is truly exceptional.
Frank's 60th birthday brought a reflection of happiness to his family. His parents would express their love and appreciation to everyone involved in his care.
Frank has Cerebral Palsy (CP) which affects his body movement, muscle control, muscle coordination, muscle tone, reflex, posture and balance. It also has impact on his fine motor skills, gross motor skills and oral motor functioning. Cerebral Palsy's effect on functional abilities varies greatly. Many affected people can walk while others, like Frank, use wheelchairs.
Frank's CP affects three of his limbs, both legs and right arm. His mobility is purely via a one-armed wheelchair to move around. He uses his left arm only to propel his wheelchair.
In the early 1980s, Frank started wheelchair racing as a recreational activity. He competed in the Eastern Ontario CP Games and to his surprise, he won most of the events in which he competed. He then went to the Ontario CP Games, where he continued to roll up the wins. Frank continued winning both at the Regional and Provincial games.
Frank was using his everyday chair to race in, which certainly placed him at a disadvantage, since most racers had specially made racing wheelchairs. They could also propel them with two arms.
Frank was classified as a CP3, which meant racers had three limbs affected. Where Frank could only wheel with one arm, his competitors all wheeled with two arms (one of their arms would be mildly affected by CP, but they were still capable of using both arms to wheel).
Unfortunately, records at this time were not recorded on computers. The Ontario CP Sports Association has some partial results. Frank has a scrapbook of newspaper clippings with his results at provincial and international meets. He has an extensive collection of medals trophies and plaques won while completing across North America and in Belgium. Douglas Wilton, the head coach/manager of the Canadian CP team, can confirm these results.
As a result of his success, Frank was invited to try out for the Canadian CP National Team. He attended their training camp in Windsor in 1983. Team coaches stated Frank needed enhanced training plus a racing wheelchair to compete at the next level in the Olympics and the World Games.
In consultation with his local coach, Frank decided he wanted to complete at the next level. This meant training would ramp up. As well, he needed to find someone to design and build a one-arm racing wheelchair, as there was none – zero – available anywhere.
It was at this point two significant changes happened for Frank:
One – Training: A two-year training program was designed by Team Canada coaches specifically for Frank and his local coach to carry out. The goal was for Frank to peak at the 1984 Olympics for the International Games for the Physically Disabled (later called Paralympics). His training was ramped up to three weight training sessions per week plus three track sessions per week.
The training became progressively harder, and Frank met all the targets and challenges. This training was not easy, and during the winter they drove 45 minutes each way to an indoor track for training three days a week. It was a big commitment. After 1984 Frank took a short break from training, then back to another two-year program to peak again for the 1986 Cerebral Palsy Work Championship Games.
As all high-level athletes know, years of training six days a week can be an incredible grind. Add to that the fatigue of the travel for training and meets for an individual in a wheelchair. Three winter nights each week, Frank got picked up at 6:30 p.m. to drive 45 minutes to an indoor track for his training session. This involved a warm-up, stretching, that night's track routine, cool down and back into a cold car for another 45-minute ride home. All these years of weight and track training made him tough to beat, and revealed Frank's character.
Two – Get a Racing Wheelchair: Frank initially raced in his everyday Everest and Jennings wheelchair. A new Everest and Jennings chair was purchased and modified which resulted in Frank's times improving. Frank received a lot of acknowledgment and praise from competitors and coaches from around the world for being able to compete at the World level without a racing chair.
Frank's competitors were all wheeling with two arms using the latest technology in racing chairs. We could not get a wheelchair maker or a university engineering department or a machine shop to make one. Much effort was put into finding someone who could design and make a one-armed racing wheelchair.
Then in 1985 we met an Ontario wheelchair racer who had made his own chair. This wonderful man worked diligently with us to make a one-armed racing chair for Frank. It was one of the first one-arm racing chair to be made on the planet. This was the final piece in Frank's puzzle for success. As a one-armed racer, Frank was bucking the odds, but now he was finally on a more even playing field with the technology.
Ms Suzanne Atkinson, a regional newspaper reporter, was actively following Frank's success and wrote about his incredible journey. Her coverage resulted in many groups and individuals in the community generously donating money to purchase this chair and cover some of the expenses.
As Doug Wilton, the Canadian head coach/manager, said, "Frank is the greatest one-armed wheeler in the world, always competing against 2-armed wheelers."
Frank's local coach often commented that, "Frank's accomplishments and success can only be truly appreciated by those who saw him race or competed against him. With his extreme competitive nature, Frank is truly a courageous Olympian."
ACCOMPLISHMENTS AND AWARDS
Represented Canada internationally from 1983-1986
June 1984- Olympic Year – International Games for the Disabled (now called the Paralympics)
4x 100 metre relay race (World Record 101 seconds) Gold Medal
60 metre sprint – 6th
200 metre sprint – 10th (disqualified for a lane violation in his heat)
1984 CP Provincial Games
60 metre sprint – gold (new record)
100 metre sprint – gold (new record)
200 metre sprint – gold (new record)
400 metre sprint – gold
Shotput - bronze
1985 Michigan State Championships for the Physically Disabled
60 metre sprint – gold
200 metre sprint – gold
400 metre sprint – gold
4x100 metre relay race – gold
1986 Cerebral Palsy World Championship Games – Gits, Belgium
4x100 metre relay race – gold
400 metre sprint – silver
100 metre sprint – bronze
Team Canada won the overall Medal count with 42 Gold Medals, 16 Silver Medals and 12 Bronze Medals
1982
Presented with a Championship Certificate from the Province of Ontario in recognition of being a Provincial Champion in the field of amateur sport
1984
Presented with a Sports Jacket emblazed with a crest of the Town of Cobourg and the Bicentennial flag from the Mayor of Cobourg and the Chamber of Commerce
Presented with an Ontario Championship Certificate from the Province of Ontario
Presented with an Achievement Award Certificate from the Province of Ontario for distinguished performance in the field of amateur sport
1985
Presented with a Certificate of International Achievement from Premier David Peterson, at the Ontario Provincial Amateur Sports Banquet
1986
Presented with a Certificate of World Achievement from Premier David Peterson, at the 20th Annual Sports Awards Banquet in recognition of distinguished performance in the field of amateur sport
1987
Presented with a Civic Award from the City of Peterborough
Presented with an International Achievement Award from the Premier of Ontario
1990
Inducted into the Ontario CP Sports Athletes "Hall of Fame"
2019
Inducted into the Cobourg and District Sports Hall of Fame
Sources: Suzanne Atkinson, reporter
Doug Montgomery, Frank Mazza's local coach
Doug Wilton, Head Coach and Team Manager for Canada's National Cerebral Palsy team (1979-2000)
Reviewed August 2020
Sport Team or Name This Story is about
Sport Played That Connects To Collection List