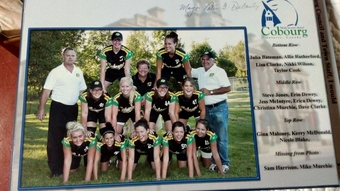 By Patsy Currelly Hand
Cobourg Angels, Junior Angels, & Surrounding Teams
1987 was a very successful year for the Angels. With the loss of a few players and the addition of a few, the Angels were successful in acquiring another Ontario Senior Tier II championship vs. Sarnia. Devlin pitched all games during the championship with 30Ks, 6 walks. The team were finalists in Senior Tier I with Elaine being named MVP pitching 43 innings. The team also were Metro League Champs. Members of this team were: Nancy Cronin, Patsy Currelly, Suzanne Morrow, Leah Anne Oulahen, Jacki Oulahen, Elaine Devlin, Barb Snedden, Jackie Dusenbury, Nancy Jane Dalgarno, Lynn Tracey, Debbie Gillis, Jennifer Dalgarno, Vicki Wodzak, Coaches: Ray Bickle, Jim Morrow, John Hayden, Scorer Sharon Greavette.
As Paul Currelly was not on the field with the Angels, he along with veteran Angels, Faye Gaudet, Jan Bradford, current Angel Suzanne Morrow and Bill Zinkie formed the Cobourg Junior Angels. This gave girls an opportunity to play rep ball in the squirt, novice, bantam, midget and juvenile division. The current Angels put on clinics to teach girls the basics. Paul spearheaded a new league, the Lakeshore Girls Softball Association and contacted centres along the lakeshore for the Cobourg girls to compete with. This organization continues today and has grown to include house league teams.
1988 brought with it many changes. The team moved up to Senior Tier I and played in a league which included teams from Chinguacousy, Cedar Hill, Agincourt, Richmond Hill, Pickering, Bramalea, Tonawanda (New York), Dorchester, St. Clements, Oakville, Kitchener, and St. Catharines. Many weekends were spent on the ballfield playing double headers with the western teams. Sandy Claus pitcher/player/coach joined the coaching team as well as Art Dalgarno (scorer).
Paul Currelly returned to coach first base, Morrow on third. They were Ottawa tournament champs and led their division throughout the year. In the Tier I Ontario championships they went to the finals and lost to Oakville 4-2. Elaine Devlin was MVP at this tournament and was subsequently picked up by Oakville to go to the Canadians in Newfoundland. She had an ERA of 0.64 over 42 innings.
1989 marked the end of an era. The team did well, winning the Milverton Classic Tournament, they ended up 2nd in the Senior Tier I league. Elaine was picked up by BC to go to a New Zealand International Tournament and Jackie Oulahen got a tryout with the Canadian National team to represent Canada at the worlds, however it was not to be as she fractured her finger before tryouts. As a team, things started to break down off the field. During the season, Patsy and Paul Currelly decided it was probably going to be their last year. They didn't announce this so no one else on the team really knew.
At the end of the season, a group of players decided that they weren't happy with the direction the team was going and a handful of players called a player meeting to voice their opinions about their desire to invoke a staff change. As with many successful teams, individual egos can cloud good judgment and greed can replace gratitude. Comments were made that did not "sit well" with everyone. The result was the Currelly's followed through with retiring from the team. Jim Morrow and John Hayden followed. Others left the team, too, including star pitcher, Elaine Devlin. The players were left without a coach and without enough players to field a team.
Fortunately for them, the 1990 season progressed somewhat as planned. Harnden and King agreed to sponsor the team. A team from Scarborough coincidentally named the Angels had folded due to lack of players and they contacted the Cobourg girls to see if they could join forces. Charlie Fraser stepped into coach as well as ex-Angel Marg Matthews, and former Angel pitcher Janice Crosgrey returned. The team did well and played in the Senior Tier I loop for regular season play and were able to capture the Ontario Senior Tier I Championship and went to the Canadians finishing 5th overall.
Members of this team were: Teresa Hutchison, Tami Waters, Su Morrow, Nancy Jane Dalgarno, Jennifer Dalgarno, Kirsten Leis, Nancy Cronin, Marilyn Lang, Jackie Dusenbury, Jackie Oulahen, Isobel Nichols, Janyce Gunn, Barb Sneddon, Janice Crosgrey, Sherry Hoffman. (Mary Jo McCarthy, Lyn McMahon, Wendy Dobbin and coach Marg Skillen were picked up for the Canadian Championships). At provincials, Isabel Nichols was the batting champion and Jackie Oulahen was named MVP. The Senior Angels continued for the 1991 season and competed in the Senior Tier I league but due to lack of players they folded after that season.
The Junior Angels organization however picked up the torch. 1990 was an amazing year for the Sophomore Junior Angels coached by Paul Wakely and Henry Heideman. Having gone to the finals in 1988 and 1989, they successfully won the Ontario title vs St. Catharines . Marianne McMillan was the tournament MVP batting .471. Members of this team were: Marianne McMillan, Launa Foreman, Christina Winkworth, Tracey Davis, Lorrie Calbury, Lori Hibbard, Dianne Gray, Charlene Winkworth, Kelly Moore, and Karen Rose.
1992 saw the coaching duo of Paul Currelly and Jim Morrow reunite on the field to coach the Junior Angels Wimpy Mineral Intermediate team and later the Morrow Transport Intermediate Angels, along with coach Bryan Rose. They continued to coach together until the 1995 season.
1994 brought another Ontario title home to Cobourg. The Jr. Angel Junior Tier II team coached by Pat Mowat were successful in capturing the title against Owen Sound. Kristen Buttars captured the top pitcher award in the tournament and Connie Sturzenegger was the top hitter batting .667, including 1 HR, 3 triples and 6 singles. Members of this Ontario Championship team were: Kristen Buttar, Sharon Taylor, Connie Sturzenegger, Angie Adams, Anne Macklin, Janice McIvor, Racquel Nelson, Joanne Chadwick, Kelly Bax, Krissy Doherty, Kerri-Lee Dahmer, Ted Hook (coach) and Pat Mowat (coach).
As time progressed and there was no longer a Senior Angel team, the "Junior" was dropped from the Angel team title.
2000 brought another Ontario title to Cobourg in Bantam Tier II, coached by Steve Jones, Joe Brouwers, Faye Gaudet and Greg Oulahen. The team beat Brampton in the finals and the team members were: Amy Shannon, Stephanie Jones, Melissa Henke, Kristel Gallagher, Sarah Winter, Sarah Clarke, Julia Hayden, Liz Oulahen, Kelly Nalysnyk, Megan Brouwers, Dana Spicer, Karlee Haynes and Laura Burnham.
In 2003, another Ontario Championship Gold medal was achieved by a Cobourg Angel team. In the Midget category, the Angels defeated Ajax in extra innings to claim the title. Members of this team were: Arianne Allen, Alice Sutcliffe, Dana Spicer, Sarah Clarke, Amy Shannon, Stephanie Jones, Jessalyn Glinski, Sarah Winter, Kelly Nalysnyk, Dawn Armstrong, Erica Prins, Head coach Bill Shannon, Manager Susan Spicer, and assistant coaches Steve Jones, Andrew Allen, and Paul Currelly.
In 2008, 2009 and 2010 Dave Clarke's Angels accomplished 3 consecutive Ontario Titles in Junior Tier II, a feat not previously achieved in the history of the Angels. Members of this very talented team were in 2008: Erica Dewey, Nicole Blake, Erin Dewey, Lisa Clarke, Allie Rutherford, Alex Oosterhof, Breann Coulson, Sarah Clarke, Sam Harrison, Christina Murchie, Taylor Cook, Coaches Dave Clarke, Steve Jones, Kerry McDonald and Angie Adams Darlinson (asst. coach).
The 2009 team won four straight games to clinch their second Junior Tier II Ontario title. Christina Murchie pitched all four games beating Halton Hills, Cambridge, Brampton and Ancaster. The highlight of the final game was an out of the park home run by Erin Dewey but it was her sister, Erica Dewey, who earned the tournament MVP. This team included: Erica Dewey, Nicole Blake, Erin Dewey, Lisa Clarke, Allie Rutherford, Gina Maloney, Sam Harrison, Nikki Wilson, Christina Murchie, Taylor Cook. Head Coach Dave Clarke, coach Steve Jones, Assistant coach Sarah Clarke and Manager Kerry McDonald.
2010 would bring yet another Ontario Junior Tier II title to this team. An achievement yet to be matched by any Angel team, past or present. The Angels would beat Brampton in the final by a huge margin of 12-5! Team members were: Allie Rutherford, Lisa Clarke, Nikki Wilson, Taylor Cook, Erin Dewey, Jess McIntyre, Erica Dewey, Christina Murchie, Julia Bateman, Gina Maloney, Nicole Blake, Sam Harrison, Coach, Dave Clarke, Steve Jones, Mike Murchie and Manager, Kerry McDonald.
Most recently, the Cobourg Angels represented the Town winning the Eastern Canadian Softball Championship, Novice Tier 2 in 2017 and were coached by Faye Gaudet, Kate Reed, Kristen Lalande and Chris Lalande. Players included Amelia Pettipas, Reagan Lalande, MacKenzie Mamers, Braelyn Farrell, Megan Geurts, Taylee Herman, Grace Rice, Ava Hughes, Megan Sheehan, Macie Hackney, Lilah Klassen, Kaycee Craig, (Madison Depencier from the Chatham Eagles was picked up for the Canadians). Depencier won the top pitcher and batting recognition but it was Cobourg's Reagan Lalande who would win the overall MVP honours for the tournament.
The Cobourg Junior Angels organization continues to this day with both house league and rep teams in the mite to midget division. What began as a dream for one man has flourished into an organization where girls not only learn and enjoy the game of softball but discover the importance of sportsmanship, teamwork, fair play and a positive work ethic, building self-esteem and confidence.
Many, many Angels have returned to the ball field to pass these values to the next generation either as a coach, a manager, scorekeeper, executive member or supporter. The positivity of sport continues.
Cobourg Angels
1987 Ontario Senior Tier II Gold medalists vs Sarnia, Ontario Senior Tier I finalists vs Dorchester. Ontario Regional Gold Medalists vs Belleville, Metro League Champions.
1988 Ontario Senior Tier I Silver Medalists vs Oakville, Ottawa Tournament Champions
1989 Eastern Division Senior Tier I League Champions, Milverton Classic tournament champions vs St. Catharines
1990 Ontario Senior Tier I champions
Cobourg Junior Angels Ontario Champions 1990-2020
1990 Ontario Sophomore (previously Juvenile) Championship
1994 Ontario Junior Tier II Championship
2000 Ontario Bantam Tier II Championship
2008 Ontario Junior Tier II Championship
2009 Ontario Junior Tier II Championship
2010 Ontario Junior Tier II Championship
2017 Eastern Canadian Novice Tier II Championship
Updated August 2020
Sport Team or Name This Story is about
Sport Played That Connects To Collection List