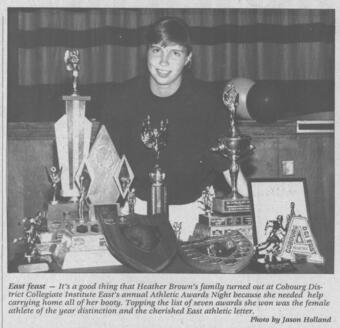 Heather Brown
Heather Brown was born in Cobourg, on January 6, 1977, to Thorburn and Patricia Brown. Thor and Pat had four children in five years - Tracey, Wendy, Heather, and Fred.
Heather showed an avid interest in sports at a very young age. She started playing soccer at the age of 6. Soon she was playing a myriad of sports including soccer, t-ball then eventually softball, figure skating then eventually hockey, and more. Heather played with the boys, since there were no girls teams. Although she excelled at all sports, soccer was her true gift. She was the only girl chosen to be on the Cobourg Soccer Club's Select Team. To this day, Heather feels grateful for the boys she played with. They were always supportive of her, even if an opposing team thought she shouldn't play.
She developed great friendships with her teammates and played soccer with them during every recess at school (morning/lunchtime/afternoon) as well as constant games in the park across the road from her family's home. As a budding elite athlete, Cobourg was a great place to grow up. She was so completely dedicated to sport at such a young age that one summer, when her family was going on a vacation to Newfoundland, she was so upset that she was going to miss some t-ball games that her parents arranged for her to stay with friends so she could play.
She attended elementary school at C.R. Gummow Public School. Although there wasn't an extensive athletic program there at the time, she participated in everything she could. When she was in grade 4, she was old enough to participate in the harrier for the first time. Her sister, Wendy, beat her by an arm's length and that spurred on her drive to train and do better in running so that wouldn't happen again. She excelled in Cross Country after that race.
When Heather was 9 years old, in 1986, Cobourg hosted the prestigious "Pepsi Challenge" tournament, in Donegan Park. Heather was the only girl on the Cobourg Soccer Club's select team. This positive soccer experience kick-started her elite soccer career.
In 1989, the family moved to Victoria, B.C.. Pat and Thor both took a year off work to explore the Vancouver Island City as they thought they might retire there. They went to school while Pat & Thor explored the city. As per usual, Heather's parents took all of their children to their sporting events. That never changed throughout their children's lives. If any of them were playing anything, Pat & Thor were always there for them. Heather completed grade 7 in Victoria and earned Athlete of the Year. She returned to Gummow for gr. 8 and throughout her years there, won various athletic awards.
She then attended C.D.C.I. East for high school. Her Dad taught there, and coached her soccer team. At one point, while in high school, she was on 5 different soccer teams (indoor, outdoor, high school, house league, provincial U16 team)! She was on the Provincial team throughout high school. Her Mom said she always did better in school when she was very busy with sports and never had trouble managing her time.
While at the East, she played every sport she could – soccer, basketball, volleyball, tennis, badminton, cross country, track and field, and more. She was an OFSAA level competitor in javelin (track & field) and in badminton, and won many MVP and other major awards in various sports throughout high school. She won Junior Athlete of the Year twice and was also a 2-time winner of Athlete of the Year.
The summer after grade 8, Heather was invited to try out for the Girl's U16 Provincial Soccer Team. At the tryouts, she was very stressed. Having played defense with the boy's her entire competitive soccer career, she had trouble adjusting to the girl's game. She didn't make the Provincial team that year but knew, in order to be successful, she would have to learn tactics specific to girl's soccer. So she joined the girl's Peterborough rep team. The plan worked. She learned the ins-and-outs of the girl's game and made the U16 Provincial squad the following summer.
Her first year on the U16 Provincial team was a formative season for her. Heather was very inspired by her head coach, Niki Nicolaou, who was also University of Toronto's head coach, and by her assistant coach, Andrea. Nicolaou commented that the players were chosen because of their elite skills, characters and attitudes, and stated that Heather "personified those traits". These coaches were the most influential coaches of her soccer career. They were enthusiastic and great influencers, with high expectations, and the players worked hard because they knew that their coaches really cared. They inspired her to work hard and stick with it. Her coaches recognized her ability and began grooming her for the National Team. Some more senior players, like Jane Lea, also inspired her to be the best she could be.
During the season, both the girls' and boys' Provincial teams trained at Lamport Stadium, in Toronto, and in later years at Ivor Wynne Stadium, in Hamilton. Winter training was more about skill development than team training. In the U16 program, there was no National Championship tournament, but the team travelled to several USA cities and to Quebec to play in tournaments. It was Heather's favourite year as the team travelled in 3 vans so the team bonded extremely well because they were always in such close proximity to each other. It was a lot of fun and their chemistry showed on the field, as they performed very well, winning several tournaments. Her first experience on a Provincial team was a success.
Heather played on the Provincial U16 team again the following season, and then made the U18 Provincial team in the 2 years following that. With the U18 team, she earned a silver medal at the 1994 Nationals and then gold at the 1995 Nationals.
She received a scholarship to the University of Nebraska where she played NCAA Division 1 varsity soccer from 1995-1999, while earning a Mechanical Engineering degree. In her first season with the U of Nebraska Cornhuskers, Heather earned MVP honours as a defender after marking some of the best players in the nation. She was one of Nebraska's most reliable and intelligent players. In her second year (1996), she played a major role on the Husker's defense, that allowed only 4.21 shot on goal and 0.59 goals per game.
In her third year (1997), Heather played a major role in Nebraska's defense, providing excellent depth for the Huskers and helped them set a school record streak of 9 shutouts in a row. In her first 3 seasons as a Husker, she started in 42 consecutive games. In 1998, her playing time was limited due to a knee injury which ended up being serious enough to eventually put an end to her elite soccer career. Also, Heather & her team went to schools, speaking and running soccer clinics, and they ran soccer camps.
Honours and Awards she received at University include:
1995-1999 – Athletic Scholarship
1995 & 1996 – NSCAA/Umbro Second-Team all-Central Region
1995 – Big Eight Conference Academic Honor Roll
1995 – Nebraska Co-Most Valuable Player
1996 & 1997 – First-Team Academic All-Big 12 Conference (GPA of 3.947)
In the summer of 1996, between her freshman and sophomore years, Heather was chosen to go to the Team Canada training camp. Her sisters picked her up after her last exam and they drove 17 hours straight, to McMaster University, where the tryouts were being held. She made the team. It was a World Cup team but there was no World Cup event held that year so they competed in the U.S. Cup. The U.S. Cup was played on the eastern seaboard of the U.S. – Connecticut, Maryland, & Washington.
Heather found the experience very intimidating. She was only 19 years old and playing on Canada's Women's National Team, where the average age was mid-late 20's. The USA was ramping up to host the World Cup in 1999 so the American team had a lot more support than the other teams, so were able to train more, proving to be a powerhouse. Some big guns like Mia Hamm, Michelle Akers, and the like were on that team. For a 19-year old, that was a lot. The Canadians lost to the USA and China, and tied Japan.
That same year, in 1996, Heather played on the U20 National Team, and was appointed co-captain. She relished this experience. She was with players her own age and had a leadership role. She wasn't intimidated as she had been playing with the older, more experienced women and she even had some of her Nebraska teammates with her. Her Huskers asst. coach was also the asst. coach of this team which added to her confidence. The U20's had a training camp in Pennsylvania and tied the U.S. team, which was quite the feat given the offensive power of their senior team.
Upon graduation from the University of Nebraska, Heather attended Queen's University to get her Masters of Education in Mechanical Engineering. She was asked to be an assistant coach, under Dave McDowell, for the Varsity Women's Soccer team. She really enjoyed this role but was shocked about the lack of support & resources for the team, especially compared to her experience at an American school. Coach McDowell even used his own money to help the team get new jerseys. Despite this, the players were dedicated and had fun and Heather enjoyed her role as assistant coach.
After graduation, she accepted a job in Victoria, B.C. Recently, she moved back to Cobourg and is working locally.
Sport Team or Name This Story is about
Sport Played That Connects To Collection List