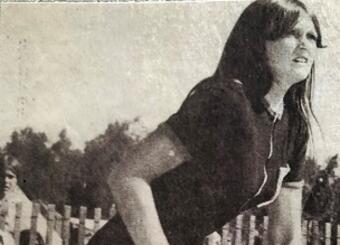 Gail Johns-Rees was born in Cobourg on February 10, 1955 and has the distinction of being the first female athlete from Cobourg to qualify for OFSSA.
Gail was a member of the CDCI West Track and Field Team from 1969-1974.  She set records in the 200M and 400M races at Kawarthas and COSSA, in the 60M, 100M, 200M and 400M at South Kawarthas, and qualified to compete in the 200M and 400M races at OFSSA. 
When Gail arrived at CDCI West in 1969, she was sought out by the late Jerry Lawless; having heard of her running accomplishments in elementary school, he insisted she attend track and field training on the back lawn of the high school.
   An opportunity that changed her life.
Along with the many medals Gail received and the records she set over the years at track events, she also received the "Female Athlete Award" from the Cobourg Legion in 1972.
CDCI West dedicated the "Johns Trophy for Outstanding Track Performance" in recognition for her accomplishments. The trophy went on to be presented to athletes for 42 years until it was retired when CDCI West closed its doors. 
Gail had the honour of presenting the trophy for the last time in 2015.
After high school Gail started distance running, competing for years in 5ks and 10ks, and ran marathons in Toronto, Ottawa, Washington, and Boston. 
In 1994 Gail and her family moved to New Hampshire and at the age of 47, she discovered Masters Track and Field and returned to sprinting and her high school habits of breaking records! 
As a member of the Mass Velocity Track Club, she has been a nationally ranked masters sprinter for the past 20 years, competing in 50M, 60M, 100M, 200M, and 400M races. 
Gail has earned 17 USA National Masters Track medals, one of which she ran a leg of the 4X100 relay with the Canadian team and helped them win gold at the USA Masters National Meet in Charlotte, North Carolina in 2006. 
The singlet Gail wore when she represented the Canadian team was given to her by Karla Del Grand, Female Athlete of the Decade, World Masters Athletics. 
Gail has set 13 New Hampshire state records in the 50M, 60M, 100M, 200M, and 400M and has received five "Best Performance by a New Hampshire Athlete" awards from New Hampshire state meets between 2010 and 2019. 
She also has many state level medals from New Hampshire, Massachusetts, Rhode Island, Connecticut, and Maine and has competed at venues such as Stanford, Harvard, and Boston universities and the Penn State relays where not only masters compete, but also elite high school students and Olympians.
Three records set in September 2021 qualify Gail to compete at the May 2022 Senior Nationals Track and Field meet in Fort Lauderdale.
In 2015, while sprinting to the finish line in a 200M race, Gail's right Achilles tendon completely ruptured a few metres from the finish line causing her to fall and fracture her right shoulder. 
After surgery, being in a wheelchair initially, and two years of intensive rehab, Gail came back from that challenge to set five of the records noted above.
In 2021, Gail and three of her masters' teammates were featured on a New Hampshire TV station to promote the fitness, health, camaraderie, and competition benefits of masters track field. 
Gail's masters track life has included many years of competing at college and university meets, not only masters' specific meets; she really enjoys being with young athletes and they are encouraged by the fact that competing on the track can truly be a lifetime sport.
It has been decades since Gail was on the back lawn of CDCI West where it all began, but she says to this day, "As I step onto the track and settle into the starting blocks, Mr. Lawless is still with me."
By Elizabeth Johns-Dickson