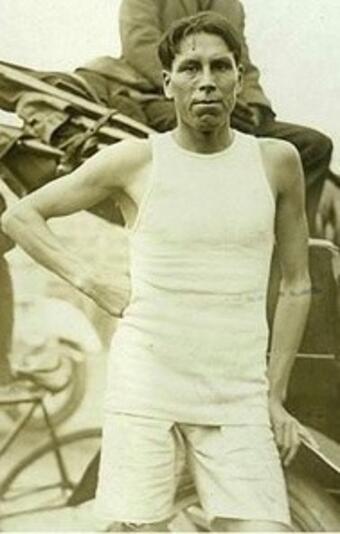 Fred Simpson - The Ojibway Thunderbolt - 1878-1945
In 1908 Fred Simpson was at the center of the Canadian Olympic program to capture gold in the London marathon, alongside fellow Onondaga Tom Longboat. Fred Simpson did not boast of his achievements, a difficult task for the local historian, and he did not leave us anything regarding his own reflections. The only words we may attribute to him are those that are in the memory of his grandchildren, now elders, but he certainly did not write anything or record anything of any type that would assist in filling out the blanks in his story.
His achievements, however, were strong enough to warrant a serious following by the major newspapers in Canada and as an Olympian he is part of a strong legacy in early Canadian amateur sport.
That he was of the Mississauga Nation of the Anishinabek (sometimes referred to as a sub-tribe of the Ojibwe) makes him unique in all of this; as were his other fellow Indigenous competitors at the same time such as Tom Longboat, Lewis Tewenina of Arizona (1908/1912 Olympics), Hilton Green, Ben Howard, Joe Keeper (1912 Olympics), Albert Smoke (1920 Olympics) and Paul Acoose.
Simpson was born in Alderville in 1878 to James and Mary Simpson and raised there, losing both his parents by a relatively young age. His father drowned in Rice Lake when he was 5 and his mother passed probably by 1891, after which he was raised by his grandmother. During this period, that is after his birth in 1878, the Dominion Government was now administering the Indian Act on reserve and by all accounts it becomes a very oppressive situation, aimed at undermining First Nations self-governing authority. Much has been written and studied about the impacts of the Indian Act on First Nations people and Alderville was certainly affected.
Alderville was a relocation of what are known as the Bay of Quinte and Kingston Mississauga, who having been indigenous to that region, were later moved to Alnwick Township in Northumberland County in the mid-1830s. It was under the pressures of the government and the influence of the Canadian and Wesleyan Methodist conferences that the Mississaugas of the Bay area and Kingston eventually removed themselves to the Rice Lake area.
At Grape Island in the Bay of Quinte, this was the Methodist Mission created for their Christianization and education in 1826-27, and those that later made the trek to their new home at Alderville had come directly from there in 1837. Therefore, Fred Simpson was a product of that Methodist movement that had such a profound impact on the Mississauga Nation across the Lake Ontario frontier. In fact, his own paternal grandfather John Simpson the first, had converted to Methodism in 1828 at the Bay of Quinte and had travelled to New York City with the early Methodists on fundraising tours.
Young Fred was poor as so many were on the Reserves. Not having a father figure, he was never a "crackerjack of a trapper" as his eldest son once told this writer, but he was a crack shot with a .22 and an avid wild rice harvester. As a labourer and at about 5' 11" at adulthood and 145 pounds he was strong with great stamina as was noted by his friends. This stature would lead to him becoming one of the best distance runners in Canada during the first decade of the 20th century.
Around 1899 he moved to the Hiawatha reserve on the north shore of Rice Lake and married Susan Muskratt. Their first son John (the 3rd) was born in 1901 followed by Elizabeth Mae in 1903 and Lucy in 1904. It was in 1906 that Fred entered long distance running when he participated in the 10-mile Peterborough Examiner Road Race. By then he was living and working and raising his family at Hiawatha, working as a labourer for local farmers. Noticing his stamina in the fields it was friends that urged him to enter the 10-miler from Lakefield to Peterborough.
In this race he led for half of it and while at the end he placed third he did catch the eye of the local YMCA Harriers and from this point on became a member and began training for additional races. This would lead him into an amazing short period of marathon running that would eventually pit him against the best in the world.
Under the Harriers in Peterborough it was Dick Baker who had taken an interest and began to work with the young Mississauga. Simpson would go north in wintertime and work in the lumber camps and on the river drives at South River for instance keeping in shape. In the autumn of 1907 he was entered in the Hamilton Herald Road Race placing second and gaining local notoriety. The Hamilton Herald Road Race was a premier long distance race on the continent by that time, next to the Boston Marathon. At 19 miles it was a gruelling test of one's ability as the Hamilton terrain is a tough one.
Simpson's fourth child Fred Jr, born in 1907, was named Frederick Herald in honour of his dad's second place finish. Had he won, Fred Sr. once said he would have named the young boy Frederick Hamilton Herald Simpson.
Olympics
Placing second at Hamilton put him in the limelight and over the next 8 months Baker would continue to work with his Mississauga runner so that by the time the 1908 Olympics were being arranged for London, England, Simpson was touted as one that may be a hopeful. He was scheduled for both the provincial and national trials for the Canadian Olympic team, placing fourth in both and winning a berth on the Canadian Olympic Marathon team, along with Harry Lawson, Tom Longboat, Billy Wood and Jack Caffrey to name other Canadian notables.
On June 6th at the Canadian Olympic Finals he secured his place on the team to head for Britain. It was a gruelling race - only 14 of 32 runners were able to finish - but the Toronto Star noted that Simpson "was never in distress," and "ran a well judged race all the way."
Simpson's qualification for the Canadian team spurred Peterborough to an energetic fund-raising effort on his behalf "[N]ot only will the incidental expenses of the trip have to be paid" wrote the Examiner on June 10th, "but ... Simpson's wife and family of four small children, must be maintained while the bread-winner of the family is across the ocean." The efforts succeeded, raising more than $250 in a couple of days, and on June 11th, Simpson boarded the train for Montreal, whence the team was to set sail. That day's Examiner described the scene at the Peterborough station:
"When the train pulled in all the team got out on the platform and as the tall form of the Peterborough Indian hove in sight, they gave him a cheer and then there was a great rush to shake hands with Simpson and his trainer. Both are evidently very popular with the Toronto athletes, who seemed sincerely glad to welcome them among the little bunch of men who are to bear the maple leaf of Canada before the eyes of the world... "
The Olympic marathon was run on July 24th, 1908 from Windsor Castle to the White City Stadium, and Longboat was among the front-runners when he was forced to withdraw late in the race. Simpson, for his part, finished the course in 3:04:28, coming home in a respectable sixth place, and second among the Canadians (William Wood finished fifth, three minutes ahead of Simpson). Harry Lawson, who had won the Olympic trial final in Canada, came seventh in 3:06:47. The marathon was won by Johnny Hayes of the United States, after Italian runner Dorando Pietri was disqualified for receiving assistance to finish the race. It is one of the most dramatic sporting events in the history of modern sport as the little Italian came into the stadium delirious and close to death. He fell four times and was aided across the line. This led to his disqualification.
1909 and afterward
After London, Simpson would place second again in the 1908 Hamilton Herald Road Race, and then in the early winter of 1909 he turned professional to race on a circuit that would take him from Fort William to Savanna Georgia, from Chicago to New York City. Many of those who he had run against in the Olympic Marathon had also turned professional and so many of the races became barn burners at the old Polo Grounds, old Madison Square Garden, Riverdale Rink in Toronto.
The media had covered his progress quite extensively, such as the Globe, Peterborough Examiner and Toronto Star. Unlike his contemporary Tom Longboat, Simpson was portrayed more as the "good Indian" while Longboat the younger had been portrayed as the unruly Indian. The media of the day made no bones about identifying their ethnicity as either good or bad, advantageous or problematic. In other cases the media was nothing but purely racist by today's standards.
This writer grew up hearing great stories of Simpson in Georgia, in Chicago (when Gentleman Jim Corbett was an honorary starter of one of his races) and in Toronto where he would pit himself against the 10-mile indoor world record.
Simpson spent about 3 years as a pro, all the while raising his children with his wife, the family of which had grown to 5 children by 1910. By 1912 the professional marathon boom was all but over as war clouds gathered over Europe. Fred Simpson retired back to Hiawatha, where more children were born (and lost) and then in 1923 he moved the family back to his home at Alderville where he lived out the remainder of his life.
Conclusion
Fred Simpson came from a line of that part of the Mississauga Nation that once possessed the lands in and around the Bay of Quinte. His great-grandfather was one of the signatories to the Rideau Purchase (Treaty #27). After the move to Alderville in 1837 his grandfather was an early Chief here during the 1850s. They were all of the ahtik dodem (reindeer clan), so fitting for a man that could run so fast. Both his father, mentioned above, and uncle Alan Simpson drowned in Rice Lake and losing his mother also at a young age is a testament to his determination and drive that he would eventually become such a great runner. It probably set him free to run like a deer, at a time when "Indians" were the subject of the most racist and oppressive government legislation and policies that Canada has ever known.
At the same time, that did not stop him from dawning the maple leaf to go for the gold at London. His legacy survives at Alderville and we are proud to this day that he accomplished so much with so little.
Fred Simpson died on May 19th, 1945 at his house on the 'Cobourg Road' (today's Highway 45) while tending to his chipyard splitting kindling. His wife Susan died a year later in 1946. Both are buried in Alderville on both sides of their daughter Olive who had died in 1939.
In 2011 a stone was placed at Simpson's unmarked grave in the Alderville First Nation cemetery commemorating his life and feats as a long-distance runner.
By Dave Mowat
Photos courtesy Dave Mowat
Sport Team or Name This Story is about
Sport Played That Connects To Collection List