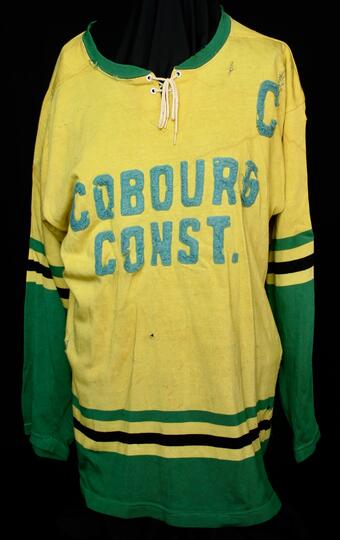 Cobourg Cougars Junior B 1965-1971
The Cobourg Cougars made their entrance onto the hockey stage in the fall of 1965 joining the Eastern Ontario Junior B Hockey League. Community minded businessmen, Clarke Sommerville and Jeff Rolph, provided the means to put the team on the ice while Ken Medhurst and Dick Robinson provided the team leadership. The nucleus of players was recruited from Cobourg's two-time OMHA Midget AA finalists.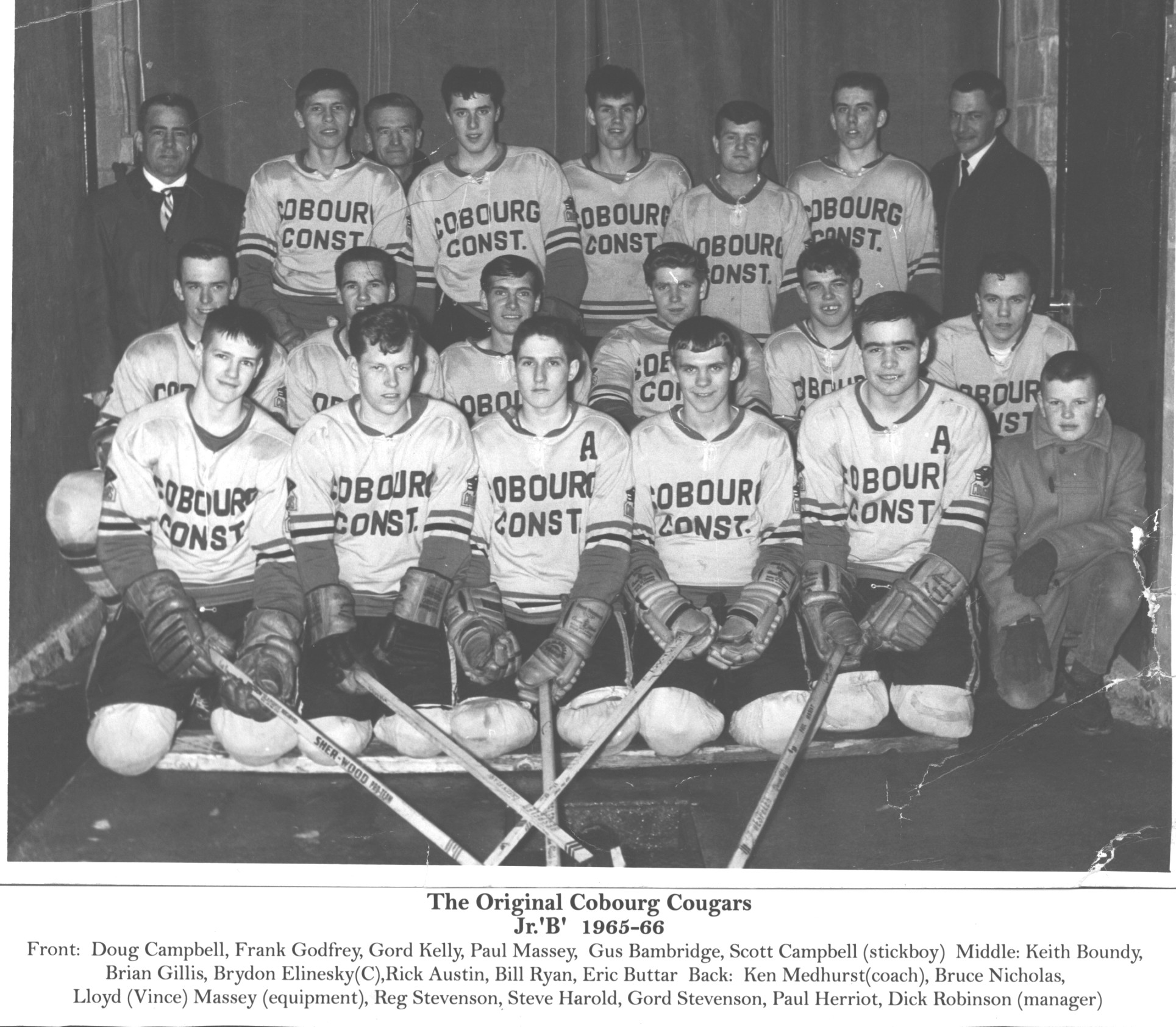 Teams in this league included Oshawa, Trenton, Belleville, Kingston and Peterborough. Cobourg ended the season in sixth place with 4 wins, 3 ties and 23 losses. The top 5 Cobourg scorers were Brian Gillis (30 points), Brydon Elinesky (27 points), Gus Bambridge (24 points) Gord Kelly (22 points) and Bill Ryan (18 points).
Goaltender, Rick Austin, faced an average of 37.2 shots per game. It was a tough inauguration but better days were ahead. Age, experience and recruiting would all play a part in the coming fortunes of the team.
The 1966-67 season saw the Cougars achieve 40 points over the 30 games schedule with 19 wins, 7 losses and 2 ties. Leading the scoring parade that year was Gord Kelly with 59 points followed by Brydon Elinesky, Brian Gillis, Steve Harold and Paul Herriot.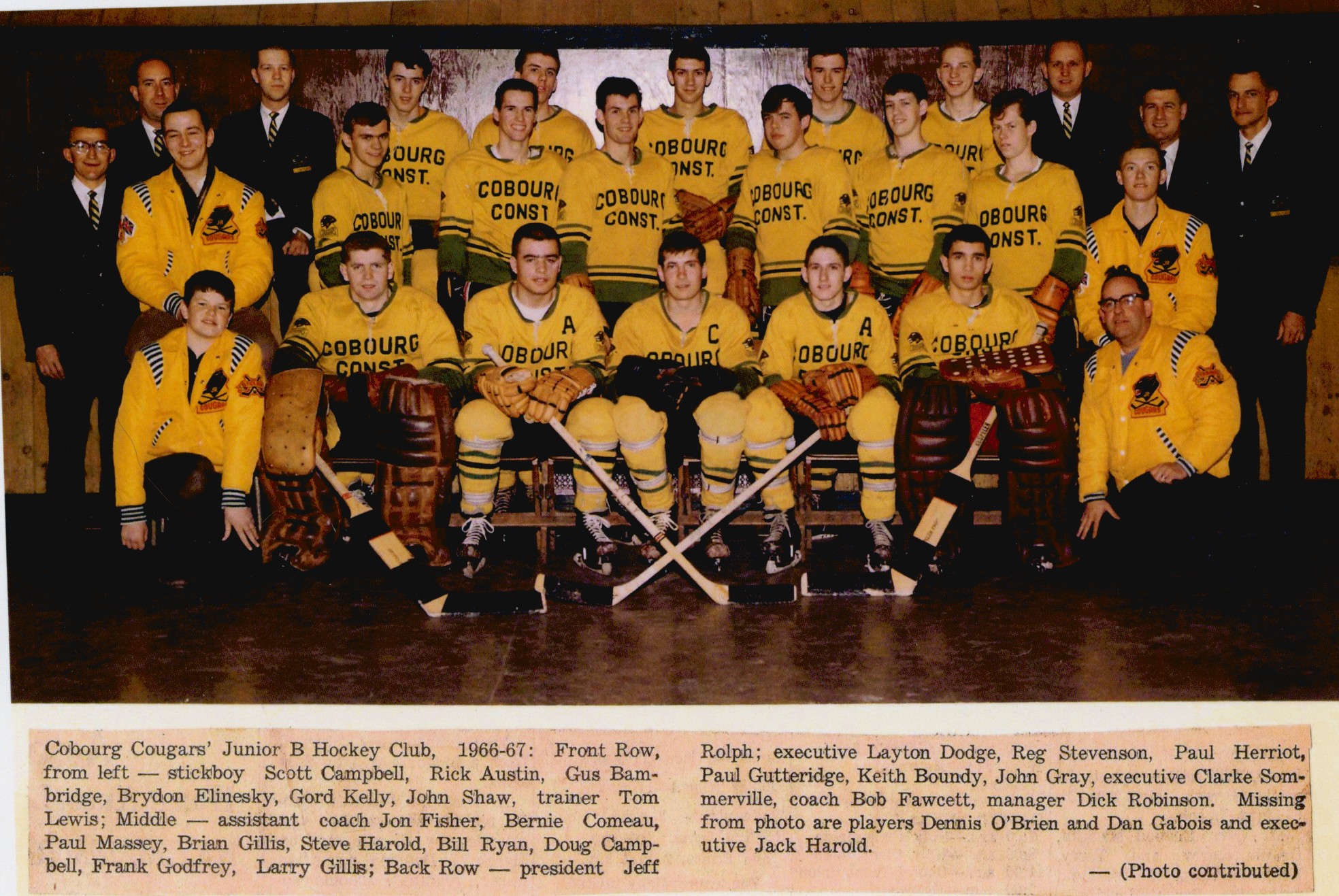 With two seasons under their belt, the Cougars made their mark during the 1967-68 season. Finishing first in the regular season with a record of 19-9-4, the team was eliminated in the group final by the Oshawa Crushmen.
Average attendance at the Cougars home games was over 900 and 3500 fans took in the group final at the Oshawa Civic Centre. Gord Kelly continued his scoring magic, finishing the season with 83 points while John Gray followed with 80 points. It is notable that John Gray, Gord Brooks and Dennis O'Brien all went on to have careers in pro hockey.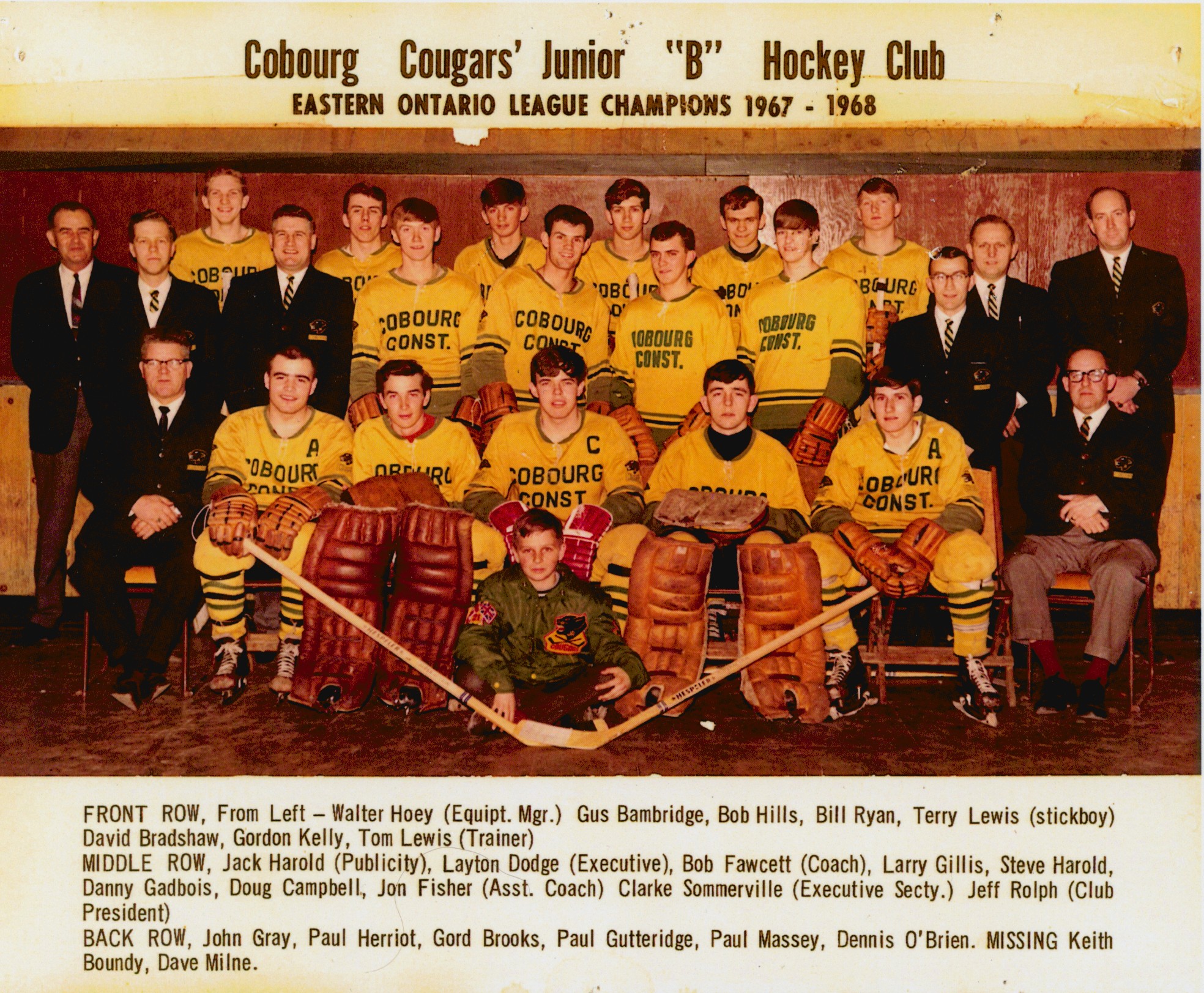 Paul Gutteridge was the leading scorer for the Cougars in the 1968-69 season with 55 points followed closely by four-year veteran, Gus Bambridge with 54 points. The Cougars ended the regular season with a record of 12-16-2.
Alan Fenton would go on to complete a hockey scholarship at Colgate University while Mike Kelly has had a long and storied career with the OHL Guelph Storm, the OHL Windsor Spitfires and the Italian national hockey team. To read more about Mike Kelly's hockey career check under 'Stories' on the cdshf.ca website.
After a pro hockey career, Ron Smith returned to his hometown of Port Hope where he served as a councillor and Mayor. Larry Thompson, who had 32 points on the season, went on to play the next two years with the OHL's Niagara Falls Flyers and the Oshawa Generals.
Gus Bambridge has continued to contribute to hockey through his many years as a linesman, referee, supervisor of officials and instructor for the OHA, OMHA and OHF. In 2004, Gus received the Ontario Hockey Federation's Officiating Award for contribution to the game, officiating skills and what they put back into amateur hockey within the branch.
With the loss of key personnel, the Cougars experienced some tough times, finishing the 1970-71 season with a record of 7-15-4. During this last Junior B season, the top scorers were Bruce Sherwin, Peter Kelly and John Lunn. Topping the charts in penalty minutes were Ray Bevan (142), Kevin Lowe (122) and John Lunn (112).

With the realization that interest was decreasing and costs increasing, the Directors determined that participation in the Central Ontario Junior C league was a viable option in hopes of making the team more competitive. 
 
COBOURG COUGARS CELEBRATE 50 YEARS
1965/66 – 2015/16
On January 28, 2016, the 1965 Cobourg Cougars were honoured and celebrated by the Cougar faithful and the OJHL at a red-carpet pre-game ceremony by the present-day cougars wearing replica jerseys of that inaugural season. A reception was held prior to puck drop which included a meet and greet with coffee and cake, distribution of replica jerseys, anniversary pucks and ball caps plus a copy of the original team photo. Members of the '65 Cougars present were: Coach Ken Medhurst, Frank Godfrey, Bernie Comeau, Gord Kelly, Paul Massey, Gus Bambridge, Keith Boundy, Brian Gillis, Brydon Elinesky (C), Rick Austin, Eric Buttar, Bruce Nicholas, Reg Stevenson, Steve Harold, Gord Stevenson, Paul Herriot and special guest Gord Brooks. Not present were Bill Ryan, Doug Campbell and Scott Campbell.
Below are some articles written by the late Layton Dodge in the Cobourg Star (a predecessor to Northumberland Today) back in 1965.
This story by Layton Dodge was originally published Sept. 1, 1965
Plans are proceeding for Cobourg to return to the junior hockey wars after and absence of two years.  Last week it was announced, following much speculation, that Cobourg intends to apply for entry into the new Junior 'B' Hockey League which is in the works for eastern Ontario this winter.  Announcement of a junior club being formed came as no great surprise but the decision to seek junior 'B' instead of 'C' status caught most local hockey boosters off guard. If Cobourg is accepted--and club officials already have assurances from OHA convener Jack Devine of Belleville that there is nothing standing in the way of it at the moment--then they will join a newly-formed alliance with Whitby, Peterborough, Belleville, Trenton and Kingston. 
Directors of the fledgling Cobourg club are Jeff Rolph and Clark Sommerville. Dick Robinson will be the manager and Ken Medhurst the coach. Medhurst is reported to be looking for an assistant.  
The team, it has been learned, will be partially subsidized by Cobourg Construction. 
Manager Dick Robinson said Friday that the decision to go 'B' rather than 'C' stemmed from the shorter travelling involved. If Cobourg went 'C', they would be grouped into a league with Picton, Napanee, and Gananoque. Mr. Robinson also commented that it was the intention "to hang on to local 'B' possibles who might go elsewhere to play hockey."
Nucleus of the team will be personnel from the Cobourg Midget teams that reached Ontario finals the last two years. However, all players in the Cobourg-Port Hope area will be welcomed to tryouts, tentatively scheduled to get under way the early part of October. Most of Cobourg's home games will be played on Mondays.  
This story by Layton Dodge was originally published Sept., 22, 1965
Cobourg officially became a member of the enlarged Eastern Ontario Junior 'B' Hockey League Monday night.
A four-man delegation--consisting of manager Dick Robinson, coach Ken Medhurst and directors Jeff Rolph and Clark Sommerville--attended a meeting in Belleville and, after hearing what both the 'B' and 'C' leagues had to offer, came to the conclusion that they had no other alternative but to go 'B' this season.
Cobourg officials decided to apply for a 'B' franchise several weeks ago but in the past weeks there were indications that they had a change of heart and would drop back into 'C' instead. However, that was ruled out as geographically impossible at Monday's meeting when they learned that Royal Military College in Kingston and either Madoc or Stirling were possibilities in the 'C' setup along with Gananoque, Napanee and Picton. 
The local juniors will play in a group with Kingston, Belleville, Trenton, Peterborough and Oshawa. 
There was quite a hassle over the length of the schedule, Oshawa's Wren Blair leading the argument for a 40-game slate. He was supported by Trenton and Kingston representatives.  
Cobourg, Belleville and Peterborough held out for a shorter 30-game calendar. It was finally resolved when the latter three teams agreed to play two 4-point games, one at home and one away, with each other. They will each play a total of 30 games, meeting each opponent six times. 
Oshawa, Trenton and Kingston settled on a 34-game schedule with no 4-pointers. They will play an extra home and home series with each other to make up the difference in points.  
The Cobourg team will have only two weeks to prepare for its league opener October 29 at Belleville since ice won't be in here until the middle of next month. First home game will be November 1 against Quinte City club.  
ICE SHAVINGS - Group will play all-star game the first week of January with proceeds going to the OHA Emergency Fund... One outside referee and two local linesmen will be used for league contests... Top four teams will make playoffs. 
This story by Layton Dodge was originally published Oct. 6, 1965
Unlike the last Junior team which operated here for four years, the new Cobourg Junior 'B' Hockey Club will have its own special identity. 
The club officials, huddling last Tuesday night at the home of manager Dick Robinson to lay the groundwork for the 1965-66 season, decided that a catchy team name was desirable.  
It was thought that a nickname beginning with the letter "C" might be preferable since it would tie in nicely with Cobourg. The name "Cougars" was finally selected.  
The team management also decided to adopt at theme song, as yet unselected, as a means of raising team spirit. The record will be played every time the Juniors come on the ice for a game this season.  
Sweaters and socks already have been ordered. They will be basically yellow with green trim, the same colours associated with Cobourg Construction which is partially subsiding the team.  
A slate of officers was drawn up as follows: Jeff Rolph, president; Clarke Sommerville, secretary-treasurer; Dick Robinson, manager; Ken Medhurst, coach; Tom Lewis, trainer; John Lavis, special promotions; Layton Dodge, Dick Robinson, publicity; Larry Windover, assistant coach; "Vince" Massey, equipment manager. 
With the team's proposed budget at over $2,800 and receipts likely to be around $800 short of that figure, it was decided to promote a 50-50 raffle in the hopes of raising most or all of that amount. 
Season tickets will go on sale shortly for $10 apiece, entitling the holder to 15 admissions during the regular schedule. 
All players who make the team will be given medical examinations by Dr. William Page before the first league game October 29 in Belleville. As another safety precaution, head helmets will be a compulsory club rule. 
Cobourg juniors will play in a league this season with Oshawa, Peterborough, Belleville, Trenton and Kingston.
This story by Layton Dodge was originally published Oct. 27, 1965
Cobourg's own space shot into an unknown, unexplored world of Junior B hockey will be launched Friday night at Belleville. 
All systems are A - OK for the flight takeoff of Cobourg Cougars. Their only goal at the moment is that the four - month journey will end in a happy landing. 
Hometown boosters will get their first look at Cougars in orbit in the 6-team Eastern Ontario Junior B Hockey League Monday night at 8 o'clock when Belleville plays the return game at Cobourg Arena. 
The opening home and home series is an important one since both games are four - pointers. A sweep for either club would skyrocket it into a quick lead in the race.  
Cougars have 22 players signed to date. Latest to affix their signatures to playing contracts are goalie Ron Sedgwick, winger Bruce Nicholas and centre Gord Kelly of Cobourg, along with centre Brydon Elinesky and leftwinger Brian Gillis of Millbrook. 
They join Rick Austin, Keith Boundy, Roger Johnson and Gary Etcher of Port Hope, Doug Campbell, Paul Massey, Steve Harold, Gus Bambridge, Bill Ryan, Gord Stevenson, Lyle Manion, Reg Stevenson, Paul Harriot, Frank Godfrey, Eric Buttar, Bernie Comeau and Phil Kulas of Cobourg in the fold. 
Manager Dick Robinson announced over the weekend that he has made arrangements with Oshawa's Wren Blair to play one of Cougars' away games with Oshawa in Cobourg. It will be played here election night, November 8, instead of at Bowmanville, November 7. 
TIDBITS -- Cougars' new green and yellow sweaters and socks won't be here in time for the opener . . . Training School employee is making a stencil for Cougar emblem which will be painted on the ice in the centre face off circle. . . Alouette Football Club theme song will be adopted by Cougars and played at all home games.
This story by Layton Dodge was originally published Nov 1, 1965
Cobourg Cougars lost their opening game of the Eastern Ontario Junior B Hockey League at Belleville Friday night as expected but they looked better than expected doing it. 
While there is no denying Cougars succumbed 9-4 to the home side, most of the players and the management felt the score should have been closer and expressed confidence they would give the Quinte team much stiffer competition the next time out.  
In fact, had it not been for an off-night by goalie Rick Austin, this first meeting would have been a tight fit. Austin, in uniform despite a 3-day attack of dysentery, let 3 goals by him that he ordinarily would have stopped with one hand tied behind his back. 
Cougars played in fits and starts. They appeared quite jittery early in the contest when Belleville roared into a 3-0 lead inside of 5 1/2 minutes. Cobourg carried the play in the last half of the first period, slumped again in the early minutes of the second session, more than held their own in the latter half, then continued the same trick-or-treat pattern in the third canto.  
It was 4-1 Belleville at the end of the 1st period and 6-2 entering the third. The win was 4 points to Stu Muirhead's charges. 
The line of Steve Harold, Gord Kelly and Paul Massey was Cobourg's chief offensive threat. Massey, one of the smallest players on the ice, also was one of the best. He turned in an outstanding performance, skating hard, checking tenaciously, staying in position and scoring a goal. 
Harold was almost as effective. His efforts were awarded early when he combined with Kelly for Cobourg's prettiest goal of the night. Kelly also set up Massey's marker in the final stanza. 
Reg Stevenson was the pick of the defencemen, being particularly adept at blocking shots. The unluckiest blueliner had to be Doug Campbell. He lost another front tooth when clipped by a Belleville stick in the initial frame and had to retire for the rest of the night. It was his second such unfortunate experience this season. 
Belleville's Mr. Everything was Bob Boyle. He personally destroyed Cougars with 4 goals and 3 assists. Carl Boomhower gave him a run for his money with 2 goals and 3 helpers. Peter Fleming added a pair of goals and Steve White a single. 
Cobourg fell behind 3-0 almost before they knew the game had started, Boyle, Boomhower and White blinking the light by the 5:26 mark. Cougars came storming back and Steve Harold, after a neat relay with Kelly, picked the far corner perfectly with a partly screened 25-footer at 11:43. Fleming got it back before the period expired while Cougars' Gus Bambridge served a foolish high sticking penalty. 
Fleming and Boyle clicked 2 minutes apart in the 2nd for Belleville before Eric Buttar took a long lead pass from Roger Johnson, used line mate Paul Harriot as a decoy and cashed his own rebound for Cougars' 2nd goal at 17:26. 
Boyle completed his handy work early in the third for an 8-2 Belleville advantage. Cougars kept battling and were rewarded with 2 goals in a 7-second interval. Massey triggered the first one after Kelly gained possession of the puck on the backboards; and Gord Stevenson on a fine passing play involving Brydon Elinesky and Gus Bambridge, slapped in a low 12-footer for the other. Boomhower's drive that caught the top corner of the Cobourg net at 18:56 wound up the scoring. 
The game was exceptionally clean as Junior games go and expertly refereed by Dave Smith of Trenton. He gave the losers 4 of the 10 penalties, including a misconduct to Gord Kelly in the closing chapter for talking out of turn. 
This story by Layton Dodge was originally published Nov. 3, 1965
Rich man, poor man, hockey men, thief; doctor, lawyer, writer, chief.
They all said Cobourg didn't stand a chance in the Eastern Ontario Junior B Hockey League this season.
Ken Medhurst's hustlers made them all look bad Monday night in their home opener by skating off with an impressive 8-2 four - point victory over Belleville to the amazement and obvious appreciation of 300 fans.
It was a time when Cougars went the rest of the world one better. Instead of turning their watches back one hour Sunday, they held off 42 hours, then moved them ahead several months and cleaned Belleville's clocks. 
Cougars weren't supposed to be so good so soon. Yet they were. Bigger than life, giving Belleville a real going over on the scoreboard avenge a 9-4 setback in the Quinte City three nights earlier. 
Cobourg, hiking both ways at top speed between the opening faceoff and the final buzzer, tormented Belleville goalie Wayne Brant with a variety of 48 shots. Cougars rolled with the checks, played it smart and made everybody sit up and take notice. 
There were few weak links in the Cobourg armament. The strongest link was the line of Brian Gillis, Brydon Elinesky, both from Millbrook, and Gord Stevenson. They went together like ham and eggs. Ever dangerous on the attack and always persistent in the backchecking department, they set the pace and the trend of this eye-opener. 
The same trio opened the scoring in the 16th minute of play with a picture goal. Gillis started it in his own end, stickhandled past one defender and fired a rink-wide pass to Stevenson, who dropped the puck to Elinesky. Brudon shot a pass into the goalmouth and Gillis was there to tip it in. 
The score was still 1-0 when the two Millbrook boys combined again at 8:08 of the middle stanza. Gillis outbattled two Belleville men for the puck on the backboards, slipped the puck out front to Elinesky who blazed away from point blank range. The rubber dropped loose in the crease and Gillis tucked it home.  
Gus Bambridge made it 3-0 at 11.33 when he banked Reg Stevenson's relay off the goalie's skate into the net. The count jumped to 4 to nil just over 3 minutes later as Paul Harriot flicked in Bill Ryan's rebound after Bambridge got the puck back to the point.  
In the 3rd period, Steve Harold picked the bottom right corner at 2:26, Gord Kelly and Paul Massey assisting, and Gord Stevenson cashed Gillis' corner pass out at 4:19, after Doug Campbell had originated the play, to increase the margin to 6-0. 
Goalie Rick Austin, having a fine night guarding the Cobourg twine, lost his shutout bid at 12:09 when Doug Potts soloed while the teams played 5 aside. Grant Hagerman clicked again for Belleville moments later with Cougars shorthanded.  
Cougars got those back before it was all over. Paul Massey converted relays from Ryan and Kelly at 14:04, and Bambridge went it alone at 19:54.  
Sixteen penalties, 10 to the visitors, were assessed by referee John McFadden of Peterborough. 
COUGAR NOTES -- Three stars were Gillis, Austin and Gord Stevenson in that order . . . Cobourg owned a 48-30 shooting margin . . . Last 45 minutes of game were broadcast over the local radio station. This will be a weekly practice . . . Next Monday, Oshawa Crushmen play here at 8.pm.
Sport Team or Name This Story is about
Sport Played That Connects To Collection List