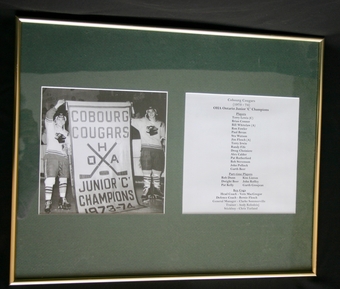 SKATING DOWN MEMORY LANE
By Layton Dodge
December 2002 Cobourg Daily Star
Thirty-seven eventful seasons of providing young men with the opportunity to excel at Canada's favourite game and presenting junior hockey fans of all ages with lively entertainment virtually every Monday night for six to eight months annually relevant in length to the players ratio of success on the ice. That's what the Cobourg Cougars are all about. The Cougars have encountered numerous peaks and valleys, twists and turns spanning five decades. Allow us to share some of our recollections with you.
Evolution of the Cougars can be divided into three distinct segments: the original six years of Junior B, the 21 winters of Junior C and now approaching the last one-third of their tenth regular schedule of tier II Junior A.
The vision of Ken (Coon) Medhurst and Dick Robinson, the team's first coach and manager respectively, along with the community-minded leadership of businessmen Clarke Sommerville and Jeff Rolph, enabled the original Cougars to get off the ground and on to the ice in the autumn of 1965 with the cast of Cobourg's two-time OMHA Midget AA finalists forming the nucleus.
Cougars joined the Eastern Ontario Junior B Hockey League and after missing the playoffs the first season, developed into a force culminating in a first-place finish in the 1967-68 regular season with a 19-9-4 record. Imagine the disappointment when arch rival Oshawa Crushmen eliminated that first-class team directed by Bob Fawcett in a memorable six-game series in the group final. A crowd of 3,500 viewed the high-scoring clincher at the Oshawa Civic Auditorium.
A sample of the many fine players from that Junior B era includes two-time league scoring champion Gord Kelly, Dennis O'Brien, John Gray, Gord Brooks, Brydon Elinsky, Bill Ryan, Steve Harold, Brian Gillis, Doug Campbell, Paul Massey, Rick Austin, Keith Boundy, Bob Hill, Paul Herriot, Larry Thompson, Eric Butter, Paul Gutteridge, Al Fenton, Dave Peers, Ron Smith, Reg Stevenson and Mike Kelly. From that group, O'Brien, Brooks, Gray and Smith all went on to play pro hockey while Fenton earned a hockey scholarship at Colgate University and Kelly coached the Italian national team before becoming GM of the OHL Guelph Storm, then a scout for the NHL Calgary Flames. Currently, he's GM of Windsor Spitfires of the "O".
The Junior B Cougars drew large crowds during those early years (20,145 in 22 home games in '67-68) and rewarded them with an entertaining brand of hockey more often than not. With the passage of time and the graduation of key personnel, the Cougars experienced hard times for a couple of years and interest waned as a result. Faced with that stark reality and financial crunch, the decision-makers of the club figured that Junior C hockey was a more viable option since it would make the Cougars competitive again. They were right.
Joining the Central Ontario Junior C Hockey League in 1971, Cougars were a hit from the outset. In fact, the initial edition of Cobourg's 'C' crew, under the stewardship of coach Vern MacGregor and manager Bob Olson, stunned group powerhouse Sutton South Shore Rangers in a seven-game, first-round playoff upset, ultimately earned the right to represent the league in provincial play downs and advanced all the way to the OHA Junior C finals where they were foiled by the powerful Leamington Flyers in five games. Only John Cane's marvellous goaltending kept the Cougars from being swamped in that series.
The rest of that first Cougar Junior C cast included Bruce Sherwin (captain), Brian Connor, Ed Clarey, Terry Lewis, Jim Flesch, Bill Whitelaw, Paul Bevan, Garth Beer, Mike Irwin, Paul Clarey, Pat Cork, Kevin Lowe, Fred Dickey, Mike Thompson, John MacDonald and Tom Lewis.
In 1974, the Cougars achieved what no other Cobourg OHA team ever had accomplished – winning the OHA provincial championship in its category. That unprecedented and breath-taking march to the pinnacle in the province produced a treasure-chest of memories. After disposing of Kingston Voyageurs in seven games on the strength of four home-ice victories in the opening round of the provincial playoff trail as the Central Ontario league representatives, the Cougars flirted with disaster in the semi-finals, trailing Bradford Vasey's 3-1 in games and behind by a goal in the waning moments of a do-or-die struggle at the Bradford bandbox.
Miraculously, they staged the mother of all comebacks inspired by the most famous goal in Cougar history. Terry Irwin triggered the life-saving goal with only three seconds left in regulation time to tie the score and send the game to OT, in which Cobourg prevailed. Thereafter, Cougars also won games 6 and 7 to advance to the Ontario Junior C final against Simcoe Jets.
Although Simcoe proved formidable to overcome, the Cougars were not to be denied. They dropped the series opener but recovered to reel off four straight wins, winning three in a row by a single goal before clinching the coveted crown on home ice by a 9-6 score. The celebration lasted for hours. Captain Terry Lewis, the league's scoring king with 88 points, added 71 points in group and provincial playoffs to cap a sensational year. Other heroes included Jim Flesch, Ron Fowler, Brian Connor, Paul Bevan, Terry Irwin, Randy Fife, Stu Watson, Bill Whitelaw, Pat Rutherford, Garth Beer, Alex Calder, Doug Choiniere, Bob Stevenson and John Pollock.
Also contributing to the cause were Rob Dunn, Pat Kelly, Kim Linton, Dwight Beer, John Roffey and Garth Grosjean. Altogether, these classic Cougars regained the Central Ontario league title at the expense of arch rival Lindsay Muskies. Then it was on to the provincial quarter-finals against Dunnville Terriers in what turned out to be an epic seven-game series. Despite leading the round 2-1 and 3-2, Cougars eventually surrendered in game seven.
Personnel of that Cobourg squad included Marty Kernaghan, Ian Williams, Tom Sharpe, Mike Ryan, Brian Read, Gary Oliver, Rick and Randy Fife, John Buckley, Floyd Fennema, Don Davidson, Peter Briand, Paul Bevan, Alex Calder, Pat Rutherford, Bill Whitelaw and Rick Stevenson.
Cougars experienced a down period for the next three seasons. Following the '78-79 season, Vern MacGregor (the most successful head coach in club history) vacated his post after eight years and ex-player Terry Lewis was handed the head coach's reins to lead a Cougar revival as one decade ended and another began. Cougars responded with a first-place finish in the Central circuit with a 20-6-6 record.
They swept Beaverton Ice Hawks, erased Lindsay in five games and dethroned Bowmanville Eagles in seven games in the group final. However, in a bitterly contested provincial struggle, Cougars bowed to Gananoque G-Men, later found to have used over-age players. A record crowd of 2,300 crammed into Cobourg Memorial Arena for one of those memorable battles.
The 1980-81 Cougars posted a 27-6-3 regular season record to earn top spot in the standings but became entangled in a messy situation in the group final after knocking out Bewdley Rice Lake Rangers and Stouffville Clippers in the first two rounds. Deadlocked with Bowmanville Eagles at a game apiece in the group final, the series was turned into turmoil when Bowmanville protested the use of Cougars' Jim West and Cobourg, along with Lindsay, countered by protesting the eligibility of Eagles' Lorne Finney.
The OHA, in its infinite wisdom, ruled that Cobourg, Bowmanville and Lindsay engage in a three-team, home-and-home round-robin. Ultimately, Eagles emerged triumphant over the Cougars in the fifth and decisive game of the reconfigured final. Of note, centre Gord Sharpe won the league scoring crown with 104 points, a Cougar record that still stands. Sharpe later would go on to play with Clarkson University on a hockey scholarship.
Cougars placed third in the 1981-82 scheme of things with 25-10-1 long under the guidance of co-coaches Bryan Rose and Gus Bambridge. Cobourg captain Dave Waldie was selected the league's best player exemplifying leadership and sportsmanship. Waldie enjoyed a good Major A Junior A career in ensuing years with Cornwall Royals and Portland Winterhawks.
The Cougars struggled mightily for the next three seasons, except for Les Bowness who was named the Central League's 1984-85 rookie of the year, Cobourg climbed above the .500 mark in the 1985-86 regular season with a 13-11-4 third-place showing under the guidance of coach Ron Johnson. In group playoffs, Cougars swept Port Perry MoJacks in the first round and erased Port Hope Panthers in six games, backstopped by Scott Birkhof, but faltered in the Central final, bowing out to Lakefield Chiefs four games to two.
Attendance improved significantly at home games to a total of 10,899, an increase of 4,600 over the previous season. Cougars than floundered for five seasons, missing Junior C league playoffs for the first time in their history with a 16-21-3 record in 1988-89 and bringing up the rear in the seven-team, 1990-91 Central circuit with only 11 wins. Up was the only direction Cougars could go in 1991-92 and that's precisely what they did, climbing to fourth spot with 20-13-1 credentials. They made a quick exit from playoffs though, lasting just five first-round games before capitulating to Bowmanville Eagles.
That marked the end of the Junior C era for the hard-strapped Cobourg team. While the Cougars endured slim pickings on the ice and at the box office during much of the second half of their Junior C days, there were still a plethora of players who shone during the club's Junior C successes and struggles. Among them were Eddie Clarey, Carl Deline, Morris Petherick, Wayne Rorabeck, Kyle Campbell, John Crowley, Mike Gibson, Peter and Ian Williams, Tim Fawcett, Jeff Waldie, Pat Ryan, Shawn Turland, the West Brothers (Jim, Ray, Rob and Dave), the Murphy brothers (Scott, Ray and Chad), the Choiniere brothers (Doug, Phil and Paul), the Diminie brothers (Steve, Todd and Jason), Randy Sughrue, Blaine Darling, Ron Pedergnana, Doug Smith, Richard Tryon, Jim Goody, Mark Vilneff, Jeff Wannamaker, Al Maclean, Geoff Fleming, Dan Guernsey, Kevin Williams, Trevor Clapperton, Gary Oliver, Larry Oakley, Kevin McAlpine, Jason Holland, Ian Smith, Glen Davis, Phil Hennessey, Mark Flesch, Jason Riehl, Rob Turland, Ken Stevenson, Rob Harnden, Gary Hope, Steve Witteveen, Jeff Timlin, Jim Saddler, Bill Shannon, Rick Palmateer, Tom Heffernan, Steve Jones, Terry Barrett, Jody Wellwood, Rob Doncaster, Peter Lorenz, Rob Thomas, John Thompson, Mike Esser, Kent Douglas, the Bruce brothers (Barry, Garry and Brian), Richard Ferguson, Dave Bedard, Dean Longyear, Pat Sweet, Charles Brooks, Marvin Robillard and Steve Dawe, along with a raft of others.
Feeling that a change of scenery and a new challenge were necessary to restore interest and revive the franchise, the Cougars took a calculated gamble in 1992 and applied for entry into the Provincial Junior A (tier II) League. New president Rod Baker's energy and leadership had a lot to do with Cobourg's acceptance. Once that was confirmed, Baker also got a commitment from Ron Johnson to return to the Cougars, this time in the capacity of general manager.
Not surprisingly, the expansion Cougars suffered growing pains during that first Junior A season but despite a dismal 8-37-3 record, it wasn't until the second-last game of the schedule that the Cougars were officially eliminated from the post season. The Cougars iced a vastly upgraded edition in 1993-94, improving to 17-20-3 for a sixth-place finish and a date with Markham Waxers in the first round of playoffs. They dropped the first two games of the round but rebounded to take the next four, climaxed by a double overtime win in game six, to win the series. Orillia Terriers proved too much for Cougars in the semi-finals though.
That set back diminished though in the wake of the tragic death of 16-year-old defenceman B. J. Monro in an automobile accident south of Picton prior to game two.
Brian Drumm was hired as coach for the 1994-95 campaign and Cougars finished very strong after Christmas to wind up a solid fourth overall in the East Division. Cougars rode their momentum to sweep past Collingwood Blues in the division quarter-finals before submitting to the powerful Newmarket 87's in the semis. Two players, perhaps the most skilled ever to lace up the skates for the Cougars in the decade of Junior A, earned league accolades. Shawn Allard, an 82-point man (48 of them goals) in just 34 games played and only 26 minutes served in penalties, was recognized as the most gentlemanly player in the league while Oto Hlincik, with 79 points from 33 goals and 46 assists in 39 starts, collected the most improved player award.
Cougar pride and fan support mushroomed thanks to the efforts of players like the aforementioned duo along with Dan Mundell, Geravin Sytnyk, Ryan Stewart, Derek Wright, Bob Rupoza, Cory Holland, Darryl Latoski, Jonathan Smith, Shaun Scott, Steve Dyer, Richard Tapajna, Allan Stewart, Jeremy Schott, Shane Boisvert, Andrew Butler, Adrian Saul, Troy MacAusland, Mike Bullock, Martyn Curtis, Chad Thompson, Luke Breckenridge, Jerrold Harvey, Brad Cicala, Eric Pettipas, Cameron MacDonald, Lenny Moniz and Ben Jovkovic.
Fourth-place finishers in the division in 1995-96, the underdog Cougars completed the schedule at 21-27-2 but again faced the mighty Newmarket 87's in the playoffs, extending them to the seven-game limit this time. Cougars hosted the Central Canadian Tier II Junior A championships for the Dudley Hewitt Cup spring of 1996, making it to the semi-finals. Ironically, Newmarket delivered the knockout blow.
The next two seasons proved to be trying ones, almost forgettable in fact, as they missed the playoffs both years. Things began to look up though with the return of Brian Drumm from the OHL to take on the job of head coach. He's added the title of director of hockey operations to his portfolio since then. Cougars finished eighth in 1999, fourth in the Eastern Conference in 2000 and fifth last season. Each time, they bowed out of playoffs in the first round.
As of mid December of this season, Cougars appear headed for their highest finish ever in a decade of tier II Junior A competition thanks in large part to a 15-0-0 record at home and overall stats of 24-8-3, good for second spot with 51 points. An added bonus is the marked increase in local player content. A playoff position is secure but the parity of the league is such that there is no guarantee of post season success.
Let it be noted that the Cobourg Cougars are the only community-owned team in the East Conference that counts on a myriad of sponsors, especially the generosity of major benefactor Ken Goodwin of Fisher's Knechtel Foodland, and the support of the general public at the turnstiles as well as the unwavering efforts of a hard-working executive to remain fiscally viable in a small market. Otherwise, Cougars could not fly but soon would crash and burn.
The tier II Cougars can take pride in having served as a stepping stone for many players to further their hockey careers and education in the OHL and at universities, often on hockey scholarships.
Notable players in Cougars' 10-year existence as a Junior A entity include Andrew Clark, Simon Sherry, Doug Wright, Jason Colasante, Todd Aird, Tim Lacey, Barrie Pilgrim, Ryan Serra, Darryl Buttar, Dave Burroughs, Rob McLean, P.J. Michael, Geoff Schmogyi, David Shaw, Blair Sherrit, Jason Wakely, Rob Blain, Steve Smith, Wes Eriksson, Jody Whelan, Paul Dowe, Jason Wilson, Troy Thompson, Shane Diamond, Shaun Scott, Andrew Sim, Randy Jones, John Foley, Brock Yates, Peter and Paul Flache, Brent Kelly, Casey VanSchagen, Jarrett Winn, Darren Doherty, Matt Chafe, Ryan Toms, Kevin Rainey, Brandon Merkoskey, Chris Hardill, Chris Petrow, Matt Simmons, Steve Thomas, Rob Simpson, Brad Whelan, Theo Zacour, John Clarke, Matt Manias, Chris Shea and Ryan Gibb.
But enough of the past and present. The future awaits for the Cougars with new faces, new adventures, new challenges, new hopes. Let's get on with it and may the only stipulation be that the puck bounces kindly.
Reviewed August 2020
Sport Team or Name This Story is about
Sport Played That Connects To Collection List