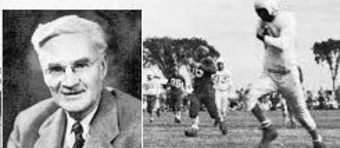 By Layton Dodge
Cobourg Sentinel-Star September 25, 1963
One of the most illustrious and most successful sportsmen this community has ever known is dead. He is Fred Dufton, Cobourg's Mr. Football of a glorious bygone era.
For thirteen years - five before the war and eight after it - Fred was the colourful manager of Cobourg's renowned intermediate clubs which became a legend of the gridiron by winning three Dominion championships and numerous provincial titles.
Roy 'Scotty' Black, the excellent trainer of the team from the day it was organized in 1935 as the Red Raiders to the day in 1937 it was renamed the Galloping Ghosts by John Hayden, the present-day CDCI administrator, until that fateful day in 1953 when it folded, reminisced upon hearing of Dufton's death that the deceased was known affectionately as 'Ferocious Fred' in his heyday because he was a perfectionist himself and demanded nothing but perfection from his players.
Scotty recalled that the Red Raiders didn't win a single game in their inaugural season but improved greatly in 1936 to earn one victory, that made possible when George 'Bus' Edwards scored the decisive touchdown in Belleville. However, with the hard work of defeat came experience and the club annexed ORFU intermediate 'B' titles in '37 and '39 and an 'A' championship in '38 before the world was turned into a battleground by a German dictator named Hitler.
Seven years later, the club was revived. It was a dynamic, prolific renaissance, making the Ghosts nationally known and a household word locally. They marched to Dominion championships in 1946 and 1948, losing nary a game in the process, added another in 1950, grabbed provincial runner-up honours in 1947 and 1949 and copped Ontario intermediate 'B' crowns in 1951 and 1952. Scotty swears that the greatest team of them all was the 1950 aggregation.
Fred Dufton, who thought likewise, played no small part in achieving this remarkable string of successes. He was, as one admiring player put it, 'the whole show'. Home field for the club over the years was at Horseshow Park (later changed to McClelland Park and more recently to Donegan Park) except for 1946. Ghosts won their first Canadian championship on the fifth hole of the Cobourg Golf Club that year.
Galloping Ghosts were known far and wide as the best equipped intermediate football team in Canada. They were the first team in Canada to wear aluminum cleats and the second team in the land to wear white uniforms. Their boots were especially made in Montreal with leather supplied by Edwards and Edwards, the club's financial benefactor.
It was a standing rule that players had to be bandaged properly and their shoes shined before they trotted out for each game. Yes, the Ghosts did everything on a first-class basis or not at all.
Players such as Chuck Henderson, Archie Spooner, Ken Cooper, Milt Benson, Charlie Schrumm, Tom Brewster, Tommy Bulger, Alec Pratt, Bill Woods, Chuck Johnston, Joe Dufton, George Dufton, Jack Newton, George Galbraith, Hank Haynes, Bob Lucas, Robert Brown, Reg Stuart and Gus Bambridge of the old guard and Bob Cooper, Glen Connor, Eagle Hircock, Homer Seale, Bill Jamieson, Marty McGuire, Gord Burdick, George Campbell, Bill Irvine, Art Jones, Ken Medhurst, Red Alexander, Bob Bevan, Junior Haselton, Tommy Lewis, Paul Currelly, Jack Jamieson, Bernie Flesch, Darcy Campbell, Jim Irvine, Boyd Hendry, Vern Lees, Jim Poynton, Chub Downey, Art Brandwood, Rye Holman, Bill Jarvis and Bill Douglas of the post-war regime were just some of the names on the honour roll of Cobourg's most famous sporting fraternity.
A few of them are gone now but those who remain must have felt a twinge of nostalgia on learning that Mr. Dufton had crossed the goal line for the last time.
Fred Dufton, a one-time Cobourg intermediate baseball manager; Fred Dufton, a past president of the ORFU; Fred Dufton, a former coach of Cobourg's intermediate hockey team; Fred Dufton, a championship rose grower; Fred Dufton and the Galloping Ghosts, names synonymous with the very best in football,
Reviewed August 2020
Sport Team or Name This Story is about
Sport Played That Connects To Collection List