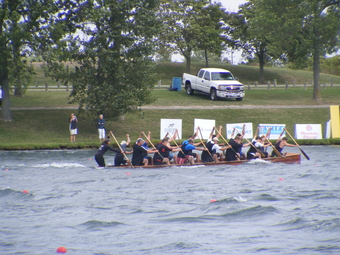 In November of 1998, Dorothy Hampson, a local breast cancer survivor, read an article about the research of Don McKenzie, a Canadian sports medicine specialist at the University of British Columbia. Mr. McKenzie had shown that the sport of dragon boating was of great benefit to women like her, both physically and psychologically.
Dorothy decided to test the waters here in Cobourg to see if there would be support for her ideas of forming a dragon boat team for breast cancer survivors, so she placed an article in the local newspaper. Not only did she get responses from survivors, she also piqued the interest of two local business people who saw this as the start of a sport for everyone.
A key recruit was Jeremy Fowlie, a National-level paddler who lived in Cobourg and was looking for a new challenge, and coaching dragon boating fit the bill! The spring of 1999 saw the launch of the first dragon boat in the Cobourg Harbour. Three teams shared that inaugural boat: a breast cancer survivor team, known as the Survivor Thrivers, a mixed team, and a women's team.
By the fall of 1999, after a successful first season, the two community teams decided to incorporate as a sports club, and the Cobourg Dragon Boat Club was born. The Survivor Thrivers formed their own charitable group, the Survivor Thriver Breast Cancer Survivor Society. In July, 2018, the Survivor Thrivers competed in the International Breast Cancer Paddlers Commission Championship held in Florence, Italy. There they placed 13th in a field of 126 teams
Over the first few years, the popularity of the sport and the club grew. At a highpoint, the club had upwards of 140 members or associate members, paddling on a variety of dragon boat teams including mixed and women's teams. Paddlers ranged in age from 17 to 75. Teams participated in several festivals each year, usually including the Toronto International Dragon Boat Festival, the Belleville Festival and the Stratford Festival. With generous grants from local groups such as the Rotary Club of Cobourg and from the Ontario Trillium Foundation, the club expanded its fleet to three dragon boats.
In 2000, the club decided to host a festival in the Cobourg Harbour and donate the proceeds to the Northumberland United Way. Since then, each year they have held a festival on the fourth Saturday in September. As of 2019, the Northumberland United Way Challenge the Dragon Festival had raised over $500,000.
In 2006, the club sent a Grand Masters (over 50 yrs) team, a women's team and a men's team to the Club Crew World Championship races in Toronto. Cobourg paddled against teams from many countries including Germany, China, the USA, Australia and the Philippines.
In 2010, the club formally changed its name to the Cobourg Dragon Boat and Canoe Club (CDBCC) to reflect the fact that it had expanded to add a new division of sprint racing in canoes and kayaks. The "Original 6" competitive paddlers were Isaac Clapp, Emily Jenkins, Mackenzie Jenkins, Kadan Johnson, Kate Saman, and Britany Saunders.
With a fleet of boats that include C1s, C2s, C4s (canoes for one, two or four paddlers); K1s, K2s, K4s (kayaks for one, two or four paddlers); and war canoes; the club now offered both recreational and competitive training to youth and adults in a variety of programs. Paddlers from the club compete in the Western Ontario Division of Canoe Kayak Canada. Within the first few years, the club had several paddlers qualify to paddle at the provincial and even national level.
In its second year, the new sprint club won it first Burgee (overall winners in a division or category) at the Ontario Championship for U15 Women. The U15 Women repeated at the next Ontario Championships. In total, Cobourg has won twelve Burgees since 2011, including some for U13 and para athletes. Since 2010, the sprint division paddlers have received over 80 medals at the Ontario Championship regatta.
Cobourg competed for the first time on the National stage in 2012 on Lake Banook, in Dartmouth. This venue provided valuable experience for the young club which it used the following year in Montreal, gaining its first points at the National Championships, a fifth-place finish in women's 4-person canoe. Since then, Cobourg has had numerous individual and crew performances at the Canadian Championships.
In 2014, seven athletes from Cobourg represented Western Ontario at the Ontario Summer games. The year 2016 saw Cobourg have an athlete nominated to the Canmex International Regatta in Women's single canoe. Five times, other Cobourg athletes have been nominated to the Ontario Regatta teams. In August 2017, the club successfully hosted its first regatta, the Western Ontario U11/U13 divisional championships.
More than 120 athletes completed in one-, two-, and four-person canoes and kayaks, as well as in a war canoe race. The popularity of the CDBCC summer camp continues to grow. Starting in 2010, two weeks were offered for residents in Northumberland to attend. Since then it has grown to eight weeks and over 180 campers each year!
Some of the club's competitive National highlights include when Mackenzie Jenkins, Emily Jenkins, Brittany Saunders, & Kate Saman placed 5th at the 2014 Nationals in C4. In 2015, Kate Saman placed 9th in C1, Isaac Clapp placed 4th in K1 6000 m, and Isaac Clapp & Kadan Johnson placed 5th in K2. In 2016, Kate Saman was nominated to the Canmex team in C1.
Zoe Bergeron was chosen to compete in the regional round of RBC Training Ground competition in 2019. The RBC Training Ground is a talent identification and athlete funding program designed to uncover athletes with Olympic potential and provide them with the high-performance sport resources they need to achieve their podium dreams.

Two exceptional para-athletes have led the way for para-canoe in Cobourg and the province, Paige Fawcett and Aiden Cameron. Until they took up paddling kayaks, no other youth para-athletes competed in sprint racings. Coach Christine Proulx obtained the equipment needed to adapt racing kayaks to allow them to successfully compete.
Their courage and determination has led the way for other youth para-athletes to compete in sprint racing throughout Ontario. Paige and Aiden have won 7 burgees in para-canoe and paddle-all for CDBCC. They have also been presented with numerous Gold Medals in singles and doubles para-canoe at the Provincial Championships.
The local club has done exceptionally well in the Masters division at the Canadian Championships (CanMas). The local masters paddlers first competed in CanMas in 2011 and came home with many medals including a silver in Novice war canoe (Kristine Hanley, Jacqueline Pennington, Michelle Driscoll, Jennifer Skinner, Christine Proulx, Darren Zoldy, Norm Clapp, Patti Aitken, Cox Jeremy Fowlie, and 6 members from other clubs), a silver in Men's K2 (Jeremy Fowlie and Norm Clapp), and a bronze in Women's K4 (Kristin Hanley, Jacqueline Pennington-Juranics, Michelle Driscoll, and Jennifer Skinner). Jeremy Fowlie also earned a gold medal as part of Burloak's war canoe crew. The following year, in Dartmouth, Nova Scotia, Christine Proulx and June Jenkins earned a silver in doubles kayak.
In 2015, Jeremy Fowlie won a bronze in singles C1 and in 2016 Jeremy Fowlie, Mike Fekete, and 2 Richmond Hill kayakers won a silver medal in K4. Michael Fekete and his wife, Beryl Green, have won numerous medals over the past 5 years for Cobourg in singles, doubles, and fours. Michael Fekete came to Canada in the mid 70's after escaping from Hungary. He was the first person Jeremy Fowlie contacted when starting Cobourg's youth program.
He is a distributor of canoes and kayaks from Hungary and sold CDBCC their first set of boats, in 2010, stating, "Pay me when you can, it is more important that kids paddle. I can get paid later." Mike has also donated over 20 boats in the past 10 years. He was made an honorary member of the CDBCC, which is why he and his wife, Beryl, paddle under CDBCC colours at Nationals. Mike has won 5-6 medals each year in CanMas. He is currently racing in the 70+ age division.
Since 2012, 21 CDBCC athletes have been crowned provincial champions, taking home 57 Gold Medals. CDBCC paddlers have won a whopping 154 Medals at the Provincial Championships - 112 in crew boats and 42 in singles.
Four young CDBCC members experienced further successes after moving on to other clubs. In 2016, Kadan Johnson began training with the Richmond Hill Canoe Club. He has many provincial awards but Nationally placed 3rd in the men's U17 K1 6000m, in 2016, placed 2nd in the men's U17 K4 1000 in 2016, and most notably won a National gold medal in the men's U17 K1 6000 in 2017. In 2017, Emma Zoldy also moved to the Richmond Hill Canoe Club. After the 2017 season, Emma and her teammates were distinguished by the Richmond Hill Sports Hall of Fame as Sport Champions for being the best overall women's kayak team in Ontario.
Throughout the years, Emma has accumulated 27 Ontario Championship medals and has competed at 6 National Championships. At the 2019 Nationals, she finished 5th in the K1 200m and 6th in the K1 1000m events. She also placed 4th in the K2 200m and earned her first National medal in the K4 500 m event with a 2nd place finish. A couple of years ago she was chosen for the Ontario Tour team, travelled with the team and competed in Canada Cup regattas. Emma is currently on the Ontario Development Team.
Twins, Emily and Mackenzie Jenkins, moved to the Mississauga Canoe Club in 2014. At the 2014 Nationals, Emily won the bronze medal in the Sr. women's 1000m C2 and then went on to win a gold medal by breaking a 113-year-old Canoe Kayak national record, with her teammates, for being the youngest crew in Canadian history to win the Junior Women's C4 race. Mackenzie Jenkins placed 5th in the U17 women's K4 race at these same Nationals.
At the 2015 Nationals, Emily repeated her bronze performance in the Senior Women's 500 m IC4 race, a silver in the Sr. Women's C2, a bronze in the U17 mixed war canoe, and a bronze in the U19 mixed war canoe. Mackenzie reached the podium for the first time in National competition, bringing home the bronze medal in the U17 war canoe.
Coaching has been instrumental in the success of the program. Dragon Boat coaches have included Jeremy Fowlie (1999-present), Haigh Gledhill (2000 – 2017), and Bruce Bellaire (2016 – 2019).
Sprint Youth coaches have included Jeremy Fowlie (2010-present), Norm Clapp (2011- 2014), Dave William (2011-2014), Isaac Clapp (2015-2017), Kate Saman (2015 – 2018), and Kamryn Davis (2019). Para-canoe coaches have been Chris Proulx (2013 – 2019), Alicia Zoldy (2014 – 2016), and Kate Saman (2015 – 2018). Ontario Summer Games: Western Ontario Team Coaches have included locals Norm Clapp (2014) and Jeremy Fowlie (2014, 2016). Jeremy Fowlie was also named Ontario Development Team coach in 2014 and 2015.
The CDBCC also gives back to the community, offering free sessions to various groups in Northumberland, including Big Brothers, Big Sisters, Youth-In-Policing, High School Youth Programs, and Community Living. The Cobourg Dragon Boat and Canoe Club has enabled thousands of residents to enjoy various paddling disciplines in the Cobourg Harbour over the past 20 years. Many people and organizations have made it possible for the CDBCC to thrive in Cobourg - our participants, service clubs, and support from Town Council.
The Cobourg Dragon Boat and Canoe Club has become a very prominent and successful training ground for both recreational and competitive dragon boaters, canoers, and kayakers.
Updated August 2020
Sport Team or Name This Story is about
Sport Played That Connects To Collection List