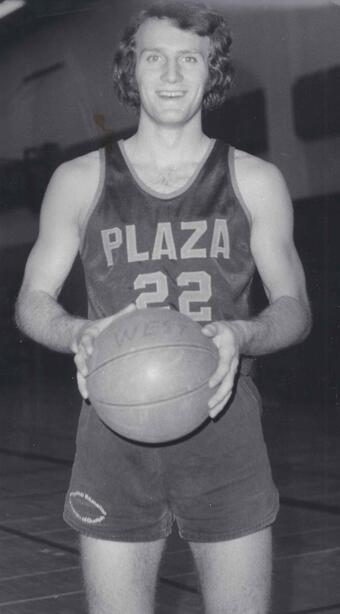 Paul Edward Allen
Paul Allen enjoyed a fantastic, if somewhat average, childhood in the west end of Cobourg, growing up playing in the fields with his friends, going to school at the 'new' Burnham Public School and splitting his time between his home there and his aunt's home in Hastings.
Hastings is where he spent most of his summers, teaching swimming and helping his parents with their various volunteer and paid positions in those two communities.
When Paul started High School at Cobourg District Collegiate Institute West, little had changed. He settled in to his studies and proved to be a pretty decent student. His parents were proud of him.
But Paul wanted more. Even though he had never played a sport or been a member of any athletic team, he wanted to try out for sports.
His parents were afraid that he would get hurt and wouldn't consent to his participation. It took the Head of Guidance, Major Fred Brown to convince his parents that he'd be okay and they finally consented when Paul was in Grade 10.
Having had little to no exposure to this kind of lifestyle, Paul went all out. He got involved in basketball, which became his passion sport. He made all the teams, played tournaments and won numerous awards. As a Junior and Midget, he played tournaments with the Senior Team.
Over those four years, he was Captain of the Team, MVP, high scorer, and boasted the best stats. The Team attended District and Provincial Championships and won numerous invitational tournaments.
In Track & Field, Paul excelled in the both triple and long jump. In triple jump he received 4 District (COSSA) gold medals, along with a record that still stood at the 100th anniversary of the High School. He also placed 2nd and 4th Provincially (OFSSA) over his time in High School.
In the long jump, Paul won 3 gold medals at District meets and competed at OFSSA. He was successful in being named the school's overall Senior Boys Track & Field Champion in 1969.
Volleyball, Soccer, Cross-Country and Football were also sports in which Paul excelled. Awards and accolades were abundant, both individually and for the Teams. In 1969, his final year of High School, Paul shared the CDCI West Male Athlete of the Year award.
To put the cherry on top, Paul was named the Town of Cobourg's (sponsored by the Cobourg Credit Union) 'Male Athlete of the Year' in his final year of High School.
His athletic abilities caught the attention of Jerry Lawless, Phys Ed Teacher, who encouraged Paul to join the Cobourg Legion Track & Field Club, where Jerry also did some coaching.
Paul was part of that Legion Team from 1965-67 and competed in a number of meets and competitions, including participating in the Eastern Canadian Championships in New Brunswick in 1967.
And if that didn't keep him busy enough, Paul joined the Cobourg 'Behan Construction Cats' Junior C Lacrosse Team in his last year of High School. Paul was both Assistant Captain and Captain for full seasons, as well as the leading scorer on a regular basis.
In 1969, Paul went off to the University of Guelph to study Human Kinetics. His primary interest, however, was to play basketball for the Guelph Gryphons, under the coaching leadership of Garney Henley, who was also a current CFL player with the Hamilton Tiger Cats at that time.
Paul tried out for and made the Gryphons Team and played Junior Varsity for 2 years. In his 3rd year, Paul was named the MVP at the season opener invitation tournament and was elevated to the position of starting guard on the Gryphons.
In his final year of University, the 1973-74 season, the Gryphons earned the wild card spot for the Canadian University Basketball Tournament, where they bested the St. Mary's Huskies in the finals to secure the Championship. Paul seldom came off the floor in the 3 games, one of which went into double overtime.
When he wasn't playing basketball or studying, Paul also played varsity volleyball during his first 2 years, as well as became involved in orienteering, competing for the University of Guelph at the Canadian Orienteering Championships in 1972.
Throughout his 4 years at Guelph, Paul became a carded volleyball referee and regularly officiated at High School Tournaments through the Guelph Region.
Upon graduation, Paul maintained his involvement in sports, joining the Cobourg Men's Basketball Team, the Plaza Drifters (later to become the Kelly's Hotel Drifters) on which he played for more than 30 years, from 1974-2007. In 1975, Paul assisted the team in winning the Ontario Intermediate 'D' Championship Title, in which he was named 1st team All-Star and Tournament MVP.
He was also part of an inter-faculty basketball league in Toronto, where he travelled once or twice a week to play. He was a top scorer on his team and a league all-star.
Despite having graduated from Guelph, his former basketball coach, Garney Henley, contacted Paul in 1975 and asked him to accompany the Guelph Gryphons to South Dakota to play for an injured guard. Paul helped the team advance to the finals.
Shortly afterwards, Garney again availed himself of Paul's talents, asking him to join them for a tournament to West Virginia, where Paul helped the team reach the finals, only to be beaten out for the title.
Meanwhile, the Peterborough Pilon Pistons had been courting Paul and he became a team member of this intermediate 'B' team in 1976. He played with them for 10 years, honing his skills and winning numerous tournaments, along with personal bests in scoring and MVP awards.
But basketball isn't a year-round sport, so Paul also played soccer with the Cobourg Soccer Club Men's Travelling Team with the Quinte Soccer Association.
If that wasn't enough to keep him busy, Paul was commuting daily to Toronto for Teacher's College in 1975-76. He landed a teaching position at CDCI West beginning in September 1976.
One of his goals was to become a basketball coach at the High School level and he regularly assisted his mentor and friend, Art Dalgarno, in this regard, for a few years prior to securing the teaching position.
In 1978, Paul decided he wanted to give hockey a try. He'd never had a pair of skates on his feet before then, so it was a steep learning curve. He ended up being pretty good at it, playing in a number of local leagues for 15 years.
In order to better assist his students at the annual week-long outdoor residential educational retreat, Paul became certified as a flat-water kayak and canoe instructor.
Paul regularly caught the eye (and camera lens) of Layton Dodge who wrote numerous stories and filled pages of the local Sports Section with write-ups and photos of Paul's accomplishment and awards. Paul's mother faithfully saved those newspaper articles and amassed a large collection over the years.
Throughout his 33 years of teaching at the West High School and his 37 years of coaching basketball, Paul impacted the lives of many a young man, both on and off the Court.
He helped to transform an ailing adult basketball league comprising teams from along the lakeshore (Oshawa to Peterborough to Belleville) into the Cobourg Men's Basketball League, which later became a practice venue for his Senior High School teams. This totally changed the face of Senior Basketball at the West High School considerably, making them a much more competitive team, able to hold their own with bigger schools.
3 COSSA Championships in 1982 (with Dennis Clarke), 1984 & 2008 (with Art Dalgarno) can attest to that. Under 'Lakeshore Adult Basketball League', this league still exists to this day.
Seeing a gap in competitive play for middle school boys, Paul and Eugene Todd developed the Lakeshore Lynx Rep Team in 2002, coaching one of the age groups through 2 Provincial Championships, for 8 years before turning over the reigns to others. This program still exists for Youth from ages 8-16.
In 1998, Paul was looking for a place for his youngest son to play basketball and was introduced to the Lakeshore Minor Basketball Association, a Saturday morning program that had been running for a couple of years out of a few local schools.
Over the course of the next 23 years, Paul served the LMBA in both a Coaching and an Executive capacity (Convenor, President, Scheduler).
To keep his hand in everything athletic that he could, Paul has been a carded official for 50+ years for Volleyball and Soccer, as well as a Track & Field Starter.
He became a basketball official in 1978 and continues that to the present, winning a Provincial Award in 2018 for 'Contribution to Community'.
In 1985, Paul's friends talked him into joining a slo-pitch team and despite the fact that he had never played any form of baseball before, he proved to be a valuable asset to them.
He continued playing slo-pitch for more than a couple of years and transitioned over when they became a 'Masters' team. With his Team, he attended Provincial finals on 4 occasions, regularly making at least the quarter-finals and winning the "C" Championship one of those times. He continued to play recreationally until his retirement.
As a young man, Paul looked up to 3 men, all Teachers and Co-Coaches and he felt infinitely lucky to call them all his friends. The one thing that all of them held in common and instilled in him was the 'pay it forward' mindset. And he wanted to make Art Dalgarno, Dennis Clark and Jerry Lawless proud with his efforts.
Since his retirement from teaching in 2010, Paul has turned his hand to volunteering and he has a hard time turning down anything sports-related.
He was co-chair of Sport Technical for the ParaSport Games in 2015, Co-Convenor of the Ontario 55+ Senior Winter Games in 2017, assisted with the Under 16 National Boys Fastpitch Championships in 2017 and the 2017 RBC Cup Hockey Tournament.
Paul also acted as Volunteer Co-ordinator for the Rogers Hometown Hockey Event in Cobourg. He has been involved with the Northumberland Sports Council since its inception, 20 years ago, and is currently co-chair.
Paul was the 2021 recipient of the Sportsmanship Award (Cobourg Civic Award), which is presented annually to a coach, official or sports organizer who has shown outstanding leadership in contribution to Cobourg's sports and recreational community.
Sport Team or Name This Story is about