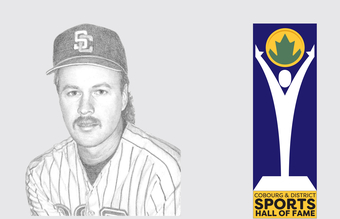 Marty Kernaghan was born on August 9, 1958, in Grafton, Ontario to proud parents Patricia and Jack Kernaghan. From early on, Marty demonstrated exceptional skills in his chosen sports - hockey and fastball.
From 1969 through 1977, he won 3 Ontario Amateur Softball Association championships. He also won an Ontario Baseball Association championship in 1970, and an Ontario Minor Hockey Association championship in 1978.
In 1978, Marty left the Cold Springs Cats and joined the Oshawa Tony's Fastball team as a right fielder. Tony's went on to the International Softball Congress (ISC) Tournament that year and Marty hit three home runs.
The following year, he played in Camrose, Alberta, with a job offer as part of the incentive. The next few years, would see his fastball career take him to Calgary and then on to the Penn Corp team, in Sioux City, Iowa.
The Penn Corp team had their own airplane and would send their pilot to pick up Marty for games and tournaments. The pilot was also a flying instructor and Marty was offered the opportunity to learn to fly. Marty went on to become a corporate licensed pilot.
From 1984 through 1995, he played in 11 International Softball Conference world tournaments as a short stop or third baseman, and missed only the 1994 season due to a broken leg. He was a member of championship teams for the American Softball Association and the Softball Canada National Championships.
He was also a member of Team Canada for the 1983 Pan Am Championships and the 1992 ISF Men's World Championship, winning gold in both competitions. Marty Kernaghan was voted ISC All World eight times – four times to the first team and four times to the second team. He batted .361, on 60 hits, in 166 at bats, scored 31 times, and registered 36 RBI's. In 2002, Marty Kernaghan was elected to the ISC Fastball Hall of Fame. In 2017, Marty was inducted into the Softball Canada Hall of Fame along with his team mates from the 1992 Canadian Men's World Championship team.
Sport Played That Connects To Collection List