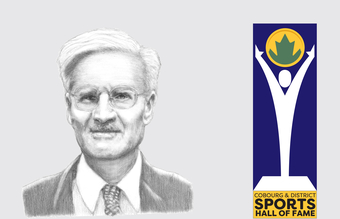 Fred Dufton was born in Stratford, Ontario in 1886. After public school, his family moved to Toronto where he attended Jarvis Collegiate. In Toronto he went to work for Clark and Clark Tanneries. He became the manager of the Strollers Baseball Team, a semi-professional team that played their games at Christie Pitts Park. In 1926, he moved with his wife, three sons and three daughters to Cobourg, to join the Edwards and Edwards Tanneries.
Fred became interested in football when his sons started playing in high school. He got involved and then became the manager of the Cobourg Collegiate Teams. When the boys left high school, Fred decided to start up an Intermediate football team. The year was 1935 and the team was known as the "Red Raiders." However, in 1937, with the goal of revitalizing the team, the name was changed to "The Cobourg Galloping Ghosts."
Over the years he earned the nickname "Ferocious Fred" because of his tremendous desire to surmount all obstacles and bring home a winner. The Galloping Ghosts won a total of eight Ontario Championships and became Dominion (Canadian Amateur) Football Champions in 1946, 1948 and 1950. Fred Dufton managed the team for its full 13-year existence. Layton Dodge, Cobourg's most distinguished sportswriter ever, proclaimed, "The Galloping Ghosts were, and continue to be, the most famous of all teams in Cobourg's history".
This legacy was a direct result of the work ethic, commitment and passion of Fred Dufton.
Sport Played That Connects To Collection List