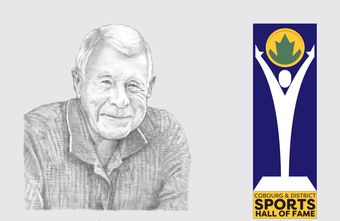 William (Bill) J. O'Neil was born in Oldcastle, Ontario, on December 28, 1924. As a youngster, Bill had a great love of sports and played both baseball and softball. He coached youth baseball for a number of years in the village of MacGregor, not far from his hometown. Bill started work with General Foods in Windsor, Ontario, at the age of 18. In 1963, he moved with the company to Cobourg, where he went on to make a significant impact in the athletic community. Bill coached the local General Foods sponsored team in the Cobourg Men's Softball League from 1963 to 1970.
He coached Juvenile and Junior Ontario Amateur Softball Association (OASA) teams that also played in the Cobourg Men's Softball League from 1971 to 1990. He was the coach of four OASA Juvenile "B" championship teams during the 1970's. Over the years, Bill O'Neil received numerous honours and awards for his outstanding dedication to sports in the Town of Cobourg. In 1976, Bill was named Cobourg's Sportsman of the Year. In 2002, he was saluted for serving 40 years as Treasurer and a volunteer with the Cobourg Men's Softball League.
On November 17, 2004, the main building at Legion Fields was named "The Bill O'Neil Pavilion". The Ontario Amateur Association recognized Bill by presenting him with the F.R. (Frank) Feaver trophy as Ontario's "Mr. Softball". During his coaching career, Bill was always the cool, calm and collected field manager. Over the years, he never abused an umpire or a player but would discuss and reason a solution to its conclusion. He respected the game and all those involved. Bill O'Neil was a unique individual.
He gave back far more to the sporting community than he ever took and was a true gentleman. Bill O'Neil was a great role model and an incredible asset to Cobourg and District's athletic community.
Sport Played That Connects To Collection List