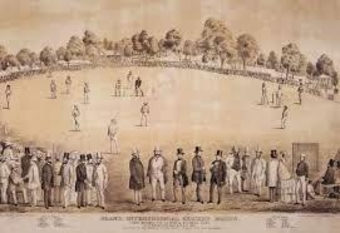 Cricket like most other sports was brought to North America. The earliest record of a cricket match being played in Canada, by civilians, appears in the form of a reference to a game played at Ile-Ste-Helene, near Montreal, in 1785. Cricket is one of the oldest sports played in Cobourg. It was popular well into the 1890s.
The Colonel's game of cricket had much in its early favour. Youth from around Ontario, educated at Upper Canada College and themselves member of the colony's conservative ruling class, brought the game back to their small towns where they in turn assumed leading positions as members of the judiciary, local government and the medical profession. Cricket was their informal means of maintaining the social cohesion of a local ruling class as well as providing opportunities to meet with the elite of Upper Canada.
The Cobourg Star in July 1843, as reported in the book 'Sixty Years of Canadian Cricket' says that " These are just our opinions, and we feel proud in witnessing the introduction into this province of those fine manly sports of Old England. We love every recollection of our early home; and we are fully convinced that the more frequently these recollections are called up, the more we will admire and the more firmly we will cling to that glorious country. The sports of the people have much to do with the formation of national character and the time occupied by a game of cricket is far better spent than in political meetings or party brawling."
And from the same book "On the 28th day of August, 1843, a match was played between Toronto and Cobourg on the grounds of the former club. The scores were: Toronto, 72 and 36; Cobourg, 30 and 23; the home team winning by 53 runs. The principal scorer for the losers, Dr. Goldstone, was the only player to make double figures, with 10, not out, and 0, to his credit. The bowling of Buck and Bourne for Cobourg, and Winckworth and Maddock for Toronto, was excellent."
A minute book from 1846 of this earliest known cricket club in Cobourg contains printed rules of cricket with "Practical Hints To The Young Cricketer" by G.A. Barber, a member of the Toronto Cricket Club.
On May 9, 1846, the first meeting that year of the Cobourg Cricket Club was held at the Globe Hotel. R.H. Throop was the Chairman and the following Officers were elected:
President: Dr. Goldstone
Vice President: George Daintry
Treasurer: H.J. Ruttan
Secretary: W.C. Crofton
Committee: Messrs. Tremaine, Buck and J. Bunbury
There were two categories of members; Playing and Honourary. A Playing Member was liable to be called on to play in any match. A fine of 7½ D was levied against anyone who failed to appear when the wickets were pitched, or left before a match ended.
Matches were played during the season of 1846. Among them one at Bowmanville which is fully reported in the Minute Book under June 8th. The Cobourg club was invited to play a friendly match against the Bowmanville club on the 17th. It was suggested that the Cobourg players should come up to Bowmanville by the "America" on Wednesday evening as there were no railways in Ontario at the time. Travel would have to be either by steamer or by stage coach.
Bowmanville beat Cobourg by 24 runs. A month later Cobourg hosted Bowmanville. For Cobourg, Bunbury made 12 and 7, Corrigal 20 and 8, Burnham 12 and 1. After a heavy shower fell between innings, Bailey for Bowmanville tumbled head first on his wicket in running. The umpires could not agree as to whether he was out or not, and it was agreed by both elevens to leave the decision to the Toronto Cricket Club, who decided against Bailey, and 20 runs were deducted from his score. Bowmanville still won 38 and 91, Cobourg, 64 and 40.
Trinity College and Port Hope also had cricket teams. At a match in June 1878 Port Hope had 91 and 50 for 5 wickets and Cobourg had 89 and 52. For Cobourg, Osier made 45. For Port Hope, H. Ward made 15 and 15, Weston 14 and 5 (not out), H. Read 14 (not out), G. F. Hall 5 and 14, Butcher 1 and 13 (not out).
A Cobourg cricket team in the 1880s toured the United States with success and played many matches in Cobourg with visiting clubs. Members of the touring team included J.D. Hayden, Fred Smith, J.H. Munson, Douglas Armour, Alex Hargraft, John Hargraft, Albert Woods and Lyman Kennedy.
The New York Times of August 11, 1880 reported that the Longwood Club of Boston would be playing at the Cobourg club after playing matches in Hamilton and Toronto.
Cricket continued to be popular for a number of years. A meeting to organize the sport for 1894 was described in the Sentinel Star on April 13, 1894: "One of the most successful cricket meetings ever held in Cobourg took place in the Dominion Bank last Monday evening. Over 30 members were present, and regrets were read from a number who were unable to be present. The membership fee was fixed at $2.00 and no doubt all lovers of the game will join the Cobourg club."
One of the earliest references to a Grafton team occurs in 1867 when The Cobourg World reported a match between Grafton and the Brighton Cricket Club. The 1868 Grafton Cricket team included players Alex Godard, Jock Willoughby, Dr. William Willoughby, F.J. Bingley, John Johnston Jr., E.G. Tremain, J. Charles Rogers, Robert Z. Rogers, W. Standly, A.W.C. Bruce, James Barnum, F. Burnett, S.W. Cummings, and Alex Patterson. Local matches were played on the Roger's field, west of Grafton's Anglican church where the Haldimand arena stands today.
In "Sporting Notes" of the June 7, 1907 edition of the Cobourg Sentinel Star "The cricket club are arranging home games with Peterboro, Trinity College School of Port Hope, and Grace Church, Toronto. Tomorrow's game between Port Hope and Cobourg should be a hot one. Port Hope defeated Cobourg in Port Hope last Saturday and Cobourg will have to win to keep at the head of the league. Cobourg's home brews can be depended to win tomorrow against Port Hope Imports. Game called at 3 o'clock. Admission 25c, ladies and children 10c, ladies will be admitted free to the grandstand but gentlemen will be charged 10c extra"
The fate of cricket and baseball was inevitably tied up in the changing nature of Ontario society. Cricket began to decline as it and lacrosse were gradually supplanted by baseball's growing popular appeal.
Sources:
"Cobourg 1798-1948" – E.C. Guillet, author
"Memories of Haldimand Township: When the Lakes Roared" – Haldimand's History Committee, author
"Bowmanville: A Small Town at the Edge" – William Humber, author
"Sixty Years of Canadian Cricket" – Hall & McCulloch
Updated August 2020
Sport Team or Name This Story is about