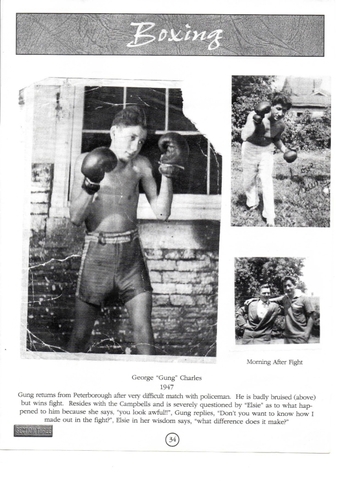 Amateur Fights Held in Victoria Hall's Beautiful Opera House!
It may be hard to imagine, but some sixty years ago fight nights were among the entertainment highlights for visitors to Victoria Hall.
One didn't have to look far for an eager audience or even competitors. In the first half of the 20th Century most of the fights took place at the schoolyards in the area. In the 1940's and 1950's Mr Craig taught boxing on the top floor of the Sutherland Block. The Sutherland Block was built by John Sutherland, one-time Mayor and Town Clerk. The Customs House was located in Cobourg for many years as was the Smith Junior Ltd, a soda fountain equipment and syrup company and Bastian Brothers. Mr Craig lived and operated a grocery business in Cobourg. His boxing ring had regular matches between locals. The Sutherland block was located at Charles St on the west side of Division St.
Some of the boxers in the 1950s included Bruce Richardson, Billy McBride and Billy Brisbin. The referees for an October 1952 fight card at the Recreational Center were Timer Fox and Jim Miskelly.
On June 1, 1953 Jim Miskelly held a meeting that led to the formation of the Cobourg Boxing Club. Home became the Market Building south of Victoria Hall. There was a legal sized ring for sparring and training plus speed bags and heavy bags. It was a haven for the young men who had grown up with their dads away at war.
Another boxing team was created and stationed at the Ordinance Depot. Newspaper articles describe boxers fighting at Kingston and Borden.
Cpl Ronnie Headley who was coach of the No 26 C.O.D hockey champs was formerly one of Canada's outstanding boxers. He was born in Ottawa and started boxing at 14. He turned pro at 19 in 1929. Over the next 6 years he fought 97 times and according to the Ottawa Citizen lost only 2x. In a tour of the British Isles he won 12, lost 1, drew 1. BoxRec records 26 pro welterweight bouts between 1925-1935, 14 wins (4KOs) and 12 losses (4KOs). Headley retired in 1958 to Cobourg.
Emerson Charles and his younger brother, George Charles were among the best of the local fighters. Emerson "Chief" Charles went on to fight professionally out of Patterson, New Jersey, compiling a very respectable record in 1948-1953 of 16 decisions; 8 by knockout, 11 losses, 3 by knockout and 3 draws. He fought a total 121 rounds in 30 professional fights as a middleweight at numerous eastern U.S venues including Madison Square Gardens (2) & St Nicholas Arena (4) in NYC, Coney Island Velodrome in Brooklyn NY and Red Wing Stadium in Rochester NY. In one memorable bout at the Arena in Philadelphia he lost a six-round decision on points to Joey Giardello, then World Welterweight Champ.
While he was still fighting out of Cobourg, local coverage had this to say about one of the "Chief's" matches…"Cobourg's new found pugilistic hero invaded the rings of Peterborough last Thursday night and scalped another victim"
Little has been recorded about George "Gung" Charles' success in the boxing ring. One quote was "Another Indian chap from Cobourg, George Charles, won a decision. He started like a buzz saw with a two-fisted attack and showed a lovely left. It was a nice fight."
At the University of Toronto Henry (Hank) Henshall earned the title of Featherweight Boxing Champion for four years. He came to CDCI in 1950 to direct all boy's athletics. In 1954 he displayed the first symptoms of Muscular Atrophy. He continued to coach and teach, gradually having to cut back. He tried to build a healthy rivalry between West and East schools by organizing CDCI's first harrier race. 200 runners participated. During the running of the second race in 1962 Henshall died. The race is called Hank's Harrier.
******************

IT'S UNANIMOUS
By Layton Dodge
November 20, 1970 Cobourg Sentinel Star
AMATEUR BOXING RETURNED TO Cobourg after a long absence Tuesday night. It was an instant hit. Nearly 200 curious fight fans turned out at Cobourg Pavilion for the seven-bout card promoted by Fred Richardson of the new North-East Athletic Club. They were not disappointed.
The fourteen boxers responded with rousing matches that always made up in action what they may have lacked in finesse. If crowd reaction was the sole judge, the semi-final bout between Cobourg's John Taylor and Toronto's Luis Reed rated the headliner of the evening. Taylor, in only his second fight, became the first North-East AC member to savor victory when he scored a unanimous and popular decision over the fancy-stepping Jamaican.
In his first scrap before his hometown fans, the 167-pound Taylor really won the crowd and the bout when he caught Reed with a booming right uppercut in the second round and knocked the Toronto boxer on the canvas. Following a close opening round, Taylor opened up in the second and controlled the fight thereafter. A flurry of punches by Taylor midway in the second round took most of the starch out of Reed and put him on the defensive. The Cobourg boxer had Reed in trouble again in the third round, staggering him twice with several combinations.
In the main event, 125-pound Tom Bland Jr. of Toronto Pioneer Club earned a unanimous verdict over John Biel of Oshawa. The loser didn't quite belong in Bland's class, although he did show an ability to absorb punishment well. Biel did land several solid blows in the bout but wound up with a bloody nose in return. It marked the second straight win this month for the 23 year old Bland.
Three other Blands also appeared on the card in preliminaries. Fourteen-year-old Jimmy won a split decision from Curtis Redman Cress, posting his fourth consecutive victory in the process. Albert Bland, 21, dropped a split decision to Joe Rumundi of Toronto in a welterweight bout. David (Spider) Bland was overpowered by 17 year old John Riley of Toronto.
Riley stopped Bland with a solid right and was awarded a TKO at 1:25 of the first round. Riley, who outweighed his opponent by 11 pounds, is trained by Bill Felstein, brother of Bob "Pretty Boy" Felstein, contender for the Canadian heavyweight championship. "He has a killer instinct," Felstein pointed out after the bout in reference to Riley. "I have to take some of it out of him and teach him how to box. For Riley, who's been lifting weights since he was 12 and looked every bit the part, it was only his second fight.
Despite a lack of conditioning and training, heavyweight Ralph Miller of Cobourg stepped in against Oshawa's Tom Bouckley and gave an excellent account of himself, even though beaten on a split decision. Lightweights Paul Ferguson and David Quinlin, both of the North-East Athletic Club, flailed away for 3 rounds in another bout. Appropriately, the match ended in a draw. Both boys tired noticeably in the final round.
Cobourg officials for the fights included judge Glen Dafoe, who fought 55 times as an amateur; and old-timer Jack Henning, former Canadian middleweight champion in the 1920s.
*****************************
Moving On
By Layton Dodge
September 12, 1972 Cobourg Sentinel Star
EFFECTIVE TODAY. FRED RICHARDSON is moving his large family and the base of his small North East Athletic Club operations to Oshawa. Father of 11 children and the revival of amateur boxing in this area, Richardson is returning to live in the city where he formerly had a gym and a boxing club on Court Street.
"I'm not moving because I don't like it here" Richardson emphasized." It's the travelling I want to cut down on," he noted. Fred has been commuting from his residence at RR3 Baltimore to work at General Motors for more than two years. "I'll have my roots in Oshawa but, for sure, I want the boxing club to carry on here," Richardson told the Sentinel-Star on Wednesday. "Whatever I can do to help, I'll do it and there are ways; he said.
The North East AC will be continued in Oshawa. Richardson expects to have a gym in Oshawa and to join forces with the Oshawa club's Ron Cyr with whom he's been closely associated in the past anyway. Heavyweight Ralph Miller, who has been an active member of the North East AC almost from inception more than two years ago, is expected to travel once a week to Oshawa for sparring sessions. So is Roy Sanders, a middleweight.
The two boxers, who'll likely work out here on their own, could be joined by Danny Washburn. In any event, Richardson intends to use the Cobourg district fighters in his monthly boxing promotions in Oshawa starting October 17.
The switch to Oshawa will be yet another stop for the North East AC. It's operated at one time or another out of Fenella, the Lions Scout Hall in Cobourg and out of Richardson's basement where he had his own home-built ring and bags set up.
Boxing never really caught on here in a big way. Many boys and young men tried the sport but few stayed at it for long. It's a game requiring mental and physical toughness only a minority care to bear. Richardson was disappointed that fine prospects like John Taylor and Mike Boyle didn't pursue boxing further but he never became overly discouraged. He always maintained that the number of boxers who trained with him was higher than in most centres of comparable size.
Richardson promoted several shows here. Only the first at the Pavilion and the one held at Cobourg Arena in May of 1971 could be termed successful at the box office. He took a financial bath in his latest endeavor this summer.
"Oshawa and the North East AC will work as a unit, especially in promotions and in training together at least once a week" assured the ring veteran who's been connected with the fight game for nearly 14 years. "You probably haven't heard the last of me," Richardson exclaimed. "I'll come back, I hope, and it's only a hope at the moment, to promote a show here before Christmas."
***************************
DAN WASHBURN FIGHT
Danny Washburn of the North East Athletic Club will climb through the ropes for his second amateur fight next Monday night on a boxing card in Toronto. The 16,year old CDCI East student, who lives at RR1 Castleton, will trade punches with Glenn (Rocky) Broadley of the Clairlea Boxing Club. Both boys have just one bout under their belt, so neither will have any edge in ring experience. Washburn will carry 118 pounds on his 5 foot 5 frame into the match. Danny will weigh in lighter than for his previous bout in which he battled back in the third round to earn a draw with his Toronto opponent. While acknowledging the fact that he's dropped almost 12 pounds in recent months, Washburn feels the weight loss has not sapped his strength.
Washburn almost gave up the sport before he engaged in his first scrap. He trained under Fred Richardson for quite a spell but then stopped. Richardson talked him into turning out to train again at a Centreton ball game this summer and later lined up his first fight for him. "He has the makings of a boxer, no two ways about it," Richardson said of Washburn this week. "Danny has the guts. He will mix it up and he will train. It remains to be seen whether he has the stick-to-it power."

Updated August 2020
Sport Team or Name This Story is about
Sport Played That Connects To Collection List