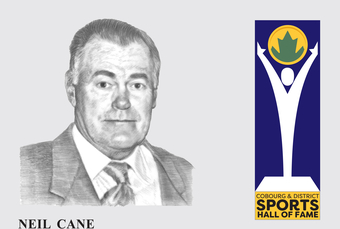 Neil Cane was a much loved and respected member of this area's sporting community. His athletic career included hockey, softball, baseball and high
school sports. Some of his accomplishments included winning multiple Ontario Amateur Softball Association (OASA) championships and MVP of the Cobourg Mercantile Hockey League.
He was a well-respected coach, umpire and referee in many leagues throughout our region. Neil's real calling in life became volunteering and working in the local sporting community. Under Neil's leadership, while working at the Baltimore Recreation Complex, he helped improve it in many ways. Lights for the existing diamond were installed and more diamonds were added, as well as a basketball court, volleyball court, canteen and washroom facilities. Neil was instrumental in fundraising for two arena constructions and more, facilitating its development into a first-class facility.
Over the years, he was the recipient of many recognition awards, including the Cobourg Church Hockey League's Outstanding Service Award, the Legion Minor Softball's Certificate of Merit and Coach of the Year, the OASA's Outstanding Service Award in 1995 and 1998, the Baltimore Arena Committee's "Devotion of Duty" Award, the Cobourg Men's Softball League's "Thanks for the Memories" Award, and The Cobourg Rotary Club's highest award, "The Paul Harris Fellowship". In 2007, Neil was named Hamilton Township's "Senior of the Year". Neil's legacy of volunteerism is exceptional. His enormous contributions to our sporting circles were truly extraordinary and his memory will be forever etched in the heart of his community.
Sport Played That Connects To Collection List