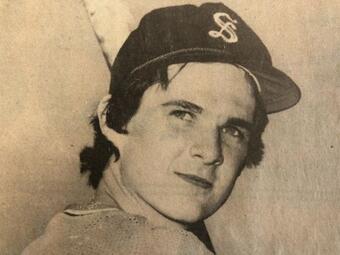 Softball-Fastball – Al Burnham
At one time or another most children pick up a ball and a bat and at some point, as they grow towards adulthood, many of them progress to playing in a local house league. In those formative years some of them advance their skills to such a degree that they are fortunate enough to be chosen to play on a Rep team that travels out of town to compete against the best players and teams from other towns throughout the province.
A very select group of these players are lucky enough to star on a Provincial championship team.
Far fewer still one day will have their names attached to a Canadian championship team.
And the rarest of all players are those able to say that they were part of an international championship team.
Al Burnham was such a player.
Born on August 31, 1952 in Cobourg and raised on the Burnham Family Farm, located on Hwy #2 between Cobourg and Port Hope, like many children of the time, Al was first introduced to bat and ball in elementary school during the recesses and lunch hour that helped to break up the day. Coincidentally, the Cobourg Legion Minor Softball Association was formed in the late 1950's, and Al like many of his schoolmates were part of that first group of youngsters who were signed up.
"It seemed like all the kids in town were playing ball", Al remembers today. "My Dad signed me up for ball, and my parents (Dick and Louise) drove me into town for all the games and practices. I guess I just fell in love with the game."
For Al Burnham this was the beginning of what would become a two decade long playing career that saw him become one of the top Fastball players; in the area, in the province, in Canada, and in the world.
A product of the "Golden Age" of local Fastball in the 1960's and 1970's, Al, who had been a member of the Cobourg Juveniles that won an Ontario "B" championship in 1971, was one of many players who participated in the numerous leagues that thrived in the area, such as the Port Hope Town League, Cobourg Town League, Haldimand League, Cobourg Industrial League, and the Hamilton Township League. Each of these leagues were well led, very organized and highly entertaining, drawing huge crowds, especially at playoff time, and not only in Cobourg or Port Hope, but also in the surrounding villages like Bewdley, Harwood, Baltimore, Plainville, or Cold Springs.
A hamlet, just north of Camborne, Cold Springs would probably qualify as the unlikeliest place to spawn a provincial Fastball powerhouse, but that was what happened at the dawn of the 1970's, when after years of competing locally, the Cold Springs Cats, seeking a better level of competition approached the Peterborough City League in the winter of 1974 seeking admittance, and despite misgivings about their ability to compete, Cold Springs was reluctantly added to the league in time for the 1975 season. A subsequent first place finish on the league and the OASA Intermediate C title put those initial doubts to rest.
The following season, 1976, saw the "Cats" repeat as Ontario Intermediate "C" Champs and then four years later, in 1980, the "Cats" added the Ontario Senior "A" fastball championship to their ever-increasing trophy case.
Al Burnham was a strong part of this legendary team's nucleus … so strong in fact that Larry Bodashefsky, the first Canadian player to ever be inducted into the International Softball Congress Hall of Fame in 1997, wrote upon his induction that "I'd like to recognize a teammate from Cobourg, Ontario whom I played a number of years with. Al Burnham ("Iceman") stayed under the radar wherever he played but was by far the best R.B.I. man I've had the pleasure of competing with.
From 1984 to 1992, Al Burnham was an integral part of five more Senior "A" Ontario championship teams, 4 Canadian Senior A championship teams, and in 1987 and 1988 he was named to the All-World second team both years at the International Softball Congress championship, and in the 1991 ISC championship, held in Sioux City, Iowa, and playing for Owen Sound, the World Championship runner-up, he was named All-World first team … the culmination of a lifetime spent on the diamond all the way from Cobourg to the World Championship.
Sport Team or Name This Story is about
Sport Played That Connects To Collection List