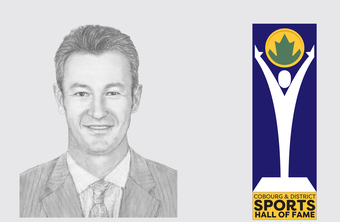 Steve Smith was born in Glasgow, Scotland, and moved to Cobourg at an early age. Success in hockey never came easy to Steve. Growing up in Cobourg, he failed to impress a lot of local coaches and Junior organizations.
The NHL scouting fraternity showed no interest in the gangly kid who found his body too big and too awkward to be effective. However, Steve was a model of determination and resiliency and he stuck with the game and trained in a fashion that would maximize his development. By age 17, he had grown to 6'3" and 180 lbs. – enough to catch the attention of the Junior A London Knights as a walk on at an open camp.
Smith made the team and played the first half of the season as a 4th line right winger. By 1981 he had filled out to 225 pounds and was playing regularly on defense. That same year, in the NHL draft, he was selected 111th overall by the Edmonton Oilers. Steve Smith went on to become one of the better NHL defencemen of his era, playing in 804 games, scoring 72 goals, earning 303 assists, and tallying 375 points, while winning three Stanley Cups (1987, 1988, 1990) and a Canada Cup (1991). Blessed with balance and agility on his skates, and an exceptionally long reach, Smith was tough to beat 1-on-1. By the late 1980's, Smith had become the Oiler's top defender. In October of 1991, the Oilers traded him to Chicago.
In his 3rd of 6 seasons with Chicago, he suffered a broken leg and constantly battled back issues. The Blackhawks offered him a contract but Steve decided to retire prematurely. In 1997, he moved on to join the Calgary Flames as an assistant coach for 1 season. He returned to the ice with the Flames for parts of the next three seasons before a neck injury resulted in spinal fusion surgery. In 2001, Steve came back to play part of one season before his doctors advised him that, medically, it was in his best interests to retire. His coaching career would see him move back to the Edmonton Oilers as an assistant for four seasons.
From there, he moved on to Carolina as an assistant coach with the Hurricanes. Presently (2019) Steve Smith is an assistant coach with the Buffalo Sabres.
Sport Played That Connects To Collection List