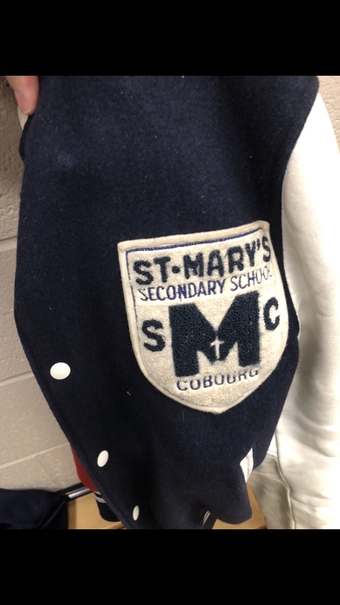 Swim Team
In 1984, St. Mary's Secondary School (SMCSS) began. The building located at 760 Burnham St., Cobourg, housed students from Grade 1 – 9. There were 14 Grade 9 students in the first year. It was difficult to run any sport teams for the Grade 9's.
In 1985, St. Mary's swim team started. We practiced every week, Monday, Wednesday and Friday at 7 am during the Fall at the local YMCA. We had all levels of swimmers on the team. The only requirement was attendance.
There were students from Campbellford that were interested in joining but had no way of getting to the practices that early. After speaking to the Director of Education, Don Folz, he agreed to provide a bus for the interested students on Mondays and Wednesdays.
The swim team had many successful years and fortunately is still thriving today. We have attended OFSAA every year since the team's inception.
Cross-Country Team
St. Mary's Cross-Country team began in 1987. As we didn't have a track or any running facilities, training consisted of running through the local neighbourhood. We practiced Tuesday, Wednesday and Thursday after school. We only had a handful of students interested in competing on the Cross-Country team.
We were always at a disadvantage in terms of competition with other Secondary Schools given our lack of facilities. Our "creative" practices didn't always glean the results we were hoping for. However, our students never gave up and always worked hard and gave it their all.
There was one student, however, who was a natural long-distance runner. Sarah Johnston worked diligently and qualified at Kawartha to move on to COSSA. The highlight for Sarah was being able to compete at OFSAA in Cambridge, Ontario.
Track and Field Team
St. Mary's Track and Field team started in 1987. Facing the same disadvantages as the Cross-Country team, we made do with the facilities that we had. We were able to practice the field events, such as javelin, disc, high jump and long jump on our driveway and small outfield. The long-distance running athletes ran through the neighbourhood while the short distance runners, hurdlers and relay teams practiced on the small paved area around the school. Wind sprints up the small hill at the side of the school helped with the cardio portion of the practice. Practices were held 4 nights a week, with all students being welcomed as long as there was a commitment to attend all practices.
We were fortunate to have a sprinter, Tony Raymond, qualify at Kawartha and then win gold medals at COSSA in both the 100 and 200 metre races. Those wins allowed him to compete at OFSAA at York University.
Reviewed August 2020