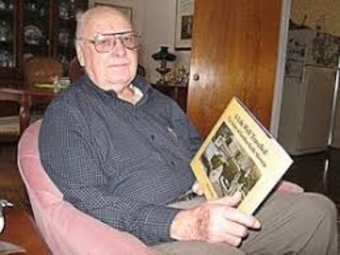 Gordon Keith Sherwin
The Horseman - Part 3 of 3 - By Gary May
Reprint Chapter 8 from "A Life Well Travelled" 'The Story of Gordon Keith Sherwin'
Permission of Publisher 'Your Story Publishing' 2010 – Windsor, ON
A very political dispute
It is the winter of 1984-85, the latter days of William G. Davis's premiership of Ontario. The harness horsemen decide the only way to gain the attention needed to get their point across in the dispute over night-time racing is to shut down the tracks. If there is no harness racing, the lost revenues should be enough to get some action, they reasoned.
The tactic worked. Representatives of the standardbred and jockey club organizations were summoned to Queen's Park to explain to a committee of the provincial government what the dispute was about and propose how best to end it. Gord recalls he and Joe Burke being in one room, the jockey club representatives in another. Davis and the cabinet are in a third room, with Davis confidante Eddie Goodman acting as the go-between.
Eventually, Gord and Joe are asked to speak to the cabinet ministers and make their case. "We explained we wanted representatives, horsemen, on the Ontario Racing Commission, which had to approve changes in post times. The ORC were political appointments and not horse people. They had no knowledge of the business. That's what we told them.
"We had a brief meeting with the cabinet before adjourning to our separate quarters."
The province agreed to the standardbred racers' demands and, in one of Davis's final acts as premier, it established a commission to study the racing industry. Soon afterwards, David Peterson became Ontario's first Liberal premier since the Second World War, and began making some curiously non-political appointments.
Peterson had already made former Tory labour minister Robert Elgie a member of the Workers' Compensation Board. Then he made former Conservative Cabinet Minister Frank Drea chairman of the Commission. He also made another interesting appointment. In January 1988, long-time and vocal Conservative Gord Sherwin was appointed to the ORC as a standardbred representative.
"I remember, I get a phone call from Harry Addison the (Commission) vice-chair, telling me the premier wants me to sit on the ORC. It's a Liberal government and I'm a known Conservative. It turned a few heads. This was a pretty prestigious appointment."
"It shows how highly regarded he was," says Burke, "to get that appointment when he's such a well-known Conservative. I think it helped that he was from a small area, where he'd raced primarily at the small tracks. Without having any connections to the big tracks around Toronto and Hamilton, it was felt he had no axe to grind."
During his years with the commission, Gord sat on various panels to hear the facts in disputes that usually involved driver infractions and accusations of illegal drug use and claims of inappropriate fines being levied. His work with the harness association ended with the end of his term on the ORC. "I'd been there long enough. It was time to move on."
While he enjoyed many happy moments on the track, Gord's biggest thrill in the sport came when he was named Harness Horsemen International man of the year for 1986. How could a man who waited nearly three decades before a horse he owned won a purse as high as $5,4OO be named the sport's top achiever?
In an article published by HHI's magazine, Harness Horse, on the occasion, the magazine said Gord's success "didn't really come from owning horses ... but rather for his untiring efforts on behalf of others involved in the sport and business of harness racing.
"He's fought hard for higher purses ... but even more important, he's been a champion for injured horsemen, fighting for increased benefits on their behalf," the magazine said. Gord was a skilled negotiator and became known for his fairness. His approach might sometimes have been gruff says Burke, "but he came across as very sincere. He was looked up to by everybody - people on both sides of an issue, racetrack owners and all. You just knew what a genuine person he is."
Burke recalls all the times Gord would come out on Christmas Day to drive a truck so that one of his drivers could have a day with his family. "He looked after his workers very well."
After retiring from the racing commission, "I kept on racing," says Gord. "But the fun is gone out of it now. It's hard work, too. l still had race horses in the '90s. I raced Fiddler's Dream up to a couple of years ago.
"You're racing against professionals. I didn't want to do it anymore. Fellows weigh 120 pounds and I'm 220. That's the way the industry has changed. I felt I wasn't skilled enough to compete."
In the bone-chilling cold of January 2010, as he approached his 86th birthday, Gord decided it was time to stop driving the horses. Now his work with Fiddlers Dream and King of the Clan is limited to those twice daily visits to Grasshopper Flats to make sure they're well cared-for.
Jay's boyhood experience
Over the years, the horses became a sort of bonding exercise for Gord and his son, Jay. Jay's involvement in the business came early. "One summer day he called me, just before I was going to go to school at age six, and he said, 'you want to go to the races with Jack Ball this afternoon?' I said yes, I want to go. So he finished his work early that day and we went down to Greenwood in the Beaches. This would be about the summer of 1960.
"Jack hauled a horse in this truck, wooden sides, canvas top. We got the horse loaded in and they said, 'you get into the back and ride with the horse.'
"So this was just tremendously exciting. We went up to Toronto. I remember being in the back of that truck, and looking out the back door, and seeing the cars go by and people looking at me and boy, did I ever feel special, because I was in the back of that truck with that horse."
They arrived at the racetrack and the horse was unloaded. "It was still early, so we went over to Lake Ontario and took our shoes off and put our feet into the water on a really hot day. Then we went back and got the horse ready. But kids weren't allowed into the paddock.
"So Dad said, 'you go up into the grandstand and when the race is over, you come back down here.' So there I was six years old and he sends me off into the grandstand alone. You could do that in those days and it was safe. But to me it also said that there was a level of trust there from him that I wouldn't get into trouble and that I would know how to handle myself if a situation came along."
One incident that lies heavy on Gord occurred at Mohawk Raceway a few years ago. Jay had taken to racing standardbreds too, and drove many of Gord's horses over the years. Gord and Jay had gone to watch one of his horses, Belgaum, which had just won a race and showed promise for the future. As the race progressed, Belgaum began to make his move, but there was a collision with another competitor. Belgaum, clearly in distress, pulled up and limped over the finish line.
Father and son took the horse immediately to the veterinary clinic at Guelph where they learned Belgaum had suffered a sliced tendon. He wasn't even able to stand on the leg and had to be euthanized.
"We went from great excitement to total letdown. That was a long trip home," Gord says. "The empty trailer. That took the wind out of Jay's enthusiasm for racing horses. It was a crowded field. Those things happen."
Jay continues the story. "We were back to the track the following week with another horse and arranged with the administration to look at the tape of the race.
"We could see what happened and it was obvious that Belgaum's driver had made a mistake. The driver had run the horse right into the back end of another driver's cart and the horse had to stop or else run into the driver in front of him. And in doing that he had injured himself. It was driver error."
The dejected father and son stared at the replay. "Dad said 'I know what happened now.' We turned around and walked out and Dad said 'that's just one we've got to forget.' There wasn't any going to the driver and berating him for making a mistake. It's just 'that's what happened.' A mistake was made and it's over and done with.
"Dad could deal with that and I couldn't. I said 'I just can't take this horse business anymore, because you can never tell. There's always a negative that comes after a positive. There's just too much up and down. And I made a decision right there, I don't want to be involved in this business anymore. It's just too much heartache.
"For Dad he'd get over those things and carry on. He didn't dwell on hard luck. He just accepted it and carried on."
There is another lesson learned from Gord's handling of the situation, too. In Jay's words "it was honourable of him not to go back to the driver and make him relive that experience."

Reviewed August 2020
Sport Team or Name This Story is about
Sport Played That Connects To Collection List