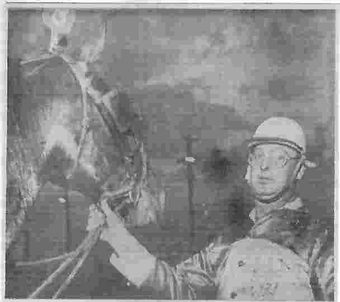 Gordon Keith Sherwin
The Horseman - Part 2 of 3 - By Gary May
Reprint Chapter 8 from "A Life Well Travelled" 'The Story of Gordon Keith Sherwin'
Permission of Publisher 'Your Story Publishing' 2010 – Windsor, ON
Arts & Battles
Perhaps the most exciting horse Gord ever owned was one that didn't reach his potential until a winter on the Florida circuit. But when he did, says veteran trainer and driver Doug Hie, Cliff Hie's son, he showed more heart than just about any other animal Hie has ever known. No horse Gord owned over the years meant more to him than Arts & Battles. Sired by Meadow Battles, a top winner from the late 1950s and early '60s, out of Gord's own brood mare Tar Peg, Arts & Battles was raised and trained by Gord from the time he was a foal.
The horse was named for his sire, and for horseman Arthur Beedham, who boarded him. In the late 1960s, "I started taking him to races and he became a top racer around Peterborough. He became the one to beat in his day."
In the early '70s, Jay was attending Queen's University and already possessed a driver's licence. Gord asked him to run the horse one night at Peterborough. Gord couldn't go because he and Marion were committed to another event. 'When Gord arrived home that night, he asked Jay how things had gone. Jay smiled and presented his dad with a tape of the race. "We won," he said. "It was quite a thing for a young fellow like that to win," says Gord proudly. "He was pretty excited. Arts & Battles was a good horse. Had stamina and speed. He was always competitive."
While Gord frequently raced the horse himself, he would also call on Doug Hie to race him. Doug had a stable, track and exercise pool, which was a helpful tool in training horses without placing· so much stress on their tendons. Arts & Battles had suffered from tendon problems from an early age, and never seemed to achieve his potential - at least until Hie offered to take him on the Florida circuit one winter in the early '70s. Hie entered him in a lower-level competition at Pompano Park, and the horse won. Hie entered him again, and again Arts & Battles took the field.
"I turned him around in the winner's circle and he got a standing ovation from the grandstands. I couldn't believe it. They were clapping and whistling. Everyone was standing. It just blew me away."
Hie called Gord to tell him Arts & Battles was going to receive the track's Presidents Award that year and Gord and Marion arranged to head down for the celebration. The day before the ceremony, Gord took in a race.
"On this occasion, he lost," says Gord, "but he was so used to winning that he turned around to go into the winner's circle and wait for his picture. The crowd saw this and reacted with a standing ovation." Gord's pride soared.
After the winter season, Gord entered the horse at Saratoga, New York. He and Marion chartered a small plane and flew to the track with Hie. They won. "The whole experience was quite a thrill," says Gord.
Back in Canada in 1973, Arts & Battles took half a dozen races at Greenwood, then considered the top standard-bred track in Canada. The next winter, Hie took Arts & Battles back to Florida and he won two of his first four races, placing second and third in the others. Then tragedy struck. The horse's tendon problems returned and this time, nothing could be done.
It was the end of racing for Arts & Battles, although he lived out his days with a man in Bobcaygeon who was delighted to obtain a horse of that calibre to pull his buggy.
"That was a horse that stands out in my mind," says Gord.
Adds Hie: "That horse had personality. He was cocky. He was a standout in my memory," says the man who has been racing for more than 40 years.
So, what happened to turn around the career of a horse that had earned only about $22,000 in his first five seasons? How was it that in his first winter in Florida he chalked up $40,000 in winnings?
"He was a totally different horse in Florida", says Hie. "His legs were bothering him in Canada. I tried different training methods. I swam him in the pool and that really helped. He loved the pool. He always wanted to pass the other horses in the pool. He wanted to beat everybody."
The Quinte Jug
Another one of the highlights of Gord's career as a horseman came in 1986 at the Belleville fairgrounds' Quinte Jug race, a takeoff from the Little Brown Jug, a top U.S. standard-bred competition. "There are eliminator races over several weeks to get down to a field of about seven. I had two horses, Bell Jet Ranger and Amboseli (named for an African game preserve). They were three- and four-year-olds. Jay drove Amboseli. It was a photo finish for one and two spots.
"As the judges were deciding between the two, and it
was so close, someone said, 'it doesn't really matter, because the same guy owns them both.' That was quite a thrill."
In 2010, Bell Jet Ranger was 26 years old, and living a life of leisure at Jay's home. She's the mother of Gord's current horses, Fiddlers Dream and King of the Clan.
Gord unloaded Amboseli at a claiming race for $30,000. Standard-bred racing is rarely a money-making pastime, says Gord. He lists the fixed costs of owning· a horse: $60 a week for feed, $20 for hay and $20 for bedding, plus utilities.
He fondly lists off the other horses he's owned over the years. Jimmy Bellwin, Judicator, Robbie McGee, Colonel Philip, Call Me Spud, Mount Kenya, Roda's Angel, Shamaldas, Thebes, Dream Cast, Beautiful Sunday. (Just like Amboseli, Shamaldas and Judicator were eventually sold in claims races and went on to race for their new owners.)
CLAIMING RACE:
At a claiming race, the owner places a value on his or her horse and enters them in the race with other animals of similar value. Interested buyers file their claim amount and their name is placed in a locked box. After the race, anyone who has filed a claim for the required amount buys the horse for that amount; a draw is held if there is more than one qualifying claim. Claiming races are competitive because they group horses of similar value.
"Sometimes I made money on my horses but most of the time, it's a losing proposition. It's not something you go into to make money. Over the years I've probably spent more than I've made, but I've had a lot of fun out of it. I've made some good friends.
"You didn't win every time you raced, but if you got a second or third, if you got in the money, you were happy."
Race purses are funded by wagering, with a set portion of the total wager applied to the pot for which the racers compete. The Ontario Harness Horsemen's Association was formed in 1961 to represent the standard-bred owners, and it is this association that negotiates with the track owners on the size of the purse and other conditions.
The Ontario association was divided into districts, each with representation to the provincewide organization. The Northumberland and Peterborough region was in District 3 and Gord was appointed to the Board of Directors for the district. In l980, he worked his way up to become President of the entire Harness Horsemen's Association. (Today the association is called the Ontario Harness Horse Association.) He later served as President of the Canadian Horsemen's Association.
"We had tracks all over Ontario, from Windsor, Dresden, London, Hanover, Elmira - which was replaced by Grand Valley when the Mennonites objected to the slots being introduced - to Barrie, Sudbury, Kawartha Downs in Peterborough, Belleville, Kingston and Rideau-Carleton Ottawa."
Gord raced many of his own horses at some of those tracks, as well as at Woodbine, Greenwood, Mohawk and Flamboro Downs. Among them were Colonel Philip, Judicator, Robbie McGee, Arts & Battles, Bell Jet Ranger, Amboseli, Shamaldas, Belgaum, Rodas Angel and Dream Cast.
Track owners and horsemen would sometimes get into disputes over application of the rules. Disagreements arose over the percentage of the takeout from betting that would be applied to the purses. The association represented the horsemen's interests.
Gord was on the OHHA hiring panel in l979 when Joe Burke was hired as General Manager and Executive Vice-president. The two worked together closely from l980-85, the time when Gord served as President, and they became good friends. Burke believes there was always a natural affinity there, since he, too, had served as a navigator in the Canadian Air Force when he joined after the war.
"Gord put in a lot of hours as President," Burke says. "He's one of the finest gentlemen I've ever met. Hard working. High integrity. He put in a lot of time helping others. Gord always said if you look after the little guy, the big guys would be OK, too." Gord's term was a time of rapid growth in the racing industry. Standardbreds raced all winter and night racing had been introduced.
The thoroughbreds, represented by the Ontario Jockey Club, would arrive in spring and, with the growing popularity of standardbred night racing the thoroughbred owners wanted to capture a piece of the pie. This led to a dispute over the sharing of dates and times and as the dispute heated up, it fell to the Ontario Racing Commission to settle. The racing commission's members were appointed by the Ontario government and it had a long reputation for being highly political.
With the makeup of the commission in the early 1980s, "in our opinion, the commission was nothing more than a spokesman for the Ontario Jockey Club, which represented the thoroughbred owners," Gord says. "They dominated. We felt we weren't being treated as equal partners."
With the odds apparently heavily stacked against the "old farm boys" of the standardbred business, "we thought we were going to be pushed aside to satisfy the thoroughbred owners."
(continued in Part 3 of 3)

Reviewed August 2020
Sport Team or Name This Story is about
Sport Played That Connects To Collection List