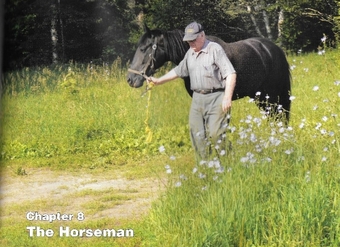 Gordon Keith Sherwin
The Horseman - Part 1 of 3 - By Gary May
Reprint Chapter 8 from "A Life Well Travelled" 'The Story of Gordon Keith Sherwin'
Permission of Publisher 'Your Story Publishing' 2010 – Windsor, ON
Racing standardbred horses can be a dangerous sport. Gord Sherwin has had his share of injuries over the years, from having both shoulders separated, to breaking his leg. And there have been plenty of close calls, like the time he was tossed over a racetrack hub rail.
But working with any large animals comes with its dangers, Gord says philosophically. It's all a matter of taking care and knowing when to call a halt.
Gord's career with standardbred horses began, naturally enough, through his trucking business, when his Baltimore friend, Jack Ball, asked him to haul his animals back and forth to fairs. His career as a horseman reached a zenith when he was named the 1986 Man of the Year by Harness Horsemen International.
Gord still hangs on to a couple of pacers at Grasshopper Flats, a private track near his Baltimore home that's owned by old friend Cliff Hie. Gord begins each day with a five-minute drive out to the track barn in his 1993 Chev pickup to water and feed them, then leads them out to a paddock where they get their exercise. He mucks out the stables and gives the horses fresh hay. Then it's back in the afternoon to feed and water them again.
There's a dusty old radio in one corner of the barn. Gord leaves it tuned to the local classical music station, occasionally adjusting it up or down for his charges, Fiddlers Dream and King of the Clan. They seem to enjoy the soothing music, he says. But his training and riding days are behind him. "I just don't really feel much like doing it anymore."
When pressed, he will, reluctantly, talk about the various injuries he's suffered from working with the animals, starting back in the late 1950s.
Risky Business
"Once, in the barn I hadn't locked the door properly. I hear a click of a hoof on the cement. The horse is loose. I grab him. He knocks me down and steps on my leg."
Gord does not get it immediately looked after and continues with plans to help out at the Rotary Waterfront Festival in Cobourg. Luckily his physician daughter, Elizabeth, happens to be coming for the weekend. "She takes one look at it and advises an X-ray. I had a fracture in the lower leg. Here I'd been taking admission at the festival gate on a broken leg."
The worst spill he ever suffered came on the track at Orono.
"My horse stumbled. I ended up thrown over the hub rail."
"You've got horses going at top speed. All it takes is a minor misstep and you're in trouble. You could have a field of 10 horses. They go one mile in a minute and 48 seconds nowadays. When I started I'd win races with 2:08. Now under two minutes is normal". (At two minutes a mile, the horse is averaging 30 miles an hour). "I think faster times are a result of better track conditions, lighter bikes and training methods."
So back in the '50s, Gord began hauling Jack Ball's horses for $5 a trip. It was enough, he says, to get him hooked. "When I started, we were just a bunch of farmers having fun. I remember seeing the Gary Cooper film, Friendly Persuasion. He was Amish. Had a buggy horse. Took his wife to church and his neighbour challenged him to a race each week. He picked up a pacer with good speed. One week the neighbour's waiting for him and challenges him to a race. The pacer leaves the old guy in the dust."
Gord chuckles. "That's the way it was with us, a bunch of old farmers raising, training their own horses." Gord began driving and racing horses before he ever owned one. "Jack Ball owned the Baltimore Mill, had a stable of horses. He got me involved with them. l used his cooper's shop down in the village as an office and a storage place. Kept my trucks there until I built a garage here at the house. That place was kind of like the local Hot Stove League. We'd play a little cribbage, gab with the local boys."
Gord got his driver's licence for horses in 1957.
"I'd been around Jack's horses, and driving them. We'd train them together. Better to train a couple or three together - they learn a little bit from one another. What they're bred for. They provide a little competition for one another. The first Saturday of June every year, they'd have a field day at the local race track. The races were recorded on the horses' racing record. I raced one of Jack's horses. Bud Phonograph. I ended up owning him a couple years later for a thousand dollars. But my first horse was Sun C Valley. She was a chestnut mare with a white blaze on her face, white feet. A classy-looking mare.
"When I first got started, they'd race once a week at Peterborough Exhibition Grounds. 'They had twilight meets. They didn't have lights. One of the first tracks I went to was the fairground at Norwood. I didn't drive there, but I was hooked by then; got my licence after that. Every community of any size had a fairground and there was a racetrack on the fairground, because that was part of the fall fair experience, standardbred racing. Then they started to put up lights so you could race after dark. Peterborough was one of the first to put up lights. Then Belleville did it.
"They started having a race every Friday night at Belleville, and then in Peterborough on Saturday night They were just local guys you were racing against. People from Warkworth, Campbellford, Marmora, Norwood, Lindsay, Port Hope, Orono.
"These places all had local horsemen, and it was really the grassroots of standardbred racing. It's difficult to explain the satisfaction you get raising a horse, breaking it in, racing it and winning with it. I've had quite a few experiences with it."
"I remember Saturdays spent at the race track in Peterborough," says Elizabeth. "As a family, we didn't have a cottage and we didn't do a lot of travelling. Every Saturday was going to the racetrack. Diana and I always wanted to go to Peterborough early so we could go to the material shops, because we did a lot of sewing. And Dad would say he'd be home in time.
"We would wait and wait and he'd always be late," she laughs. "He was busy. That would be disappointing, but that was what the business would require at that time."
(continued in Part 2 of 3)

Reviewed August 2020
Sport Team or Name This Story is about
Sport Played That Connects To Collection List